Ulster SFC: Down ease to 1-18 to 0-14 win over Antrim
By John Haughey
BBC Sport NI at Pairc Esler
Last updated on .From the section Gaelic Games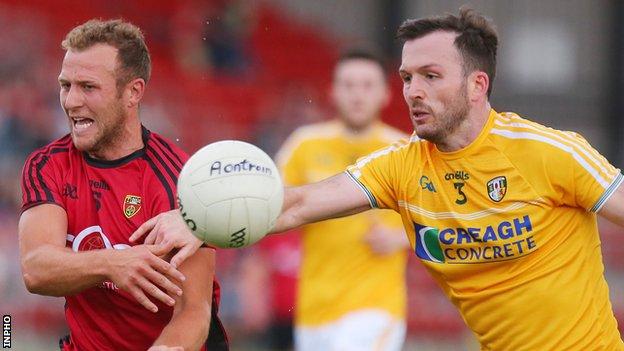 Ulster Championship quarter-final: Down 1-18 Antrim 0-14
Down scorers:
O'Hare 0-6, McKernan 1-1, Doherty 0-3, S Millar 0-2, Dornan 0-2, McArdle 0-1, Mooney 0-1, Maginn 0-1, Harrison 0-1
Antrim scorers:
Murray 0-4, McBride 0-4, Murray 0-2, Healy 0-2, Fitzpatrick 0-1, Duffin 0-1
Down set up an Ulster Football semi-final against Donegal or Derry as they eased to victory over a limited Antrim side at Pairc Esler on Saturday night.
Antrim were undone by kickout woes in the first half - highlighted by Kevin McKernan's goal just before half-time which left Down 1-9 to 0-5 ahead.
McKernan was then black carded but Antrim could not exploit his absence.
Down moved 10 ahead shortly before Antrim defender's Ricky Johnston's 53rd-minute straight red card.
As Down eased off late on, Antrim reduced the margin but this was another chastening championship outing for the Saffrons.
It's arguable whether Down will have learned much from a contest which resembled a training exercise in front of a subdued 5,500 attendance.
With Liverpool involved in the Champions League Final, there were fears that the crowd numbers might be badly affected and so it proved.
Down take control after bright Antrim start
Antrim made a bright start as Matthew Fitzpatrick and Patrick McBride slotted the opening two points but the Saffrons' kickout difficulties at both ends saw the Mournemen quickly take control.
The visitors employed the strange tactic of not contesting Down's kickouts which allowed home wing-backs Caolan Mooney and Darren O'Hagan to set up attacks by running from deep.
With six foot four midfielder Niall McKeever moved up to Antrim's full-forward line, Down began to completely dominate at midfield with Peter Turley particularly impressive in the engine room.
That Down superiority forced Antrim keeper Chris Kerr to attempt short kickouts but this tactic proved even more ineffective - encapsulated by McKernan's 34th-minute goal as the impressive Shay Millar mugged Fitzpatrick before setting up the Burren player for a close-range finish.
McKernan's absence saw Down lose fluency in the second half but manager Eamonn Burns will have been delighted with the displays of Mooney, O'Hagan and Millar.
Mixed fortunes for McKernan
Despite the Saffrons' failure to get out of Division Four during the spring, Down's relegation to the Division Three suggested that the visitors might be capable of causing a surprise in Newry.
Lenny Harbinson's men's impressive start was soon cancelled out however as Down were on terms by the ninth minute thanks to a Donal O'Hare free.
Two superb Millar efforts from play helped increase Down's lead to 0-7 to 0-3 after 20 minutes.
Antrim had received a warning after an O'Hare interception was finished off by McKernan fisting a point but didn't learn as the lively Millar pinched another on the stroke of half-time to set the crucial goal.
There was still time for McKernan to be black carded before the break as he bear-hugged Niall Delargy to the ground after failing to hold on to another dangerous ball into the Antrim defence by Mooney.
Saffron revival fails to materialise
Trailing 1-9 to 0-5 at half-time, Antrim needed a fast start to the second half but instead Down put the game to bed as they moved into a 1-15 to 0-8 lead by the 53rd minute.
Down's lead could have been even greater at that stage as Kerr made a brilliant pointblank save to push O'Hare's goal chance over the bar in the 49th minute.
O'Hare kicked points from frees and play as Down piled on the misery for the Saffrons while corner-back Anthony Doherty also showed admirable placekicking as he slotted three points from distance.
Johnston was red-carded on 58 minutes after bundling over Down substitute Jonny Flynn but if anything, his departure rallied the Saffrons somewhat - although the contest was already long over by that stage.
With Antrim's second-half decision to finally push up on Down's kickouts coming too late, the Saffrons did kick six of the last nine scores as the battling Ryan Murray and McBride both finished on 0-4.
However, the visitors' late revival didn't mask their latest dismal championship outing.
How they lined up
Down: M Reid; C Flanagan, B McArdle, A Doherty; D O'Hagan, N McParland (capt), C Mooney; P Turley, N Donnelly; K McKernan, C Maginn, S Millar; D O'Hare, C Harrison, R Millar. Subs: S Harrison, D McKibbin, S Dornan, R McAleenan, S Murnin, C McGrady, R Wells, J Flynn, N Madine, S Murray.
Antrim: C Kerr; P Healy, P Gallagher, N Delargy; K O'Boyle (capt), R Johnston, J Laverty; P McAleer, N McKeever; M Sweeney, C Murray, R McCann; R Murray, M Fitzpatrick, P McBride. Subs: A Hasson, S Beatty, P Branagan, C Burke, C Duffin, O Eastwood, K Healy, C Lemon, D Lynch, M McCarry, E Walsh.