All-Ireland SFC qualifiers: Tyrone score three second-half goals to defeat Carlow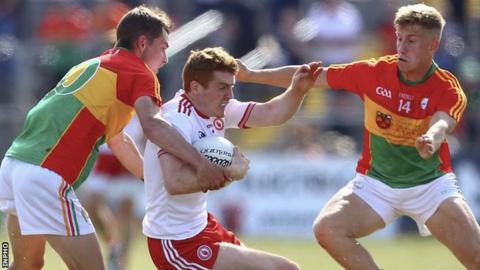 Tyrone booked a place in the third round of the All-Ireland qualifiers after a comfortable victory in Carlow.
Goals by Niall Sludden, Peter Harte and Richie Donnelly crowned a strong second-half display by the Reds Hands.
Carlow briefly threatened an upset when Darragh O'Brien found the net but Tyrone responded with five unanswered points to lead 1-2 to 0-8 at half time.
Peter Harte scored a penalty after he had created Sludden's goal and Donnelly sealed the win with his late score.
Mickey Harte's men will now go into Monday's draw for the penultimate round of the qualifiers as they target a place in this year's Super 8s series.
Carlow followed up on their promotion from Division Four of the league with Leinster championship wins against Louth and Kildare but they had no answer to the pace and power of their guests.
Slow start by Red Hands
Free-taker Paul Broderick punished some early Tyrone indiscipline for the opening score of the game as the hosts made a bright start in front of their home support.
Under manager Turlough O'Brien, Carlow have forged a reputation as a well-organised, defensive team and Tyrone appeared to struggle to find a way through their ranks in the opening minutes.
The visitors had just taken the lead for the first time in the 15th minute before O'Brien finished off a flowing Carlow attack to score the game's opening goal.
Conor McAliskey got three of Tyrone's next five scores as the Ulstermen built a three-point lead at the break.
Carlovian challenge fades
McAliskey and Broderick traded frees at the start of the second half before the Carlovian challenge began to wilt in the searing heat.
Peter Harte dummied past a couple of attempted tackles before passing to Sludden, who fisted the ball into the net.
The centre-forward followed up on his score with another point before Carlow goalkeeper Robbie Molloy fouled Mattie Donnelly in the square and Harte rifled his powerful spot-kick into the top corner with five minutes remaining.
Scores by Broderick and Darragh Foley helped Carlow to keep the scoreline respectable, as both forwards finished with five points apiece.
But Donnelly ensured that Tyrone will go into Monday's draw with plenty of confidence when he cut through the massed Carlow defence and fired emphatically into the roof of the net.
What they said
Tyrone manager Mickey Harte: "We believed that it would be a challenge for a certain amount of the game and we believed that we should be good enough to see off that challenge when the time came for us to take command of the game.
"Carlow were very much in the game in the first half, maybe lost ground a wee bit just before half time and that gave us the belief that it was a matter of pushing on from there and I think in the second half we did show a lot more adventure and got those scores that kept the gap widening rather than narrowing."
Tyrone midfielder Colm Cavanagh: "We were lucky to be where we were at half time, we made a lot of mistakes and a lot of errors, and Carlow could have been a lot closer and could have been ahead.
"The space opened up in the second half and we were able to tag on some vital scores at crucial times and that third quarter of the game we really got the scores and it was always going to be hard for Carlow to come back after that.
"An energy-sapping day and when we got the scores we were able to control the game better."
Cavan: R Molloy; C Crowley, S Redmond, C Lawlor; J Morrissey, D St Ledger, C Moran; S Murphy, E Ruth; S Gannon, D Foley (0-5), D Walshe; P Broderick (0-5), D O'Brien (1-0), J Murphy.
Tyrone: N Morgan; P Hampsey, R McNamee, C McCarron; M McKernan, F Burns (0-1), P Harte (1-1); C Cavanagh, D McClure (0-1); M Donnelly (0-2), N Sludden (1-1), C Meyler (0-1); C McShane, R Donnelly (1-2), C McAliskey (0-5).
All-Ireland SFC qualifiers 2nd round - 23 June
Tipperary
1-11
Mayo
1-19
Waterford
0-9
Monaghan
5-21
Cavan
1-14
Down
0-15
Carlow
1-10
Tyrone
3-14
Longford
1-13
Kildare
1-16
Sligo
1-13
Armagh
1-19
Leitrim
0-25
Louth
1-12
All-Ireland SFC qualifier - 24 June
Offaly
2-14
Clare
1-19