All-Ireland qualifiers: Bradley could return for Tyrone against Cork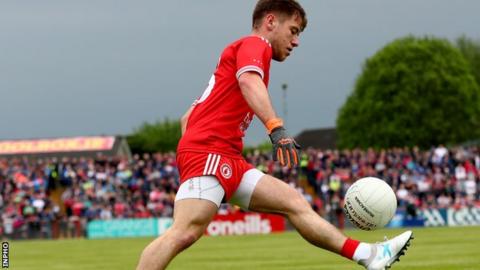 Tyrone forward Mark Bradley has recovered from injury and could be in line to face Cork in Saturday's All-Ireland fourth round qualifier.
Bradley has been sidelined with an ankle problem picked up in an Ulster Championship match against Monaghan in May.
However, leading scorer Lee Brennan is likely to still be unavailable for the Red Hands due to a hamstring injury.
"Mark is definitely coming on very well," said Tyrone boss Mickey Harte.
Brennan got injured in the same match as Bradley.
"With Lee's being a hamstring injury, a recurrence of that is possible," Harte continued.
"It's not a question of would he be able to make it, it's would it be the wise thing to do to take a chance on it at this stage, for his own sake.
"It would really be a medical decision on that one, but I think Mark Bradley is in a much more positive place, and there's a better chance of him making the squad."
The winners of Saturday's sudden death eliminator will avoid an encounter against Dublin at Croke Park, with the All-Ireland champions set to travel to either Pairc Ui Chaoimh or Healy Park for a quarter-final round robin tie.
"That would be very good to have that opportunity, but nothing is there unless we perform whenever we play Cork," added Harte.
"We know that this is a real big prize, but we have been one step away from big prizes before, and haven't managed to make it.
"So we know that we have to keep our feet firmly on the ground, and we need to improve our performance week on week."
Tyrone's match against Cork at Portlaoise starts at 17:00 BST.