All-Ireland qualifiers: Laois 1-11 Monaghan 0-19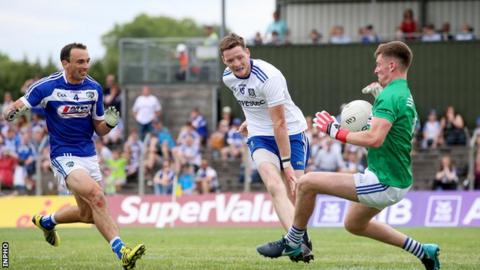 All-Ireland SFC qualifiers round four: Laois 1-11 Monaghan 0-19
Laois scorers: E O'Carroll 0-4, R Munnelly 0-3, D Kingston 0-3, P Kingston 1-0, C Begley 0-1
Monaghan scorers: F Kelly 0-1, C McManus 0-5, S Carey 0-3, K O'Connell 0-2, R Beggan 0-2, N Kearns 0-1, J McCarron 0-1, P McKenna 0-1, C McCarthy 0-1, R McAnespie 0-2
Monaghan deservedly booked their place in the Super 8s despite a lacklustre second half performance against Laois in Navan.
Paul Kingston's goal just before the interval kept Laois in the contest when it looked like the Farney men may be coasting to victory.
An outstanding individual display from keeper Graham Brody was not enough for the beaten Leinster finalists.
Monaghan join Kerry, Galway and Kildare in Group One of the new format.
It was indeed a game of two halves for Malachy O'Rourke's side who played some of their best football of the summer in a first half in which they blew Laois away.
The second period by contrast lacked any sort of fluency as the Division One side went 17 minutes without scoring.
Monaghan flew out of the traps at a sunny Pairc Tailteann and opened up a six point lead inside 15 minutes.
Shane Carey scored three times from play in the opening stages as he enjoyed the better of his duel with Colm Begley.
Brody atoned for a poor kick-out by thwarting Ryan McAnespie's effort as Laois wilted under intense Monaghan pressing.
Kingston gave the underdogs hope when he collected Evan O'Carroll's inch-perfect pass and fired low across Rory Beggan to reduce the deficit before half-time.
The Farney men failed to find the same pace and intensity upon the restart as Laois notched three points in a row.
Brody made further stops to deny Conor McManus and Karl O'Connell but the Laois forwards could not capitalise on Monaghan's dry spell at the other end.
O'Rourke's side get their Super 8 campaign underway at Croke Park next Sunday against Kildare.
All-Ireland qualifiers round four - Saturday, 7 July
Armagh
1-19
Roscommon 2-22
O'Moore Park
Cork
0-13
Tyrone 3-20
O'Moore Park
Fermanagh
0-18
Kildare 3-20
Pairc Tailteann
All-Ireland qualifiers round four - Sunday, 8 July
Laois
1-11
Monaghan 0-19
Pairc Tailteann