All-Ireland SFC Super 8s: Monaghan 0-15 Kildare 1-10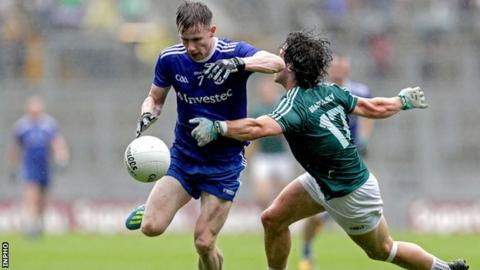 Super 8s: Monaghan 0-15 Kildare 1-10
Monaghan scorers: C McManus (0-4), K O'Connell (0-3), N Kearns (0-2), C McCarthy (0-2), R Beggan (0-2), K Duffy (0-1), S Carey (0-1)
Kildare scorers: N Flynn (0-4), D Flynn (1-1), T Mollick (0-1), F Conway (0-1), J Byrne (0-1), K Feely (0-1), E Callaghan (0-1)
Monaghan took a huge step towards clinching an All-Ireland semi-finals place as they edged out Kildare in a tense Super 8s contest at Croke Park.
Daniel Flynn's goal gave Kildare an early advantage but Monaghan fought back to lead 0-10 to 1-5 at half-time.
In a low-scoring second half, the sides were level after 60 minutes but three late points - including a superb Conor McManus score - saw Monaghan home.
In Sunday's other Super 8s game, Galway stunned Kerry 1-13 to 1-10.
That result means a Monaghan victory over the Kingdom at Clones next Sunday could be enough to secure the Farney men's All-Ireland semi-finals spot.
Karl O'Connell was outstanding for Monaghan as he kicked three crucial points from play in a superb wing-back display in a game played in wet conditions.
Despite Flynn's superb early goal for Kildare, the Lilywhites struggled to ruffle Monaghan's defensive blanket in the first half as the Farneymen won numerous turnovers.
Early in the second half, it appeared that Kildare were starting to employ more direct tactics but they failed to follow through on this as Monaghan ground out a typically gritty victory.
Lilywhites attacks get caught up in traffic
After their impressive recent displays against Mayo and Fermanagh, Kildare got off to a great start as Flynn charged through the Farney defence to rattle the net in the sixth minute.
But the Lilywhites struggled to breach Monaghan's well-organised defensive set-up during the remainder of the first half as attacks got caught up in traffic.
Two McManus frees - split by the first of Conor McCarthy's first-half points - had Monaghan ahead by the 11th minute.
When Flynn did have a chance for his second goal a minute later, Rory Beggan produced a superb pointblank save to divert the ball over the bar.
But for the remainder of the opening period, Kildare's attack huffed and puffed with the black carding of Owen Duffy for an off-the-ball trip on Neil Flynn not unduly bothering Monaghan.
Vinny Corey, in a man-to-man marking role on Paul Cribben, and Drew Wylie proved particularly effective in the Monaghan defence with Niall Kearns also excelling around the middle third of the field.
In contrast, Monaghan were able to move at pace when they did win the ball - best exemplified by O'Connell's two scores after charging upfield.
McManus comes good with crucial late point
With Monaghan often criticised for the over-reliance on McManus for scores, Malachy O'Rourke will have been encouraged by the six different first-half scores with O'Connell, Niall Kearns, Conor McCarthy (two), Rory Beggan and Shane Carey also on target.
Carey's point, Monaghan's eighth, was the the Farney men's best chance of a goal in the first half as his shot skimmed inches over the bar following yet another turnover.
Kildare seemed to be set to adopt more direct tactics after half-time as quick ball helped Fergal Conway and Neil Flynn to kick points which levelled the contest by the 45th minute.
The sides could manage only two points apiece over the next 18 minutes as Monaghan led twice only for Johnny Byrne and Kevin Feely to draw Kildare level.
After Feely levelled, Conway had a chance to put Kildare ahead but was off target and Kearns immediately restored Monaghan's lead in the 65th minute after being given acres of space.
The suspicion that it wasn't going to be Kildare's afternoon increased when a towering Tommy Moolick effort came back off an upright two minutes later.
McManus had been a subdued presence in open play for much of the contest but then came good in the final minute of normal time as he slotted a sensational point from a tight angle on on the left sideline.
A point from veteran substitute Eamonn Callaghan cut Monaghan's lead to the minimum again only for keeper Beggan to kick his second long-range free to close the the game out.
Galway earn first win over Kerry in 53 years
Galway earned their first football championship win over Kerry since 1965 as they clinched a deserved 1-13 to 1-10 victory.
After leading 0-6 to 0-5 at half-time, the Tribesmen moved into a 0-13 to 0-9 as the game entered injury-time with Shane Walsh having hit 0-5.
Both goals came in the closing moments with Patrick Sweeney netting for Galway before David Clifford's last-gasp reply as he finished with 1-5 for Kerry.
The Kingdom finished with 14 players after Killian Young's 59th-minute sending off when Galway were two ahead.
Galway's win did come as some cost as midfielder Paul Conroy suffered a broken leg during the game.
Despite the historic nature of Galway's victory, Sunday's occasion at a damp Croke Park lacked atmosphere with only 30,740 attending the double-header which was taking place on the same afternoon as the World Cup final.
Monaghan: R Beggan; R Wylie, D Wylie, K Duffy; F Kelly, V Corey, K O'Connell; N Kearns, D Hughes; R McAnespie, S Carey, D Mone; C McCarthy, C McManus, O Duffy. Subs: P McKenna for O Duffy, black card 17 mins, J McCarron for Kelly 48, K Hughes for McKenna 60, D Malone for Carey 66)
Kildare: M Donnellan; M O'Grady, D Hyland, P Kelly; J Byrne, E Doyle, K Flynn; K Feely, T Moolick; F Conway, P Cribbin, K Cribbin; P Brophy, D Flynn, N Flynn. Subs: N Kelly for P Cribbin 46, C Healy for Brophy 50, D Slattery for K Cribbin 58, E Callaghan for Moolick 69, C McNally for N Flynn 71.
Referee: A Nolan (Wicklow).
WEEKEND RESULTS
Sunday
All-Ireland SFC Super 8s
Kerry 1-10 Galway 1-13
Monaghan 0-15 Kildare 1-10
All-Ireland SHC quarter-final
Kilkenny 1-22 Limerick 0-27
Saturday
All-Ireland SFC Super 8s
Tyrone 4-24 Roscommon 2-12
Dublin 2-15 Donegal 0-16
All-Ireland SHC quarter-final
Clare 0-27 Wexford 1-17
All-Ireland U20 Football semi-finals
Kildare 1-14 Kerry 1-13
Mayo 2-14 Derry 2-11