Super 8s: The Dubs & the Kingdom march on Ulster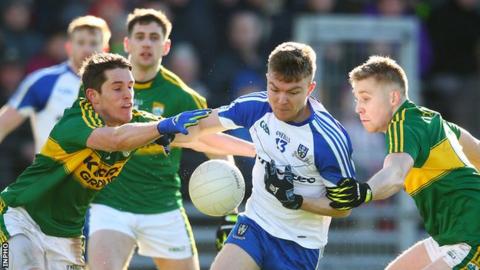 All-Ireland Football SFC Super 8s
Dates: 21 & 22 July Coverage: Live on Radio Ulster 1341 MW and BBC Sport website
The two most successful teams in All-Ireland championship history journey north this week for two of the stand out fixtures of the Super 8s series.
Kerry and reigning champions Dublin have won the Sam Maguire Cup 64 times between them and have shared the famous old trophy for the past five years.
Dublin put their four-in-a-row bid to the test against Tyrone on Saturday in a repeat of the 2006 'Battle of Omagh'.
Kerry make a rare foray to Clones on Sunday, needing a win against Monaghan.
Super 8s need a boost
For all the criticism of the first round of the Super 8s, which was plagued by disappointing attendances and a poor atmosphere at Croke Park, this weekend's matches will offer a very different experience for players and supporters alike.
The novelty of the two best teams in the country travelling to play two of the strongest sides in Ulster in midsummer has whet the appetite for what should be an intriguing weekend of football.
"It will be different in the championship," said Kerry defender Shane Enright, who is hoping to be fit for the Kingdom's visit to St Tiernach's Park.
"It's a very tough place to go, we were up there [to Monaghan] this year and they beat us up there in the league, it's quite a small pitch and they'll have big support there on the day so it will be very tough."
An ankle injury meant that Enright missed Kerry's shock 1-13 to 1-10 loss to Galway on the opening weekend of the Super 8s - a result that leaves Eamonn Fitzmaurice's side at the foot of Group One and needing a victory against Monaghan if they are to have a realistic chance of reaching the All-Ireland semi-finals this summer.
The Farneymen have beaten Kerry in their last two league encounters but have never won a championship game against the Kingdom.
Malachy O'Rourke's team produced one of the performances of the opening weekend to edge out Kildare and they have now won four consecutive games since their Ulster semi-final defeat by Fermanagh last month.
"They've been very impressive in the qualifiers, they've put up big scores, they've got very good forwards and they've got a good defensive unit," added Enright.
"They get the ball forward very quickly and Rory Beggan is going very well for them in goal as well so every facet of their game is performing well at the moment. It will be a big test for us up there."
Dublin return to Healy Park
Another criticism of the opening weekend of the Super 8s was the decision to stage the games at Croke Park, with Donegal arguing that it gave Dublin an unfair advantage by allowing them to play two of their three round-robin matches at GAA headquarters.
It means the All-Ireland champions' only game away from home comes this weekend when they face Tyrone at Healy Park, the same venue where a 14-man Dublin proved too strong for the Red Hands when the sides met in the league in February.
"We get an away game up in Omagh, which should be a great challenge, should be a great atmosphere and I'm really looking forward to it," said Dublin corner back Mick Fitzsimons.
"I'm happy to play wherever. Different pitches bring different atmospheres, different occasions and more enjoyment for us, so going up to Omagh will be a great occasion.
"Going to Nowlan Park [in 2016] in the past was a great occasion so we don't mind, we're happy to play wherever."
Although their last visit to Tyrone was a success, Dublin are likely to face a much stiffer challenge on Saturday as Tyrone seek to avenge last year's humiliating defeat in their All-Ireland semi-final, although the Red Hands will be without Cathal McCarron this weekend.
The two teams have developed a fierce rivalry during Mickey Harte's tenure as Tyrone manager, which infamously featured a bad-tempered encounter at Healy Park in 2006.
"I wasn't there...fortunately! But we all heard about it back at that time," Fitzsimons added.
"There's a great rivalry between the two counties - it probably boiled over a little bit there - but it should be a tough, tough game up there.
"We respected them massively last year, they were a great side and they were on a great run of form and I think that brought the best out in us and hopefully we'll have as a good a battle this year and hopefully we'll be able to prepare as well as we did last year."
Hyde Park becomes the last chance saloon
Donegal's five-point defeat by Dublin in the first round means the Ulster champions already face a battle to qualify for the semi-finals.
Declan Bonner's side visit Roscommon on Saturday for the opening match of the weekend with the losing team set to be stuck to the bottom of Group Two with just one game remaining.
"We always knew that this was going to be a huge match and when the draw was made it was possibly [about] who was going to be qualifying with Dublin," said Bonner.
"We have Roscommon now, it's a must-win match, we have to go to Hyde Park get ourselves ready for that now and we need a performance to get those two points."
Roscommon manager Kevin McStay has insisted that his side will persist with an attacking style of play this week, despite their heavy loss to Tyrone in the first round.
The Connacht side have retained corner back David Murray after he appealed against the black card he received during the defeat to Tyrone and he has been cleared to play this weekend.
Roscommon (vs Donegal): C Lavin; D Murray, N McInerney, S McDermott; J McManus, F Cregg, C Devaney (capt); T O'Rourke, C Compton; C Murtagh, N Kilroy, E Smith; D Murtagh, B Stack, C Cregg.
All-Ireland Super 8s second round
Roscommon
v
Donegal
Dr Hyde Park, 17:00 BST
Saturday, 21 July
Tyrone
v
Dublin
Healy Park, 19:00 BST
Saturday, 21 July
Kildare
v
Galway
Newbridge, 14:00 BST
Sunday, 22 July
Monaghan
v
Kerry
Clones, 16:00 BST
Sunday, 22 July