Sky Sports denies it requested Healy Park pitch to be narrowed for Dubs game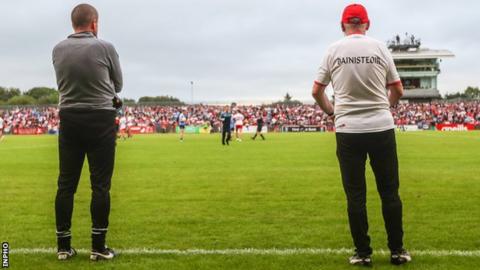 Sky Sports has denied Mickey Harte's claim that it requested the narrowing of the Healy Park pitch for Saturday's Super 8s contest.
The Omagh pitch was noticeably reduced by between four and six metres for the big game between Tyrone and All-Ireland champions Dublin.
After the game, Tyrone boss Harte said Sky had asked for the pitch reduction because of equipment requirements.
However, a senior Sky executive said on Monday that "no request" had been made.
"No request was made by Sky Sports to narrow the pitch in Omagh, or would be made at any ground," said the Sky executive.
"Our production team will always adapt to the environment provided by our host venue."
Asked after the game whether he had anything to do with the pitch reduction, Harte told BBC Sport Northern Ireland: "Absolutely not.
"I don't know anything about the tightening of the pitch.
"I believe Sky asked the (Omagh) club could they get a bit more clearance on the sideline because of the number of cameras they have doing the games that they have at other major venues.
"The Omagh club asked me if I would have any issue with that and I said, 'no....whatever you feel like doing, go ahead'."
When news of the pitch reduction emerged late last week, there was speculation that the move was aimed at reducing Dublin's ability to use the wings, which was a major tactical component of their hammering of the Red Hands in last year's All-Ireland semi-final.
While Saturday's game was a much closer affair, the Dubs still managed to edge a 1-14 to 0-14 victory which clinched their All-Ireland semi-finals spot with a match to spare.
Tyrone will still book a last-four berth if they avoid defeat in their final Group 2 two game against Donegal at Ballybofey on 5 August.