Liam Miller tribute match row: GAA to 'consider proposal' following meeting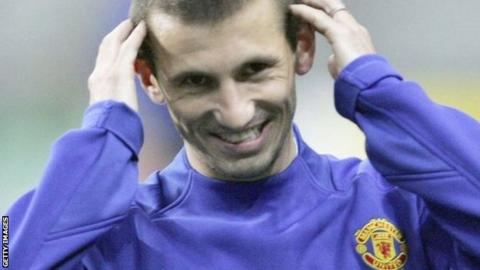 The GAA has described a meeting it held on Tuesday with the organisers of the tribute match for late footballer Liam Miller as "open and constructive".
An initial request from the match organisers to play the match at Cork GAA stadium Pairc Ui Chaoimh was turned down by the GAA.
This led to an outcry and the GAA then agreed to attend Tuesday's meeting.
A joint statement on Tuesday evening said that the GAA would "consider the proposal discussed at the meeting".
There has been speculation the GAA was about to make a u-turn on the benefit game scheduled for 25 September but Tuesday's statement did not make clear what particular proposal was discussed.
"There will be no further comment from any of the parties involved in these discussions at this time," added the joint statement.
Former Republic of Ireland international Miller, whose club career included stints at Celtic and Manchester United, died of cancer in February aged 36.
Pairc Ui Chaoimh has 45,000 capacity
Pairc Ui Chaoimh has a capacity of 45,000 - far in excess of the 7,500 who can be accommodated in the Turner's Cross premises of League of Ireland club Cork City.
However, GAA rules prohibit games outside its control being played in its grounds.
Last Friday, the GAA said that only a rule change at its annual congress, which takes place every Spring, could alter this.
The GAA was represented at Tuesday's meeting by the association's top two officials, president John Horan and director-general Tom Ryan, and leading members of the Cork County Board.
Ex-Republic of Ireland captain Roy Keane will manage a Manchester United Legends team against a combined Celtic/Ireland side in the testimonial game with other former internationals Robbie Keane and Damien Duff also expected to be involved.
On Monday, Duff claimed that the GAA should "hang their heads in shame" over the issue, labelling the decision-makers as "absolute dinosaurs".