Tiger Woods congratulates Limerick hurlers after All-Ireland title triumph
Last updated on .From the section Gaelic Games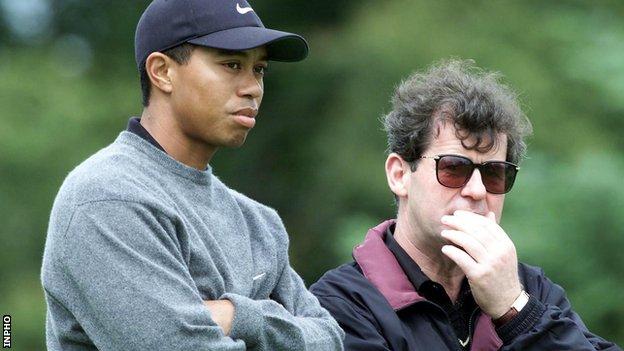 Tiger Woods has joined the list of people congratulating Limerick hurlers following the county's first All-Ireland senior triumph since 1973.
The Limerick team are sponsored by Woods' friend, the businessman and race horse owner JP McManus.
"It was a pretty cool result for JP and Limerick and my congrats to them," he told golfbytourmiss.com.
"I know how passionate he is about his hurling as well as his love of horse racing and, of course, golf."
The fourteen-time major winner Woods revealed that McManus took him to a hurling game during one of his trips to Ireland for the businessman's pro-am event which has attracted many of the world's top golfers and celebrities.
"I thought it was pretty neat but not a sport I would want to try," smiled the former world number one, who described McManus as one of his "dearest friends".
"I try to keep in contact with him as much as our time allows but that's great news for JP and Limerick and I'm really pleased for him as JP just does so much for sport in Ireland."
Woods indicated that he plans to play in the next JP McManus Pro-Am in July 2020 at the Adare Manor course owned by the businessman.
Earlier this year, it was announced that Adare Manor was bidding to stage the 2026 Ryder Cup.
"I am looking forward to going back to Ireland in 2020 for his Pro-Am at Adare Manor as it's been a long time since we played the Pro-Am.
"It's again right before the Open and I've always supported the event."
McManus was among 82,000 spectators at Sunday's final at Croke Park and visited the Limerick dressing-room after the final whistle to congratulate the players after the dramatic 3-16 to 2-18 win over Galway.