All-Ireland Football final: Game 'much-changed' from 2008 says Mickey Harte
By John Haughey
BBC Sport NI
Last updated on .From the section Gaelic Games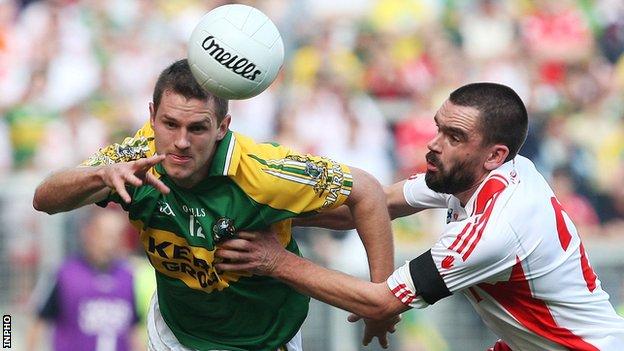 All-Ireland SFC final: Dublin v Tyrone
Venue:
Croke Park, Dublin
Date:
Sunday, 2 September
Throw-in:
15:30 BST
Coverage:
Live coverage on Radio Ulster MW; audio stream and live text commentary on BBC Sport website.
Tyrone boss Mickey Harte says a "lot more work" is required in preparing his team for Sunday's All-Ireland final than was the case in the county's last decider against Kerry 10 years ago.
"The systems of play weren't as prevalent as they are now," said the Red Hands manager.
"You probably didn't have to digest the opposition to the fine details that you do now.
"You looked at players and key threats of players. Now it's about much more."
Harte added that a "more comprehensive understanding of the opposition is required".
"There is a lot more video footage to be analysed and shared with the players.
"Also back then, the GPS wasn't as big an issue while the strength and conditioning wasn't as intense or focused as it is now.
"Young gaelic football athletes love measurements. They love to see how they are doing in certain ways and in comparison to the group.
"I'm not really into GPS by saying that if I see a man has run 10km, it's time for him to come off.
"If he's still kicking a few points or making a few tackles, I'm happy to keep him on even if he's run 15km. I'm not into to that degree but I think it's good for the players."
Impact sub master plans 'over-played'
Following the impressive contributions of Tyrone's substitutes - notably Lee Brennan, Kieran McGeary and Harry Loughran - in the Super 8s win over Donegal, there was much talk about the importance of impact changes in the modern game.
As ever, Harte believes the media have over-played the issue somewhat.
"If you put on four or five players one day and they do very well, it seems like some master plan that you knew was going to happen. You don't. It's all an experiment.
"It's (also) been happening for a number of years. [Dublin forward] Paul Flynn used to never last a game and him a four-time All-Star.
"He wasn't taken off because he was playing badly. He was taken off because he had put in a big shift and somebody else had to come in it finish it off."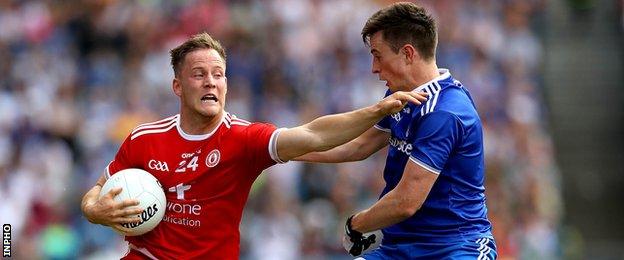 Harte lauds McGeary attitude
Harte paid particular tribute to McGeary's attitude to being utilised as an impact sub.
"I had to tell Kieran McGeary a couple of times this year: 'You are good enough to start this but the way it is at the moment, I feel it is better to bring you on'.
"He was very understanding and it's great when you have a player who understands that."
Amid the increasing complexity of tactical game plans, Harte says that the homework has to be done on the opposition.
"A lot of people only see what happens on the ball but lots of things happen off the ball. That's where these kind of systems and formations come into play.
"Maybe the language around it gets over-played. I always believe football hasn't changed an awful lot.
"When you have possession, you want to keep that possession as far as possible and finish with a score. When you haven't got it, it's everybody's responsibility to try and get it back.
"In the past and when I played too, it wasn't quite like that. The forwards played up front and waited for the backs to do the work and give them back the ball."