All-Ireland SFC final: Mickey Harte 'keeps the faith' despite Tyrone's final defeat
By John Haughey
BBC Sport NI
Last updated on .From the section Gaelic Games
"We'll keep the faith in every way."
We've heard the phrase 'keep the faith' from many a vanquished manager after big game defeats but it's not a stock soundbite when uttered by Mickey Harte.
The Tyrone manager's religious faith is the central tenet of his life. He held to it unwaveringly after the shocking murder of his beloved daughter Michaela while she was on honeymoon in Mauritius in January 2011.
The morning after Tyrone's All-Ireland semi-final win over Monaghan last month, Harte headed to the pilgrimage site of Lough Derg in county Donegal for over two days of fasting and prayer.
So when he references God in his immediate appraisal of his team's 2-17 to 1-14 All-Ireland Final defeat by the four-in-a-row Dubs, it almost passes you by.
"I feel for the people who came along to support us today who were really looking forward to the cup coming back to Tyrone," Harte tells BBC Sport Northern Ireland's Thomas Kane.
"But we have to be patient. God has designed otherwise that it's not our cup to have today."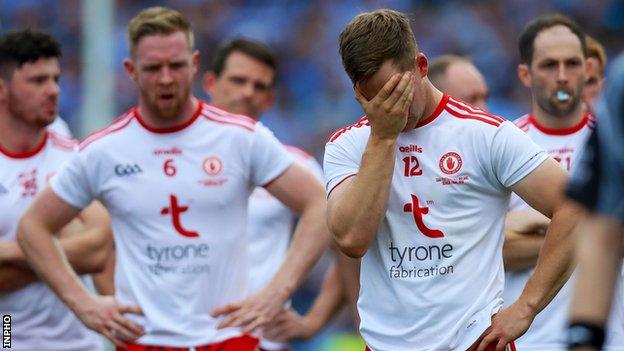 Harte says Tyrone can learn from latest setback
While Harte's religious faith is unshakeable, his belief in this current crop of Tyrone footballers will also not be dented by the latest Croke Park defeat.
Just as Harte refused to accept his team's hammering by the Dubs in last year's semi-final as an indictment of an overly defensive approach, the Red Hands boss says his search to re-scale the Sam Maguire summit will go on with complete conviction.
"We'll have to learn to do it better and we have to keep believing we can challenge at this level.
"People have to think on their feet, under pressure. It's a new experience for a lot of our players. They'll have that to the good in the future.
"Whether we get back here again in a short time who knows. You always aspire to be back here for days like this."
But the realist in Harte knows that overcoming this supremely well-coached and talented bunch of Dublin players will prove no easy task.
"They believe in each other so much. They have so many options. You try and challenge them one way and they go and operate another way. They are very difficult to play against."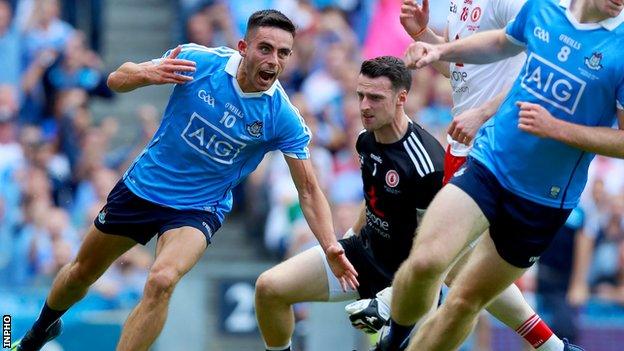 Tyrone heads 'spinning' by half-time
Top of Mickey Harte's football to do list in the coming weeks may be devising some method of bullet-proofing his team against the kind of second-quarter collapse which effectively put Sunday's game to bed by half-time after Tyrone had earlier led by four.
"Tyrone heads are spinning - everything was going right, now it's going all wrong," said former Red Hand star Enda McGinley on BBC Radio Ulster during the half-time interval.
Indeed, Harte felt the need for an immediate intervention into his squad's mindset at that moment as he directed the players into a huddle out on the middle of the pitch after referee Conor Lane blew the half-time whistle.
Only 18 minutes earlier, the Cork referee's decision to award the Dubs a penalty for Tiernan McCann's shove on Paul Mannion had started the process of Tyrone's house falling in.
Up high in the Hogan Stand, it looked a harsh enough call but replays subsequently indicated that Lane got the decision absolutely correct as McCann made his intervention as Mannion was about to pull the trigger.
Whatever about the rights and wrongs of the decision, potential All-Ireland champions should be capable of responding better to such adversity.
Warning signs had been there
In truth, the warning signs had been there for the Red Hands early on as the Dubs, with relative ease, made a couple of incisions into the Tyrone danger zone, including Jack McCaffrey's early goal chance as his mishit shot was grasped by Niall Morgan.
With Cathal McShane and Mark Bradley particularly prominent, Tyrone responded with a high-tempo burst of five unanswered points before the oxygen was sucked out of them by Mannion's penalty after Ciaran Kilkenny had pinched a Morgan kickout.
With Niall Scully's second Dublin goal quickly followed by two more Dean Rock points, the margin was seven at half-time and it was effectively game over.
"Five points to one was a great lead to have against a team like Dublin but the fact we let it away so handily in terms of the two goals just knocked the socks off us," reflected Harte after the final whistle.
Michael McKernan was among Tyrone players who looked visibly exhausted as half-time neared with possibly the exertions of their period of dominance taking a toll.
But searching for positives, as he always does after defeats, Harte praised his team's refusal to accept the hammering that seemed on the cards during the third quarter as Dublin patiently crafted scoring opportunities amid their prolonged periods of keep ball.
"We kept them fighting to the end. It could have been a stage at one time where Dublin were pulling away comfortably," added the Tyrone boss after Peter Harte's late penalty had helped reduced the lead to four before the champions closed out the game.
"We made them live on their nerves a little bit in the last 10 or 12 minutes."
Forever keeping the faith.