GAA to review rules changes trial before start of Football League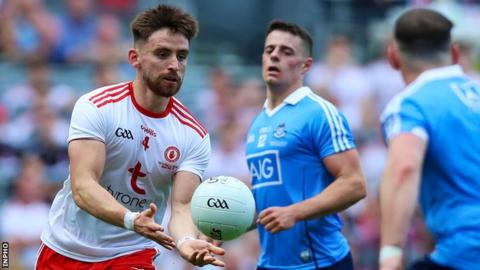 The GAA has said that it will review rules changes being trialled during pre-season competitions before the start of the Football League.
This announcement follows a meeting between the GAA and the Gaelic Players Association on Wednesday.
On Monday, the GPA said the decision to also trial the rules changes in the League was "unacceptable".
The pre-season competitions - including the Dr McKenna Cup - will begin in late December and will conclude in January.
The GPA had asked for an "urgent" meeting with GAA bosses to discuss the issue.
"There will be an opportunity at the next scheduled meeting of Ard Chomhairle on 19 January to review the proposals ahead of the Allianz Leagues," said Wednesday's GAA statement.
"The GPA have agreed to continue to liaise with the Standing Committee on the Playing Rules between now and January."
The rule changes include restricting consecutive hand passes to only three.
A player survey conducted by the GPA into the rule changes found 96% of the respondents against the hand pass rule.
The survey also found 63% against the rule change which will mean sideline balls having to be kicked forward - apart from when they are being taken from inside the opposition's 20-metre line.
There was more support for the sin bin [63%] and mark [54%] rules which Saturday's Central Council meeting also voted to introduce during the pre-season competitions and Football League.
A 10-minute sin-binning will be imposed for a black card infraction or two yellow card infractions.
Tinkering with the 'mark' rule will include having 15 seconds to take the kick.
The proposed rule changes, which were put forward by the GAA's standing committee on playing rules, were first announced in early October and have been considered as part of a consultation process over the past seven weeks.