Get Inspired: How to get into basketball
From the section Get Inspired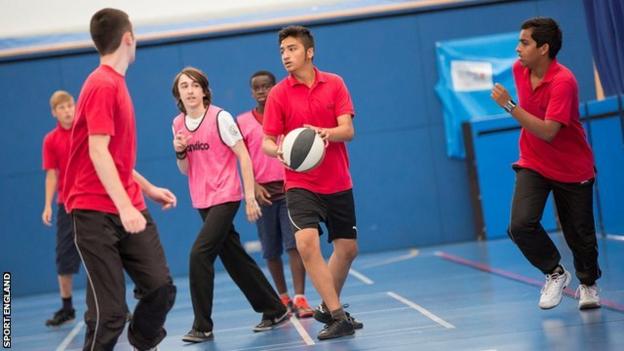 How do I start?
Find your local club by visiting England, Scotland, Wales or Northern Ireland Basketball Association websites.
What is basketball?
A game where two teams compete to score the most points by throwing a ball into their opponents net.

Players can move freely around the court, except for the player with the ball who can only move when bouncing or 'dribbling' the ball.

All you need to get started is a ball and a hoop and you don't need any special kit - just comfortable clothes and trainers.
Is it for me?
Basketball can be played by people of any age, size or ability and with thousands of outdoor courts across the country - where you can play for free - there's plenty of places to practice if you don't fancy competing with a team.
What to expect when I start?
Basketball is a

fun, fast

and

stamina-building

sport with players

burning up to 600 calories an hour.

The sport is a mixture of dribbling, passing and shooting which helps improve

balance

and

co-ordination.

With clubs across the country, it's a great way to

meet new people

and develop

teamwork

and

communication

skills and many clubs offer a variety of

social events

away from the court.

Wheelchair Basketball embraces a range of disabilities and is equally as fast paced and exciting as the traditional game. Wheelchair Basketball is a great way of improving

upper-body strength

and

building confidence.

British Wheelchair Basketball

provide opportunities to play across the UK.
To get you in the mood ...
Are you inspired to try basketball? Or maybe you are a keen enthusiast already? Get in touch and tell us your experience of the activity by tweeting us on @bbcgetinspired, visiting us on Facebook or email us on getinspired@bbc.co.uk.
All clubs need a chair, secretary and treasurer to help things run smoothly as well as officials, coaches and judges. Whatever role you're interested in, Join In has opportunities to volunteer in your area.