Get Inspired: How to get into canoeing & kayaking
From the section Get Inspired
Fast Answers

Why get into canoeing?

It's fun way to explore while keeping your arms and heart pumping.

Who is it for?

Canoeing offers something for everyone, young or old.

Is there a cheap option?

Some taster sessions are free. You don't have to go out and buy a canoe either because clubs and centres will often have equipment you can use.

What if I want a proper workout?

Work on toning and strengthening the arms and legs while paddling.

Can I take it to another level?

It's possible to progress to national regattas at junior and senior level.

Is there a disability option?

Some clubs and taster sessions can accommodate people with disabilities. GB Canoeing has a Paralympic programme for athletes with physical disabilities.

Is there a family option?

Paddle as a family and enjoy the experience together.

Where can I take part?

Head over to our

club finder

page to find canoeing events near you.
The British Isles are made for canoeing!
You can learn the basic skills and build your confidence on calmer, inland waters, like rivers and lakes. To paddle in canals, you'll need a licence.
With the right training, you can enjoy spectacular scenery canoeing on coastal waters. Or if you fancy challenging yourself further, then white-water descents will provide a thrilling experience.
All paddle sports are a great way to improve cardiovascular fitness, muscle strength and flexibility, you can push yourself as hard as you want.
Aspire to be like: David Florence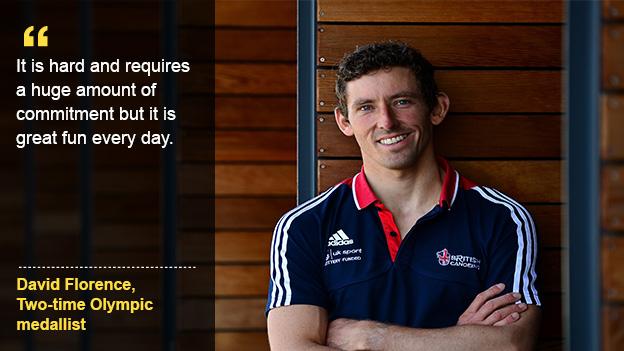 David Florence won a silver in the doubles at London 2012 with partner Richard Hounslow.
Getting started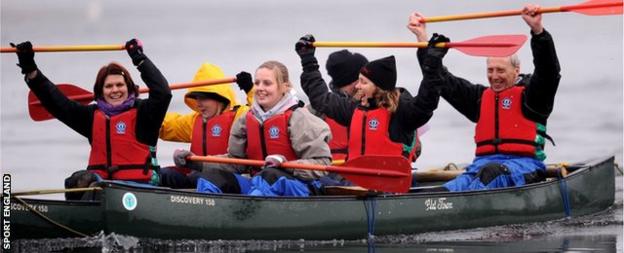 Canoeing can be recreational or competitive. You can take it up to race and compete or as a hobby to travel an discover the water of Britain.
There are hundreds of clubs all over the UK that encourage participation.
The Canoe Association of Northern Ireland, the Scottish Canoe Association, Canoe Wales and British Canoeing all provide details of local clubs and centres to get you started near you.
What's the difference between a canoe and a Kayak?

Canoe
Kayak

Paddlers use a single-bladed, flat paddle

Paddlers use a double-bladed, curved paddle

The canoe is open to the elements

Paddlers extend their legs and they may be protected from the elements.

The paddler either kneels one legged or on both legs in the canoe

The paddler sits in the cockpit and might wear a spray deck to keep the water out

Canoes are heavier and have a wider structure

Kayaks are narrower and lighter

Canoes are pointed at both ends and have greater stability

Kayaks are faster and more agile

Canoes have more contact with the water and sit deeper in the water

Kayaks sit lower in the water so there is less wind resistance
For the brave
There are two canoeing Olympic disciplines; slalom and sprint.
Canoe Slalom is the ultimate challenge as paddlers tackle the excitement of white water rapids, testing speed, agility and precision. Paddlers must navigate a sequence of pairs of poles (gates) set up over rapids, waves, eddies and currents on a 250m stretch of white water.
Entry level to canoe slalom racing are generally held on calm water and the courses will be simple.
British Canoeing can help you make the first steps into racing.
Canoe Sprint sees you race on a straight course, each boat in a separate lane, over three different distances: 200m, 500m, 1,000m.
Most paddlers enter sprint racing through a club, racing locally as novices and progressing to national regattas at junior and senior levels, where all paddlers are ranked within their classes.
For those looking to start racing and to find out the location of sprint meets, contact the British Canoeing
Canoeing for Pleasure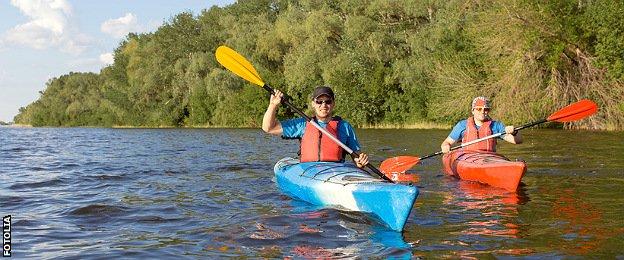 Whether you're going down rapids or drifting down a clam river, paddling can be incredibly therapeutic for both mind and body and it doesn't have to be competitive.
Recreational canoeing can be started at an early age, enjoyed by all members of the family, even into retirement.
Go Canoe run a range of activities, from starter sessions to guided canoe trails all giving you a good aerobic workout along the way.
Even for the easiest waters however, all canoeists should be able to swim at least 50m in canoeing clothing. For those looking to join a club or begin lessons, visit the British Canoeing website for further information.
Kids and young people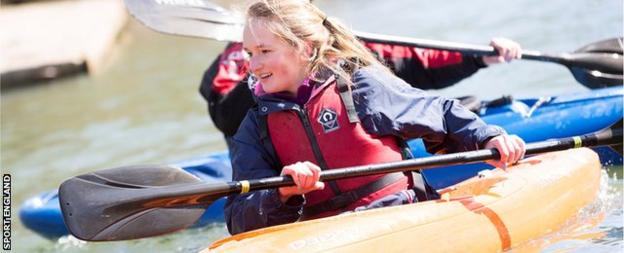 One of the best ways to get your kids canoeing is to don the buoyancy aids and head out on a family paddle.
If you want to keep an eye on young children, sharing a boat is a great option - you can fit a family and a picnic in a 16-foot Canadian canoe!
British Canoeing have a number of specially-designed schemes, like Paddlepower, which help children to build up their skills or enter competitions.
While U Canoe aims to keep teenagers in the sport and encourage new participants to take up paddling.
Disability Canoeing
Able-bodied and disabled participants can share all aspects of the activity, get in touch with your local club as many cater for people with disabilities.
British Canoeing initiative Paddle-Ability focuses on a paddlers ability rather than disability, with starter sessions taking place across the UK, and many clubs hold Paddle-Ability accreditation.
If you want to compete, the British Canoeing holds competitive events as part of mainstream programmes, which recognise the needs of disabled competitors.
Coaching and Volunteering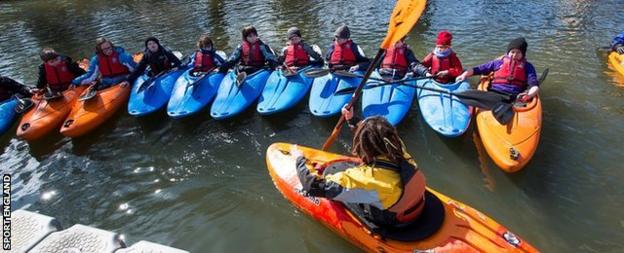 Helping other people to enjoy canoeing or kayaking can be extremely rewarding.
Whether you are already a coach, want to become a coach or are a paddler and looking for coaching, then get in touch with with British Canoeing or England, Northern Ireland, Scotland and Wales. You can also try Sports Coach UK.
From coaches to club secretary, clubs and centres are always looking for willing and enthusiastic volunteers who can lend a hand and utilise their skills in their voluntary team.
You can also find out about other volunteering opportunities in canoeing with Volunteer Scotland, Join In UK and Volunteer Now in Northern Ireland.
What's next?
1. Find your local canoeing opportunities by using the British Canoeing website. The Canoe Association of Northern Ireland, the Scottish Canoe Association, and Canoe Wales all provide details of local clubs and centres.
2. Share your story and inspire others
Are you inspired to try canoeing? Or maybe you are a keen enthusiast already? Get in touch and tell us your experience of the sport by tweeting us on @bbcgetinspired, visiting us on Facebook or email us on getinspired@bbc.co.uk.
See our full list of activity guides for more inspiration.