Get Inspired: How to get into equestrian sports
From the section Get Inspired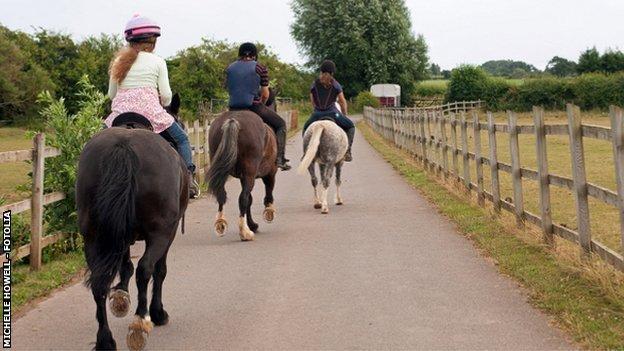 Fast Answers

Why get into horse riding?

This is a unique activity. The bond you create with the horse mean it's beneficial physically and mentally.

Who is it for?

Whether you are an adrenaline junky or seeking quiet relaxation and stress relief, horse riding is for you.

Is there a cheap option?

Group lessons at an approved equestrian centre are your most cost effective option. They will provide all the equipment you need including the horse!

What if I want a proper workout?

The horse definitely doesn't do all the work! As well as strengthening leg, bum and tum muscles, you'll get the heart racing.

Can I take it to another level?

There are competitions for all horse sports from beginner to advanced level.

Is there a disability option?

Riding for the Disabled Association is a registered charity that can help you get started.

Is there a family option?

Horse riding naturally appeals to children and is an activity that can be enjoyed by the whole family together.

So where can I start?

Take a look at our

club finder

page to find equestrian events near you.
The most enjoyable aspect to horse riding is the bond you create with a horse or pony whilst being outside in the fresh air, once you have mastered the basics there are a number of equestrian disciplines and equine sports you could specialise in as your confidence, skill and knowledge grows.
Competitively, it is one of the very few sports where women and men can compete equally.
Sitting on a horse may not seem like an obvious form of exercise but it pretty much involves all the muscles in your body, between ensuring posture and balance, and controlling the horse.
Aspire to be like: Charlotte Dujardin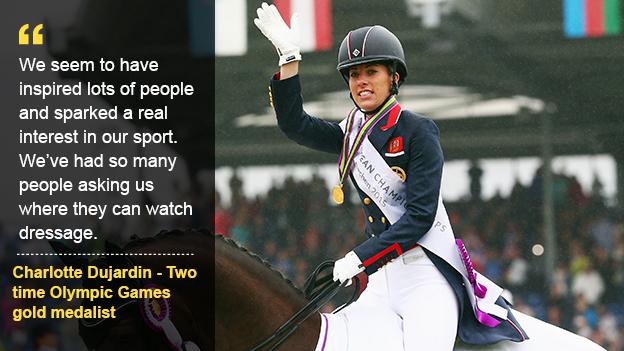 Horsing around
From Olympic events dressage, showjumping and eventing, racing at Aintree and Cheltenham and much more, there so many sports with horses to choose from - even if you just want to ride along a beach or in the countryside,
You don't need to own your own horse or pony to start riding, however you do need specialist instruction to find the right horse for you.
Hoofride is a great place to find out about local riding schools and information for total beginners whatever your age.
Equestrian Sports
Equestrian is a sport that that tests horsemanship and there are three sports that will be appearing at 2016 Olympics: dressage, showjumping and eventing. The Olympic governing body is the Fédération Equestre Internationale (FEI).
Most riders when starting out try each discipline and then specialise based on their abilities and what aspects of the equestrian sport that they enjoy.
This is a partnership between horse and rider and means the horse needs to also have the ability to excel in the chosen sport.
Dressage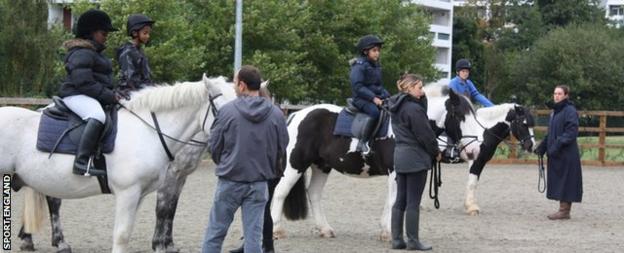 Showjumping
Eventing
Horse Racing
Interested in racing on the flat or over jumps? The British Horseracing Authority is a good place to start.
The BHA is the official governing body of racing in Britain and offers tools and resources to those interested in watching and participating in the activity.
The British Racing School runs general training courses and specific jockey training for aspiring riders - they include courses on obtaining an amateur riders permit and practical Jockey training.
The Pony Racing Authority have information, advice and support for young people who would like an introduction to becoming a professional jockey.
Vaulting
Love horse riding and also keen on gymnastics? If the answer is yes, then Vaulting is for you.
Best described as gymnastics on a cantering horse, this is not your ordinary activity.
The horse is lead by a handler doing the lunging in the middle of the arena, keeping the horse at a steady rhythm allowing the rider to perform elegant and fluid movements on top of the horse.
Other Horse Sports
Young Riders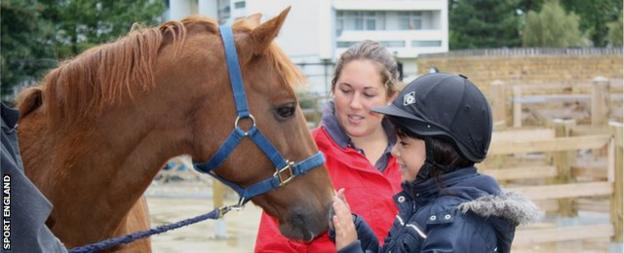 Not only is horse riding it a great physical activity, but through the responsibility of caring for horses and ponies, children and teenagers will learn some important life lessons.
The Pony Club help young riders learn the skills they need while providing opportunities to learn riding and road safety.
They also give young riders an opportunity to try the different equestrian disciplines and are a great source of information and guidance for parents.
For the more advanced youths, Mounted games is competitive, very fast, and riders need to be fit and quick as they perform various gymkhana games with their ponies.
Disability Riding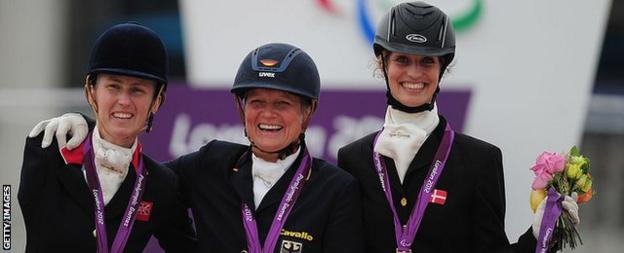 A starting point would be to contact Riding for the Disabled Association - a charity that provides support and accessible riding lessons on specialist trained horses. There are over 500 centres across England, Wales and Scotland. If you are based in Northern Ireland, contact Riding for the Disabled Northern Ireland
Volunteering
Volunteers are vital to the sport and the varied opportunities can offer a valuable insight in to the specialist equine disciplines. There are often chances to meet experienced competitors, stewards and judges who can give you guidance, support and inspiration. All the specialist equine sport pages have volunteer pages - go to the page of the sport you are interested in to find out more.
You can also go to Join In UK, Volunteer Now in Northern Ireland or Volunteers Scotland to find an opportunity near you.
What next?
1. Visit the British Equestrian Federation or the British Horseriding Authority to find local horse riding and racing opportunities in your area.
2. Share your story and inspire others.
Are you inspired to try equestrian? Or maybe you are a keen enthusiast already? Get in touch and tell us your experience of the sport by tweeting us on @bbcgetinspired, visiting us on Facebook or email us on getinspired@bbc.co.uk.
See our full list of activity guides for more inspiration.