Get Inspired: How to get into Gaelic football
From the section Get Inspired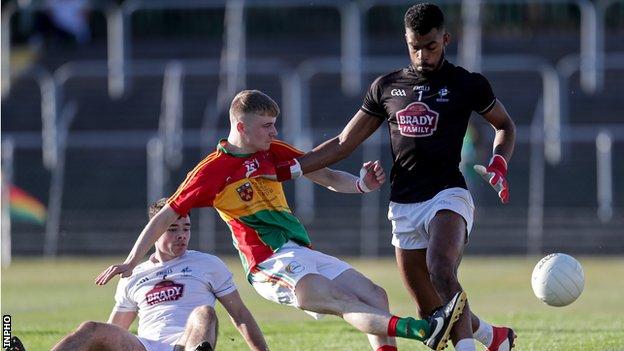 How do I start?
You can find your local club in Northern Ireland on the Gaelic Athletic Association website. Gaelic football in England, Scotland and Wales is overseen by the Provincial Council of Britain GAA.
What is it?
Gaelic football is one of the most popular sports in Ireland. It's fast paced, with two 15-a-side teams, and is played on a field a little bit bigger than a football pitch.

The aim of the game is to put the ball in your opponents' net (worth three points) or between the posts and above the crossbar (for one point).

Matches last for 70 minutes, using a ball slightly smaller than a football. You can move the ball along the pitch by either kicking it out of your hands, along the ground or passing it to a team-mate by hitting it with your fist.

With the ball, you can only run a maximum of four steps, after which you either have to bounce it or kick it up and catch it to carry on.

It may sound complicated but it's really easy to pick up - the

GAA website

has a full list of rules.
Is it for me?
Gaelic football is full contact, fun, fast and will improve your fitness. Not only that, you'll meet new people and make friends, with team-mates known to create strong bonds off the field.
What to expect when I start?
Gaelic football builds your stamina, agility and awareness in the same way as rugby and football.

The sport also improves hand-eye co-ordination.

Junior versions of the game are non contact. The GAA offers

beginners' camps for children

up to and including age 11.

The Ladies Gaelic Football Association runs a

Gaelic4Girls programme

culminating in a National Blitz Day aimed at offering new, young players the chance to try the sport.

Disability Sport Northern Ireland

has a host of resources and information on how to make Gaelic football more inclusive.
To get you in the mood ...
Are you inspired to try Gaelic football? Or maybe you are a keen enthusiast already? Get in touch and tell us your experience of the activity by tweeting us on @bbcgetinspired, visiting us on Facebook or email us on getinspired@bbc.co.uk.