Get Inspired: How to get into golf
From the section Get Inspired
Fast Answers

Why get into golf?

It's exercise while socialising. Catch up with friends, and have a bit of friendly competition.

Who is it for?

It's a game for all ages and abilities. Plus its unique handicapping system allows people of different abilities to play and compete together.

Is there a cheap option?

Taster sessions and beginner courses are not as expensive as you might think, and there are driving ranges available across the country.

Do I need my own equipment?

The majority of beginner courses will provide equipment, and clubs are available to rent at most golf courses.

Can I take it to another level?

You can play competitive golf at club, county and national level and turn professional.

Is there a disability option?

PGA pros are trained with the skills to coach a range of disabilities.

Is there a family option?

Golf is a sport for the whole family as you can learn to play and compete together.

So how do I take part?

Check the national association links on this page.
Golf is an almost unique sport, combining periods of intense concentration and skill with much longer periods of walking around beautiful landscapes.
There's no better sport for bringing people together and, with its winning combination of exercise, personal challenges, competition and social interaction, golf is the perfect tonic for good health and happiness.
Golf
Golf is played on a course of 18 holes, with the winner being the person to take the least shots. A shorter version is the nine-hole game.
Scottish Golf provides a club finder to help you locate your nearest course, as does England Golf. The Golf Union of Ireland runs a golf academy, while Golf Development Wales allows you to find your nearest club.
Disability Golf
The handicap system in golf makes it easy for players with a disability to play alongside able-bodied players.
The Disabled Golf Association is a good place to start if you are looking for opportunities to play, but all of the national governing bodies can help you find an inclusive club near you.
Played with the assistance of a caddie, Blind Golf is played to the official rules and standards of the game.
Junior Golf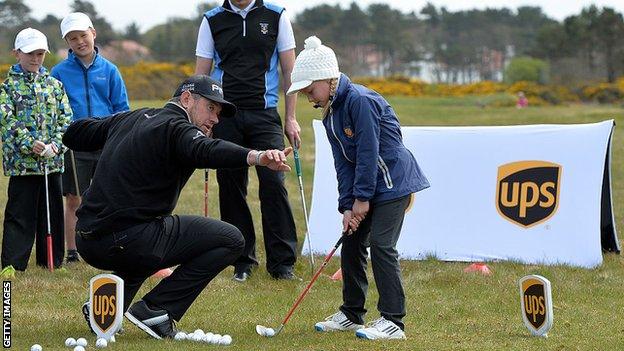 As well as being a great way of developing hand-eye co-ordination and spatial awareness, golf also teaches social skills and self-improvement.
There are initiatives to encourage young people to get into golf across the UK.
The Golf Foundation is a charity committed to giving children and young people the opportunity to experience golf and the benefits it has to offer.
Coaching and volunteering
Many parents support their children and junior club section without actually realising they are the next generation of golf volunteers.
The types of roles you can do are endless - with administration, supporting coaching sessions, helping within schools programmes, events, marketing and editing clubs websites among the activities you can help with.
Join In UK, Volunteer Scotland and Volunteer Now in Northern Ireland can also help you find a club that needs your hands on attention.
Are you inspired to try golf? Or maybe you are an enthusiast player already? Get in touch and tell us your experience of the game by tweeting us on @bbcgetinspired, visiting us on Facebook or email us on getinspired@bbc.co.uk.
See our full list of activity guides for more inspiration.