Get Inspired in ENGLAND
Last updated on .From the section Get Inspired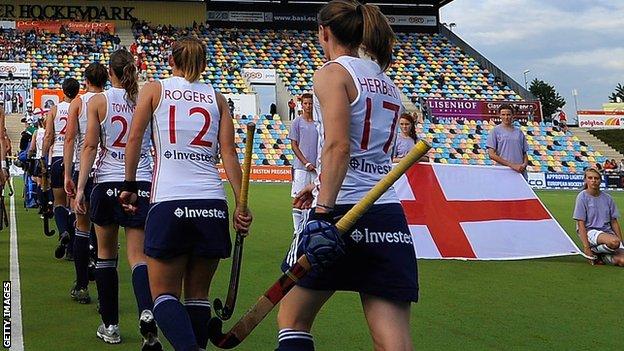 Looking to get active in England?
This is a great place to start.
On this page you can find out where to go, and who to speak to, to get started in dozens of sports across England.
Sport England is the main public body for the development of sport in England.
Don't forget you can also use the postcode finder on the right-hand side of this page to find clubs and activities on your doorstep.
---
ARCHERY
Archers in the Olympics had to hit a target the size of a beermat from a distance of seven bus lengths - and they burned through 300-plus calories per hour while they were at it. Care to do the same?
---
ATHLETICS
Here you have one of the widest ranges of choice in sport. Will it be running? How far? Maybe throwing? Or jumping - but high jump, long jump or pole vault? Decisions, decisions.
---
BADMINTON
Smashes can reach speeds of more than 200mph, giving badminton a claim to be the world's fastest racquet sport. Can you keep up?
---
BASEBALL
So, you want to play hardball? From leading off the inning to pitching or catching, there are all kinds of ways to get involved with your local baseball team.
---
BASKETBALL
Run, jump, pivot and twist: this is a fast-moving game that will easily take care of 600 calories per hour in a fun, team atmosphere. Want to take hoops for a loop?
Parasport: wheelchair basketball
---
BEACH VOLLEYBALL
Are you prepared to brave England's beaches to play one of the more glamorous Olympic sports? Facilities now exist across the UK and not just at the seaside.
---
BIATHLON
A combination of cross-country skiing and shooting inspired by the Norwegian military. There are a small number of clubs in the UK ready and waiting to help you get into this unusual sport.
---
BOBSLEIGH
Jumping in the sled and roaring down the track is only half of the story. The push-start will demand vast reserves of your strength and pace, so don't overlook bobsleigh if you have speed and power to spare.
---
BOWLS
"Seconds to learn, the rest of your career to master." Lawn bowls is a Commonwealth Games sport which appeals to all ages.
---
BOXING
A dynamic sport that teaches physical and mental discipline, while shifting 500 calories in an hour's sparring. Learn how to box safely and easily at a club near you.
Amateur Boxing Association of England
---
CANOE SLALOM
Paddle at the ready: there are 13,000 litres of water surging beneath you each second. Can you cope? Learn about canoe slalom and slightly more sedate paddling options.
CANOE SPRINT - A straightforward race across the lake. You can race your friends over 200m, train for a canoe marathon or simply gain the skills for a casual weekend paddle.
|
---
CRICKET
Physical exertion with a chess-like strategic element in matches which can range from half an hour to five days in length - it's cricket.
---
CURLING
Forget the artistic flair of figure skating, raw power of speed skating or physicality of ice hockey - curlers rely on strategy, judgement and pinpoint on-ice accuracy.
---
CYCLING
Join the pedal revolution as British athletes increasingly rule the world of two wheels. Choose from action sports like BMX or mountain bike (MTB), the technical intricacies of the track or the wide world of road riding.
---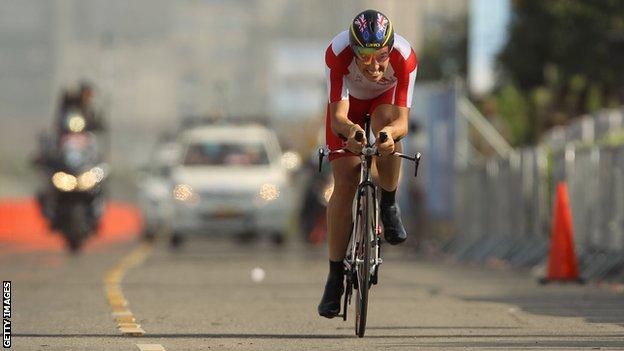 DISABILITY SPORT
From archery to athletics and ice hockey to equestrian, there are dozens of parasports and thousands of clubs in the UK ready to welcome new participants of all standards.
English Federation for Disability Sport
---
DIVING
So, you've seen a teenager make it look easy. Do you have the nerve for the 10m platform board? There are plenty of options available in the sport of diving.
---
EQUESTRIAN
Horse sport offers the artistry of dressage, the dynamism of show jumping and the all-round thrill of eventing, but you can start out with a lazy hack at your local centre.
Hoof - learn to ride in the UK
---
FENCING
The thrust and parry, not to mention all that work for your thighs and glutes, will take care of 400 calories an hour. And don't worry, it's not remotely dangerous to get started.
---
FIGURE SKATING
If Dancing on Ice took your fancy, it's actually very easy to get into skating in the UK. There are plenty of rinks and dedicated sessions available - this is the place to find out more.
---
FOOTBALL
Widely considered the national sport in the UK and unquestionably the number-one in terms of popularity. But how do you get started if you've never played before? And how do you find a team if you're getting back into it?
---
GAELIC FOOTBALL
One of the most popular sports in Ireland, a fast-paced game played between 30 players on a field larger than a football pitch.
---
GOLF
A sport which takes many forms, from hitting a few balls on the driving range to a quick nine holes with friends, to the full 18 holes and tournaments over the course of several days.
---
GYMNASTICS
Inspired to hop on a pommel horse or swing from the parallel bars? Or would you rather try rhythmic gymnastics or trampolining? Not to mention tumbling, acrobatics and much more, and there are hundreds of clubs to choose from.
---
HANDBALL
This sport flourished in the 2012 Olympic spotlight, having been big for decades in much of Europe. Did it catch your eye? If so, here's how to get started.
---
HOCKEY
Were you one of the 600,000 fans who saw Olympic hockey at London 2012? Here's more info if you want to try the sport or get back into it if you played when you were younger.
---
HORSE RACING
The "sport of kings" has a long and illustrious history stretching as far back as ancient Greece, and remains one of the most popular sports on both sides of the Atlantic.
GI guide to getting started in Horse Racing
Hoof - learn to ride in the UK
BHA -British Horseracing Authority
---
HURLING
Hurling shares elements with lacrosse, hockey, baseball or football, so if you haven't given the game a go, it won't take you long to grasp the basics.
---
ICE HOCKEY
With teams dotted throughout the UK and the promise of a fast-paced sport approximating the toughest interval training you can imagine, ice hockey offers and exciting and different challenge. Get your skates on.
English Ice Hockey Association
---
JUDO
It's not about brute strength: to enjoy judo, your technique and timing count the most. You can even drop the combat entirely and simply use the moves to build fitness - it's up to you.
---
LUGE
The UK has one, tiny, luge course. You should put it to full use by getting a taste for what amounts to an adrenaline-fuelled, feet-first slide down a mountainside.
---
MARTIAL ARTS
From karate to judo, kickboxing to MMA, martial arts promotes self-defence and wellbeing. Whether you use it for combat or not, there are plenty of ways to get started.
GI guide to getting started in Martial Arts
---
MODERN PENTATHLON
Yes, it can be done, and you won't find a more exciting mix to hold your attention span: fencing, swimming, show jumping, running and shooting.
Pentathlon GB guide to getting started in Modern Pentathlon
---
MOTORSPORT
Bikes, karts, rallying and more. Just because you're sitting in or on something with an engine, it doesn't mean you won't get exercise - physical conditioning is a vital element of motorsport.
Motor Sports Association of the UK
---
NETBALL
First developed alongside basketball - and sharing many features - netball claims to be the fastest-growing and most popular team sport for women in the world.
---
NORDIC COMBINATION
While it's a tricky proposition to learn this combination of ski jumping and cross-country in the UK, you'll become incredibly fit (and the envy of friends) if you take it on.
---
ROWING
One of the most physically demanding sports at the Olympics if you really push it, but nobody will mind if you just want to learn the basics and get a little fitter. Opportunities all over the UK.
---
RUGBY LEAGUE
A crowd-pleasing, physically demanding game with few stoppages and plenty of pace. This sport is highly popular in England, Australia and beyond.
Parasport: wheelchair rugby league
---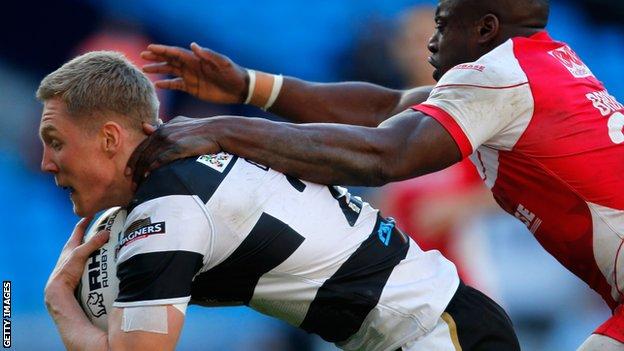 RUGBY UNION
Get straight into the thick of the scrum in the 15-player game or try rugby sevens, which will make its Olympic debut in 2016.
---
RUNNING
It's what humans have done spontaneously for eons. Along with being the purest physical activity there is, running is free, simple, sociable, and burns more calories than any other mainstream exercise.
---
SAILING
Mental strength, a physical workout and the chance to get away from it all in spectacular fashion. That's what sailing offers at more than 1,500 clubs around the UK.
---
SHINTY
With 12 players per team and the use of a curved stick called a caman, this game shares some aspects of field hockey - and also helped to inspire the invention of modern ice hockey.
---
SHOOTING
Have you got the concentration and the nerve for this precision sport? All ages can compete and there are clubs across the UK.
---
SHORT-TRACK SKATING
Sort-of like track cycling on ice, minus the bikes. Fast, furious loops of the rink in four-person dashes to the line make this an invigorating sport and great for exercise. Plus you get to wear fancy yellow helmets.
---
SKELETON
Skeleton - a full track in the UK. You can still join in, though. Find out more here.
---
SKI JUMP
You will need dedication and the ability to travel if you're a British ski jump prospect - but it's an exciting, daredevil sport. Find out more about getting started.
---
SKIING
Tear down the slopes as an alpine skier, slog across them as a cross-country specialist or pull off stunning tricks as a freestyler: the choice is yours.
---
SNOWBOARDING
High-octane action on the slopes, this is a sport you can take as seriously and make as complex as you like: either take it easy with friends or test yourself with jumps and tricks.
---
SOFTBALL
A variant of baseball with a slight larger ball and smaller field, softball is gaining popularity with men and women throughout the UK, particularly as mixed teams are common.
---
SPEED SKATING
A longer, more endurance-based sport than its cousin short-track, speed skating is a minority sport in Britain but you can still get your skates on across the UK.
---
SQUASH
Squash and its cousin racketball have long been recognised as excellent workouts, that you can even pack into a lunch break.
---
SWIMMING
Find your local pool and get ready for a dip with one of Britain's most popular sports, capable of getting you in formidable shape with a half-hour swim using up to 450 calories.
---
SYNCHRO SWIMMING
This is a lung-busting workout. Even if you don't want to become a fully-fledged synchro swimmer, the dry-land training its athletes need could do wonders for you.
British Swimming's guide to getting started in synchro
---
TABLE TENNIS
Cheap, easily accessible, easy to play and still a great way to stay active. There are even free outdoor tables across British cities. Find the nearest table to you and get going.
English Table Tennis Association
---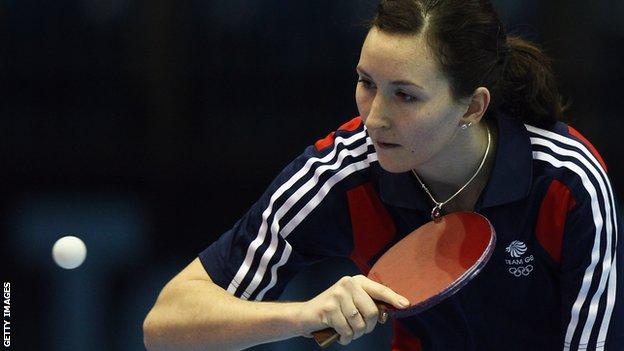 TAEKWONDO
This sport offers a phenomenal workout, and if you're not sure about the martial arts aspect, there are non-contact variants. If you want to take it further and compete, it's easy to do so.
---
TENNIS
One of the hottest sports in Britain's last two sizzling summers of success. Nobody expects you to win Wimbledon next year, but if you want to find your nearest court and learn the basics, this is the place for you.
LTA's guide to getting started in tennis
---
TRIATHLON
This blend of swimming, cycling and running is one of the toughest tests in sport and also one of the fastest-growing activities in Britain, with hundreds of races for all ages and standards across the UK. Give it a go here.
---
VOLLEYBALL
An exciting, competitive team sport that can see you expend an unbelievable amount of energy when a game gets going. Playable indoors or outdoors, too. Find out more about getting into volleyball here.
---
WATER POLO
A great endurance sport, demanding real stamina to stay afloat, keep moving and remain focused. Find out where to play and who to contact if you wanted to get started.
British Swimming's guide to getting started in Water Polo
---
WEIGHTLIFTING
More than a simple test of strength, weightlifting doesn't require any specific size and build - just look at GB's diminutive 2012 Olympian, Zoe Smith. Boost your energy levels and muscle definition with this sport.
---
WRESTLING
If you're looking to develop upper-body strength and want to try one of the oldest sports in the world, wrestling could be for you. There are around 50 clubs in the UK - find out more here.
---
Want to know about an activity that isn't listed here? Get in touch with us via twitter or email getinspired@bbc.co.