Get Inspired: How to get into skiing
From the section Get Inspired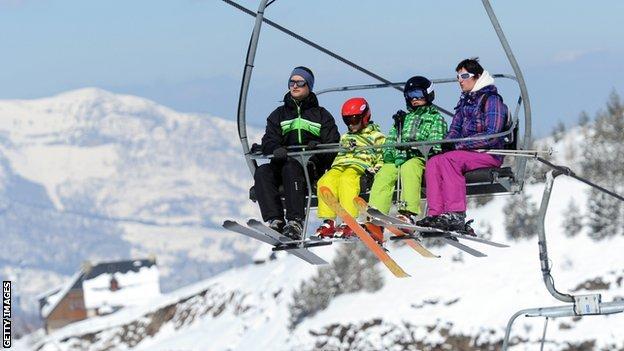 How do I start?
Find your local centre in England,Wales or Scotland to get yourself on the slopes. The Ski Club of Northern Ireland has a useful Facebook page too. There's also loads of information at Disability Snowsport for anyone looking for inclusive skiing.
What is skiing?
You fix on a pair of skis to your feet, whilst wearing special boots, and glide down a slope. Many people in the United Kingdom learn the basics of alpine skiing on dry ski slopes or at indoor snow centres, which offer lessons and equipment rental.
Is it for me?
There are beginners classes all over the country, and you can pick up the basics quickly. So if you like the cold, the rush of speed and adrenaline then give it a go.
What to expect when I get there?
Skiing is a great workout - you can

burn up to 500 calories an hour

.

Your knees take on the weight of your body when you turn downhill,

strengthening your bones and joints.

As you go down the slope, your body is in a squat position, which improves your

balance

and builds your

stomach

and

leg muscles

.

Snowsport centres and dry ski slopes around the country offer lessons to

children as young as three.

Skiing is open to all and anyone with a

disability

can compete.

Disability Snowsport UK

has loads of advice about getting involved. They offer

lessons,

recreational adaptive skiing

with

local groups

and a

race league

which is open to people with or without a disability.
To get you in the mood ...
All clubs need a chair, secretary and treasurer to help things run smoothly as well as officials, coaches and judges. Whatever role you're interested in, Join In has opportunities to volunteer in your area.
Are you inspired to try skiing? Or maybe you are a keen enthusiast already? Get in touch and tell us your experience of the activity by tweeting us on @bbcgetinspired, visiting us on Facebook or email us on getinspired@bbc.co.uk.