Paralympics: How Yasmin became part of the inspired generation

By Martin Dougan
Presenter, CBBC Newsround
Last updated on .From the section Get Inspired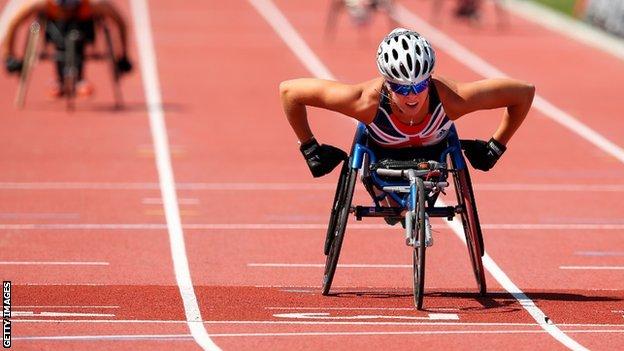 "Inspire a generation" - the slogan that fronted London's 2012 campaign.
In the build-up to the Olympic and Paralympic Games, it seemed as if every time you turned on the TV, opened a newspaper or made your way to work, that quote would be there, reminding you that this was about much more than sport.
I remember during the spectacle of the Games, I thought: "What has happened to London?"
Cynicism gave way to Olympic and Paralympic fever. Within a month, we Brits were in agreement - we had hosted the most successful Games ever.
But, one year on, has that warm glow translated into a lasting legacy? Did the Games inspire that generation?
That's the question I was asked to explore in a special programme for CBBC's Newsround.
When I speak to people about this, the usual response is: "What legacy?" And if you had asked me the same thing a month ago, I might have agreed. I'd have argued that it's all been forgotten about now, and nothing's changed.
Then I met Yasmin.
On our first day of filming, I was sent to a running track to conduct an interview. There I approached a young girl, put out my hand and said: "Hi. I'm Martin."
She responded by rolling her eyes and saying: "I know that, I'm Yasmin."
The whole room started laughing. Now, I've played plenty of sport - I was a professional wheelchair basketball player before becoming a TV presenter - and I know that athletes love to gain a mental advantage over one another.
In this case, I was well and truly decked by a 13-year-old.
Like me, Yasmin has cerebral palsy, which confines her to a wheelchair. And like me, she found fun, confidence and friendship through sport.
However, six months ago this girl had never even attempted playing a sport, because she didn't think there was anything out there for her. She didn't feel that sport was for kids like her.
Now, she's part of a wheelchair racing club, and has even won a bronze medal in a competitive race.
I asked her what had changed her mind. She told me it was watching the Paralympic Games on TV. The 2012 Paralympics smashed records - 39.9m people tuned in to watch, the highest viewing figures for the Paralympics ever.
It was seeing Hannah Cockroft, one of Britain's most-loved wheelchair racers and a two-time gold-medal winner (pictured at the top of this page), that inspired Yasmin to get involved herself.
Here in front of me was a small, red-headed teen whose life had been changed, simply because she finally saw someone playing sport who she could relate to, and I wondered how many more kids like her were out there.
No doubt this anniversary will provoke a big national debate about whether the Games have made a tangible difference to our lives.
Time will tell, but Yasmin's story certainly taught me a lesson - whether or not we see an army of youngsters burst through to be the next Mo Farah or Ellie Simmonds, helping all kids to feel included in sport can have a hugely positive impact.
It's not necessarily about becoming an international athlete. It can also be about discipline, working as a team and being healthy. I've witnessed all of that happening first-hand.
So, if someone asks me now if there is a London 2012 legacy, I would say: "100% - yes."
As for Yasmin, she assures me she'll continue to work hard and enjoy her sport. She also mentioned that if the racing thing doesn't work out, she would love to be a reporter on TV.
Guess I'd better watch my back.