Try a new sport: top athletes switch to triathlon

By Ollie Williams
BBC Olympic sports reporter
Last updated on .From the section Get Inspired
Kelly Sotherton is not easily daunted.
In the year since she retired, the former GB heptathlete - who won bronze at Athens 2004 - has cycled from John O'Groats to Land's End and run the London Marathon.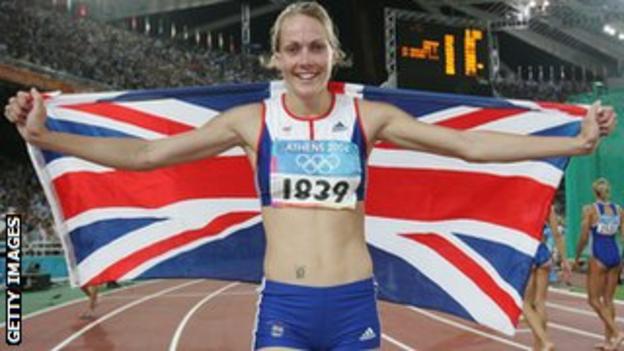 "As an athlete you have a challenge every year, trying to make a championship," she says. "For me to keep fit, I need a challenge. With a challenge I know I'll get off the sofa, train and keep fit. I need a goal."
Her latest idea is tackling the Hyde Park triathlon, which this year will stage the showpiece grand final of triathlon's World Series. Sotherton, 36, will take on the sprint-distance triathlon on 14 September, ahead of the elite Olympic-distance races that weekend.
Triathlon's rapid growth in popularity over the past decade has swept up a number of stars from other sports.
Formula 1 driver Jenson Button is renowned for his love of the swim-bike-run. Rower James Cracknell regularly races. Sotherton is the latest convert.
The run and the bike are fine, she says. But the swim in Hyde Park's Serpentine? That may be a different matter.
"Triathlon is something new and it's always fascinated me. As a multi-discipline sport I think it's perfect for me," says Sotherton.
"I can swim, but I'm not 100% sure, I can run and ride my bike, I've had experience of them, so I thought I'd give it a go.
"I might like it, I might take to it like a fish to water, hopefully. Everyone says it's a great sport and it combines two of the things I really like - it's just the swimming."
Happily, Non Stanford is on hand to help. Stanford, 24, is the current women's world Under-23 champion and won this year's Madrid leg of the World Series.
Stanford went to the University of Birmingham as a runner but moved into triathlon after an injury before moving up to join the GB team.
"Hyde Park brings back such good memories," she says. "This is where we got our first-ever Olympic medal so it's pretty special. Britain embraced triathlon last year and is continuing to embrace it.
"It's not a hard course in terms of the terrain, there are no massive hills and it's not going to be boiling hot - hopefully - but it's quite technical around the palace, there are some bends."
Stanford's advice for Sotherton in the swim?
"Familiarise yourself with the swim, get in the Serpentine and have a splash around because open water is always a bit scary - make sure you know what you're doing in transition, and know the course."
Another new face at this year's Hyde Park triathlon will be Natalie Seymour, a former member of the GB hockey team.
Seymour travelled to London 2012 as a reserve for the GB women, which meant she stayed in the athletes' village and spent plenty of time on the Olympic Park with team-mates, without ever taking to the field - or collecting a bronze medal. After years of training, she watched Britain finish third from the stands.
"I think an odd experience is a good way of summing it up," says Seymour. "But there were so many amazing parts of it. I got to be part of the opening ceremony and the closing ceremony and I got to be around the team."
After the Games, Seymour decided to swap hockey for a clinical psychology doctorate and an excursion into the world of triathlon.
"I think in a way I knew I needed a break and I never really knew what that break would look like.
"I knew I'm the type of person that always needs a challenge, I'm a bit of a geek and I like training. So I knew I needed a break from hockey and when I started triathlon, I wasn't sure where it was going to take me - I just started running, swimming and cycling.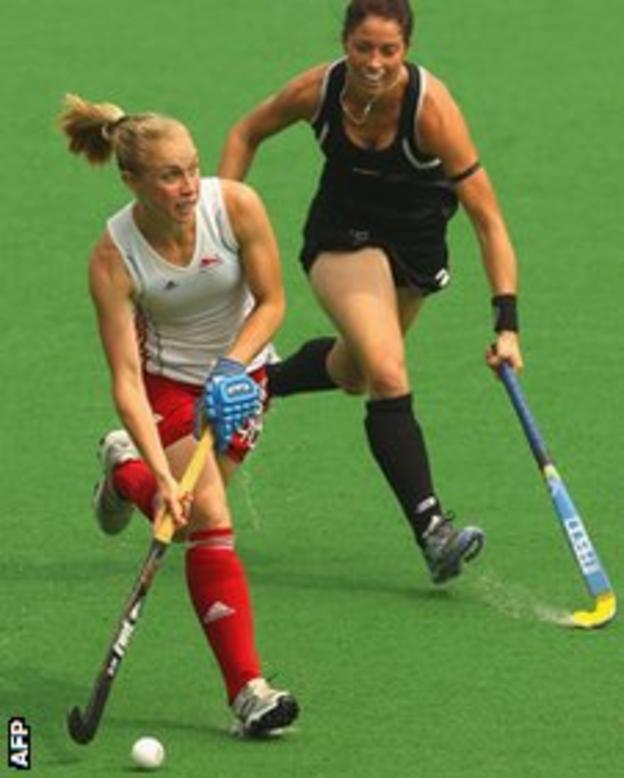 "It's strange, I feel so nervous before events - I do miss having a team around me but at the same time this is about putting the hours into training and, when you get on the line, you just do what you can do, and there's nothing else you can do to change that."
Seymour recently finished fourth in her age group at the British Championships in Liverpool, a result good enough to earn her a berth at the prestigious Hyde Park event.
"I've got Hyde Park to look forward to. It's unbelievable, I don't think I've quite got my head around it," she says.
"I'm still pretty terrified, to be honest, of the start and still putting everything together and transitions and all the little nuances that you have to learn about. It's going to be incredible, I just feel so honoured to be able to be part of it.
"There's just such a buzz and I think it's great for London, and Great Britain, to still pick up these huge events. There's a real legacy behind 2012."
For Sotherton, the buzz is tempered by the ticking clock. Seymour has been in fairly intensive training; Sotherton is on day one.
"By the end of the day I hope to have a training plan!" She laughs. "I've been talking to Non [Stanford] and I know a triathlon coach in Birmingham. I need to know about the swimming more and have experience of open-water, especially.
"As much as this is fun, I want to do myself some justice."