Come for the Premier League, stay for the table tennis
Last updated on .From the section Get Inspired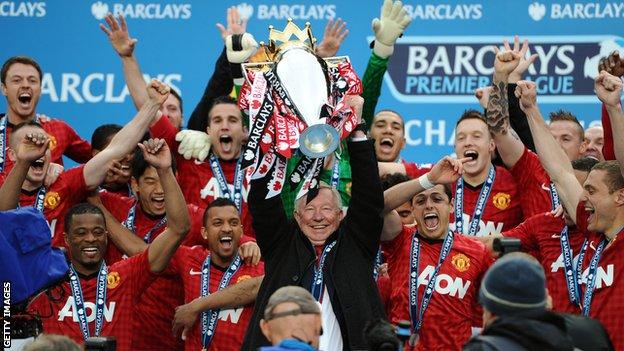 To some people, the Premier League brings to mind the worst excesses of the national game.
Money-laden clubs - and players - earned unfavourable comparison with Team GB's Olympic and Paralympic stars last year, as the latter produced unforgettable memories despite being funded on a comparative shoestring.
The Premier League and Sport England are working hard to change the impression, among some, that football is a sport that takes rather than gives.
Two projects - a re-branded initiative named Kickz and Premier League 4 Sport - use the Premier League's clubs to drive increased sport participation throughout the UK.
And the trick is, it doesn't matter which sport.
"The Premier League brings us a way of getting to hard to reach people," says Nick Bitel, the new chairman of Sport England. "Using the power of the brand of the Premier League is really going to help us.
"If we can get them in through the doors playing table tennis or something else, hopefully that will lead to a longer life in sport.
"Premier League 4 Sport is about setting up satellite clubs, doing multi-sports, in a number of different locations. There are already 320 of these clubs up and down the country, linked to their local Premier League club."
Adam Gemili knows better than most the power of football.
The Great Britain sprinter spent seven years playing in Chelsea's youth academy before signing for Dagenham and Redbridge as a defender.
Gemili quit football to concentrate on his sprinting career. He believes Premier League 4 Sport shows football isn't the only sport open to youngsters.
"A lot of young people often think that football is the only way to go," he says, "but I've moved away from football and been successful, there are other sports there.
"It's great that it isn't just about football. You can move away from football and still be successful.
"There are so many talented people wasted because they have tried to pursue something that is very difficult, where if they had moved away to something else - like swimming or athletics - they could be absolute superstars."
Richard Scudamore, the chief executive of the Premier League, wants these initiatives to demonstrate the commitment of clubs to their local communities, in the face of criticism that the game is being globalised at local fans' expense.
"We sell global, but what we sell globally is local," says Scudamore. "It's about games that take place in those stadiums in the towns and cities people have heard of, with the names of people that you've heard of.
"It's about the fans, the noise and the way those clubs are embedded in their communities. And what is important as we get more and more global is that we stay more and more local."
Those comparisons with Team GB's London 2012 stars were a reminder to Scudamore of the work the Premier League and its players must do to meet that standard.
"We knew that players were going to be compared, either favourably or unfavourably, with the Olympians.
"Last season we had fewer unsavoury incidents on the pitch, we had fewer mass confrontations of players. So the whole Olympic legacy manifested itself in a whole new vigour and enthusiasm about us as a sporting nation."