Inspired to try sport by the Olympics: your stories
Last updated on .From the section Get Inspired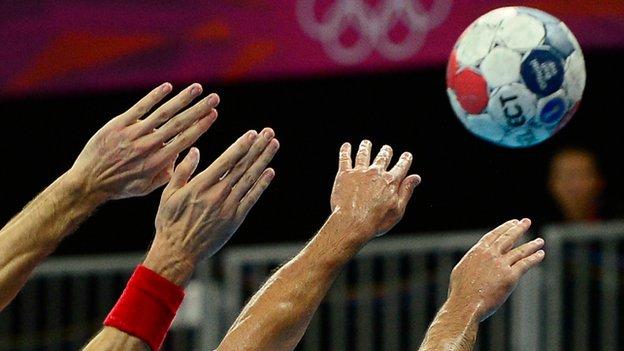 "I decided to lose weight for my kids, so I'd be there for their future."
Gary Brennan watched cycling at the Beijing Olympics and lost 26 stone by taking up the sport.
His amazing story is reproduced below, alongside other, similar tales of inspiration from the Olympic Games as people across the UK found new ways into sport.
Have you told us your story yet? Email getinspired@bbc.co.uk and share with us, up to 400 words (plus any photos you have), which sport you picked and what happened next.
'Thanks to handball I enjoy life more'
Andy Lewers
Having been gripped by handball after watching it at the London Olympics, I decided to step out of my comfort zone and take up a sport that was completely alien to me.
A little apprehensive, I went to a handball taster session at Brunel University, where the handball club was coincidentally celebrating its debut year.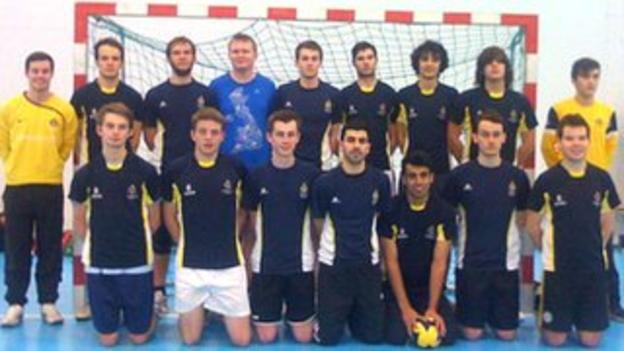 Roughly 50-plus people turned up to the session, most of whom had also been inspired by the London Games and were playing the sport for the first time. We received some free coaching from a couple of ladies who played for local side Ruislip Eagles, who were fantastic.
It was a lot of fun and a privilege to be part of Brunel Handball's debut year, as we surprised not only ourselves but also the handball community. In the UK University National Tournament, our first-team managed to finish 20th out of a possible 40 teams, having only been playing together for four months.
The B team - which is the team I play in - managed to finish a respectable 32nd, beating teams who had more years' playing experience along the way. At the end-of-year awards, handball was nominated for the Membership Engagement and Most Improved Club award - we managed to come away with the prior and narrowly missed out on the latter.
Brunel Handball now boasts two international players, after a couple of our players were selected to represent England at under-20 level having only played the sport for less than a year. I'm sure they'll be looking at getting to Rio 2016 to represent Team GB!
I'm not sure if the club would have had the level of enthusiasm or commitment it currently has if it wasn't for London 2012.
Thanks to the handball team I've started to enjoy university life more and will be treasurer for the forthcoming academic year.
I'm not the world's best player, nor will I ever be, but I love it and that's what matters.
Cycling for my kids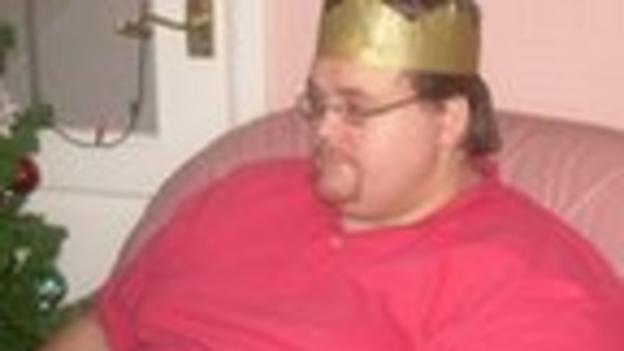 Gary Brennan
Four years ago I was 39 stone and 13 pounds. I had diabetes, high blood pressure and sleep apnea.
I was inspired by the cyclists at the 2008 Olympic Games - I decided to lose weight for my kids, so I'd be there for their future.
Four years on I'm 13 stone, totally healthy and loving life, I'm now training for my first 10k run, with a marathon to follow hopefully.
Gary has a blog about his cycling and weight loss.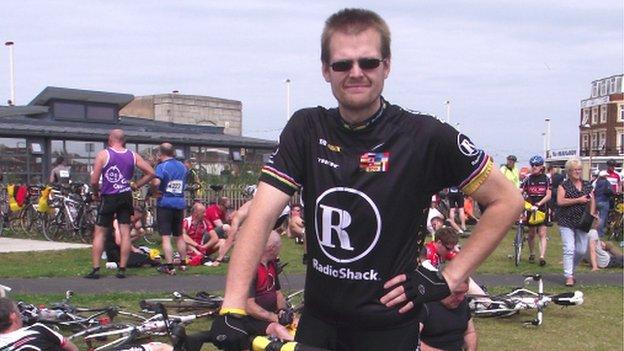 'Inspiring my children to live a normal life'
Neil Johnson
I'm 30 and have a wife, Clare and two boys, both with cystic fibrosis.
At first, the realisation of a prolonged degenerative illness for my boys made our lives hard - but with sport, I believe my actions will inspire my children to live a normal life.
After football, cricket and rugby I needed something new to do, so I started karate back in February 2012. After grading twice I introduced my first son to the discipline and he's progressing well, and I will introduce my youngest as well.
Clare and myself are aware of the importance of helping our children with being active. I've recently visited my first child's school with karate and gave the children a taster with my instructor Tom.
This has given a few of the parents and children more outlook on fitness, but I hope this may inspire them to do what Clare and myself are trying to achieve.
'Not the kind of story you want to feature'
Samantha Lewis
Just over a year ago, my then-seven-year-old daughter was inspired by all the excitement around the run-up to 2012 to try diving and synchronised swimming at our local pool (Bury, Lancs).
She loved it and enrolled onto the holiday courses, diving every day for the whole of the summer holidays. She also started weekly diving lessons throughout the year, and now has a love of the sport.
She has also recently started trampoline classes and taken up gymnastics to help her progress and become better at diving.
Sadly, though, less than a year after the amazing Olympic spectacle that we all watched and loved, our local council has announced that they are proposing to close our diving pool as part of their plans to knock down and rebuild our leisure centre.
Unfortunately, there will be no diving pool in the new, 'improved' centre.
I realise that this is not the kind of story that you would like to feature but, sadly, these diving pool closures are happening all over. Oldham and also Liverpool have been earmarked for closure.
My daughter feels very let down by this, after all the bluster of the Olympic legacy, and I am certain that she is not the only one.
Sorry to be so negative but I would like our story to be highlighted so that the local council can't quietly sweep us under their carpet. The diving classes are over-subscribed with a very long waiting list, and the pool is also used for synchronised swimming, water polo and scuba diving, so it is not as though it is under-used.
Council leader Mike Connolly recently told the Manchester Evening News: "In deciding what would be provided at the new leisure centre, we had to take into account the cost, the available space, and the demand for facilities.
"It would be impossible to provide a diving pool at the [new] location, due to depth of the pool required. The cost of providing and maintaining a diving pool could not be justified."