Inspired to try sport by the Olympics: your stories
Last updated on .From the section Get Inspired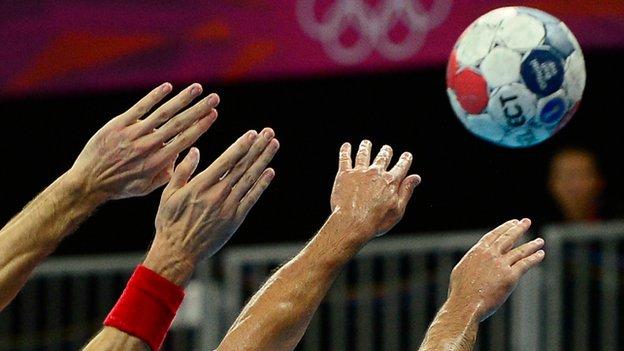 "I turn 50 this year so thought it was time to be inspired."
The 2012 Olympics Closing Ceremony motivated Andy Gray to go on a cycling journey around Britain.
His awe-inspiring story is told below, alongside other, similar tales of inspiration from the Olympic and Paralympic Games as people across the UK have found new ways into sport.
Have you told us your story yet? Email getinspired@bbc.co.uk and share with us, up to 400 words (plus any photos you have), which sport you picked and what happened next.
'Swimming has given me a sense of achievement'
Harriet Goodwin
At the time of the Olympics, I was 20 years old, and I had just finished my first year at university. As a child I had always enjoyed sport and was a member of numerous school clubs, but had to stop due to a long-term injury.
I watched the Olympics avidly, and it made me realise that while I had enjoyed sport, I had never learnt to swim. I was terrified of deep open water, (even the deep end of the swimming pool) and would only get in a swimming pool if I had to.
I live in Deal, Kent, a small town by the sea, and have never swam in the sea. I don't even like paddling. I am a leader at my local Sea Scout group, but my fear of water means I never go out in kayaks or boats, as I am terrified of falling in.
Yet these amazing people on the Olympics and Paralympics swam like fish, and it had me hooked. I was thrilled to watch the races, crying with Ellie Simmonds and planning my evenings around the final races.
When I went back to university in September, I was determined to find a sport to get involved with, so I called my local swimming pool and signed up for a term of swimming lessons. After Christmas I went back for another term. I am now the proud owner of both a 50m and a 100m swimming certificate!
It wasn't an easy achievement. Swimming is one of the hardest things I've ever learnt to do, and I'm still not as good as I'd like to be at it.
But my confidence has greatly improved, and I have set myself a goal of going swimming in the sea this summer.
Learning to swim has done wonders for me, not only in water confidence, but in my day-to-day confidence, body image and strength. It has made me feel more healthy, and given me a sense of achievement I haven't felt in a long time. I plan to go back to swimming lessons in September.
Harriet has a blog about her swimming.
'Somebody said it couldn't be done'
Andy Gray
"Somebody said it couldn't be done!" Who can forget the words that boomed out at the Closing Ceremony?
That was the final piece of inspiration that drove me to do a unique bike ride challenge that I had been thinking about for a while. That, and someone actually saying that the challenge I set couldn't be done! I turn 50 this year so thought it was time to be inspired.
Fifteen hundred miles in 15 days, touching the four compass points of the UK.
Starting at Dunnet Head in Scotland, then to the most westerly point at Corrachadh Mòr, then south passing through the village of Meriden which is recognised as the centre of England. Onward to the southerly point, Lizard Point. Finishing at the most easterly point - Ness Point at Lowestoft on the 18th May 2013.
The Games not only inspired the younger generation but also the slightly older generation.
Andy made a video about his journey.
'I refuse to let my health impairment stop me from reaching my dreams'
Claire Connon
I have a complicated medical history which made my life change overnight. I've overcome a lot of obstacles to be where I am.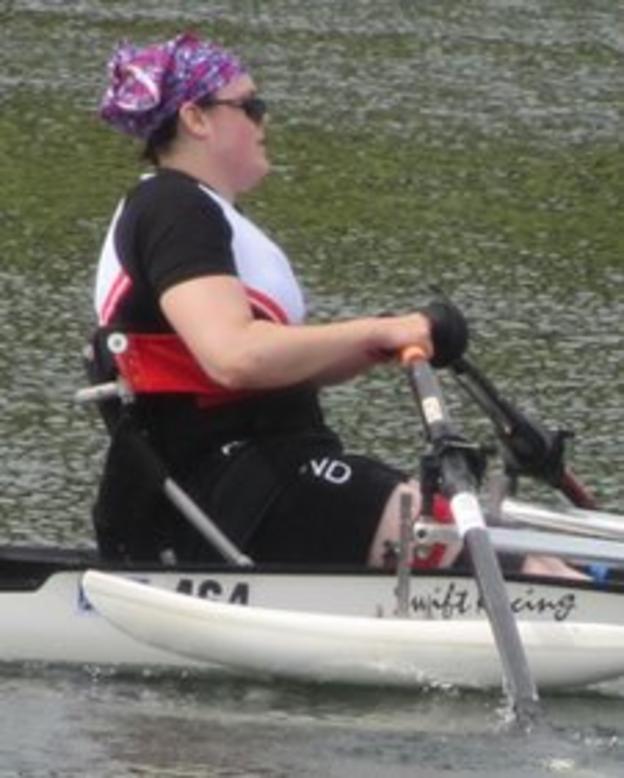 In 2004, I had just started university, and joined my college rowing team. I was hooked immediately and shown to have potential.
I joined the university's development camp, loving it and winning my first regatta. I then returned to university hoping to join the university squad, but just before term started, I was struck down with glandular fever.
This led to me becoming mostly bed-bound, unable to manage anything but the most basic tasks. I fought my way through university, and graduated.
As time progressed, I became physically worse, eventually needing to use a wheelchair full-time.
I was finally diagnosed with a rare disorder called Ehlers Danlos Syndrome. By then I had given up on ever getting back to rowing, it seemed a world away.
Whilst becoming physically worse, I developed severe problems with my digestive system. I was unable to tolerate anything orally, becoming malnourished. I received nutrition by a tube into my small bowel. This improved my life greatly.
I went to a summer fair advertising rowing, and decided that it was time to try adaptive rowing. I looked for my nearest club, sadly an hour from me. They welcomed me with open arms, and I began to start rowing as an Arms and Shoulders para-rower.
Sadly my return was short-lived, as my bowel began to fail, making me seriously ill, leading to another long stay in hospital.
This time I began to be fed intravenously, on total parenteral nutrition. After recovering my strength and becoming stable I was back in a boat, feeling really well.
I raced six weeks after my discharge and won my first race. This was followed two weeks later at the British National Championships where I came second to an experienced rower, but beating experienced rowers as well.
My success has continued this season, winning at the Marlow Regatta, and the Home International Regatta, where I also took two minutes off of my previous time there, giving me a massive PB.
I want to be a Paralympian with all my heart and mind, the first to be fed intravenously. I refuse to let my health impairment stop me from reaching my dreams.
Claire has a blog about her rowing.
'It's never too late to enjoy sport'
Carol Parsons
I was inspired by watching the amazing cyclists at the London Olympics. An activity I had always loved, but had forgotten how much.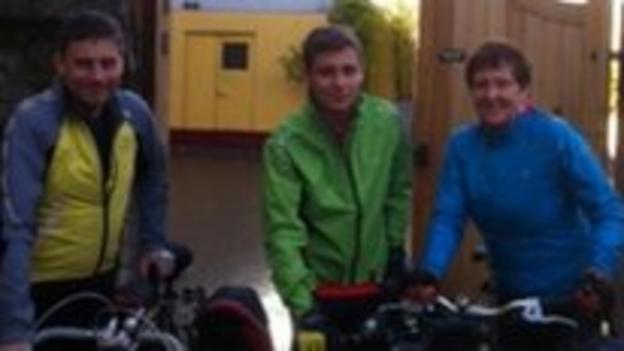 I now cycle to work, have done my first sportive, and I swim over three miles a week.
But most importantly, my family have joined with me. The Olympics have inspired me to leave a legacy for my grandchildren. It is never to late to enjoy sport at whatever age and whatever level.