Anne Keothavong backs free tennis weekend to inspire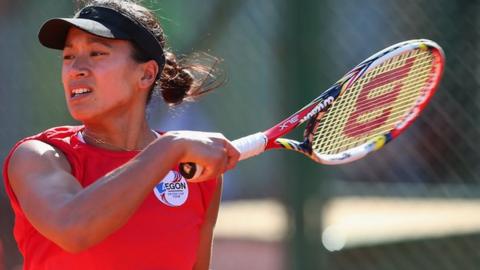 Have you ever wanted to get into tennis? Maybe you think you could be the next Andy Murray or Laura Robson?
Whatever your ability, the Lawn Tennis Association are looking to encourage the next generation of tennis players by offering free lessons at 39 sites across the country on 17-18 August -click here to find your nearest session.
But what about those that have already made it in the game? What was their rise to the top like?
Former British number one, Anne Keothavong, was four years old when she first picked up a racket, but she didn't immediately fall in love with the game.
"I cried and walked off the court the first time I went to a tennis lesson with my dad," she explained. "I was the only one with a wooden racket and it just put me off."
But Keothavong didn't give up, and after her parents had given in and got her a more up-to-date racket, she was back at the tennis courts in no time.
"My parents got me a nice purple racket, so I was much happier," explained the 29-year-old, who retired from tennis in July to start a career in broadcasting.
"I would go along to short-tennis classes once a week with my brother and by the time I was six years old I was playing tennis regularly in Hackney Downs, my local park, and at Highbury Fields."
Tennis is a sport firmly embedded within the Keothavong family, with Anne's elder brother James now a tennis umpire and sister Lena a former player herself.
"It was fiercely competitive between us, we had some awful fights," she remembers.
"We used to all go and play after school and at the weekend. It was just great having someone to play tennis with, I was really lucky."
The LTA's Great British Tennis Weekend dovetails with BBC Sport's campaign to encourage more young people to become involved in sport through its nationwide Get Inspired initiative.
Get Inspired has been designed to build on the interest in sport generated in Britain by the London 2012 Olympics, with the BBC Sport website offering all the details needed to get started in more than 60 sports, ranging from rowing to netball and badminton to climbing.
At the centre of the initiative, BBC One is broadcasting a monthly show in which Gabby Logan showcases the most inspiring stories in sport.
While Anne might have managed to go from the courts of Hackney Downs to the world famous surroundings of Wimbledon, she realises that not everyone is as fortunate to have a tennis-loving family like her, so events such as the Great British Tennis weekend are a perfect opportunity for everyone to go along have a go, even if it is your first time.
She enthused: "It's such a great idea, it just gives everyone a opportunity to have a go and it's free. Tennis is a game that anyone at any age can play, you've just got to have fun and enjoy it.
"With events likes the Olympics and Paralympics last year being such a success, it's important that we build on it and that there is a legacy. Also with Andy Murray winning Wimbledon, everyone should be very excited and inspired to pick up a racket."
There will be a variety of activities on offer at the events, including cardio workouts, mini-tennis for 3-10 year olds and women-only sessions, all with free coaching and equipment provided.
And finally, some advice from Anne: "Just enjoy it and have fun. See it as a challenge, and try and push yourself to get better.
"Tennis is a game for everyone and it's possible for you to be successful, just give it a go. Oh, and get a racket you like - I recommend a nice purple one."
There are free lessons at 39 sites across the country on 17-18 August - Click here to find your nearest session.