Gary Neville salutes grassroots at National Football Day
By John Nicholson
Producer, Get Inspired
Last updated on .From the section Get Inspired
There is something refreshing about a dose of perspective. As the hype surrounding the Premier League continues unabated, with speculation about who is going where, who is unsettled and who is fit, you would be forgiven for forgetting what football means beyond the back pages and professional high life.
The Sir Bobby Robson National Football Day was a timely reminder of what the sport means to communities across the country. "This is football", insists Gary Neville, at the event held in Swinton, Manchester.
Surrounding the former Manchester United and England full-back are hundreds of local children playing the game they love, not giving a second thought to the cameras on show or who might be watching.
"I'm in the media, and we all answer questions and read the press about transfer sagas and other problems that occur in football," Neville says, "but this is a good reminder for me and everyone here of what football is about. We all get into it because we love it, as a kid we came to pitches and fields like this."
Preparing the fields in Swinton had already proved a challenge in itself after the council cut the grass but didn't clear it. Local residents were painstakingly raking the pitches from 6am that morning, doing so without complaining, just keen to get the games on.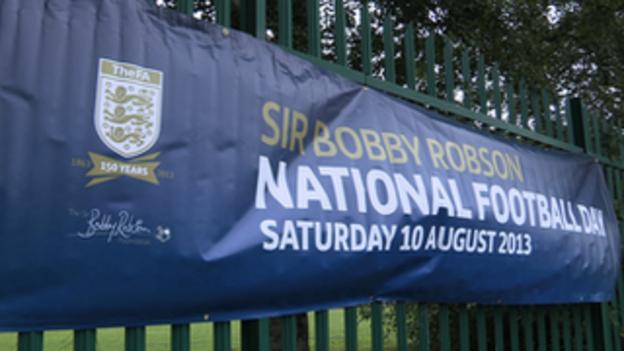 "It's the reality of these sorts of facilities, being a grassroots club," explains FA general secretary Alex Horne.
"They've been knocking on the doors of local residents, borrowing rakes, people have been coming out with bacon sandwiches. It's the centre of the community and people are happy to do it."
The event in Swinton was one of 150 events held across England to celebrate the 150-year anniversary of the FA. And it wasn't just children lacing up their boots.
There was a disability football showcase, veteran five-a-side matches and a women's 11-a-side game. It highlights the unique reach football has, something Alex Horne is more than aware of.
"There are seven million people who play some sort of football week in, week out, and there are 400,000 people who give their time volunteering to make that happen," said Horne. "We want to thank them for that. This is a celebration really."
The star of the event was undoubtedly Neville, who was flocked by football fans of all ages wherever he went. And the hordes were hooked on his every word as he talked about the coaching he received at Manchester United's youth team.
An insight from a man who played under Sir Alex Ferguson, and with the likes of David Beckham, Paul Scholes and Eric Cantona, is the kind of gold dust that any player at any standard would do well to listen to.
Football's elite level is a standard so many aspire to reach, and the FA naturally hope events like this could unearth the next Steven Gerrard or Wayne Rooney.
"There's a virtuous circle here," Horne explains. "The more people playing in good quality environments, the more they enjoy their football and get better at it, the more there are for the clubs to pick from and therefore the more there are for us to pick from when it comes back to England at the top."
However, the reality is very few make it that far, and events like National Football Day are about more than the pinnacle of the sport.
"There will be kids who have dreams to become professional football players," says Neville.
"It won't happen for 99.9% of them, but they've not lost here. They're learning about discipline, sharing, team ethic.
"If they want to be a businessman when they're older, they'll be working in a team, listening to your coach, or your boss, telling you how to behave. Lessons in life are being learnt here, they're not just playing football."
As football fans continue to immerse themselves in news on transfer speculation, selection dilemmas and managers under pressure, it feels like an appropriate time for that dose of perspective.
If you want to get involved in football visit our pages.