Hayley Milne: Overcoming the odds to chase Paralympic dream
By Owen Phillips
BBC Sport
Last updated on .From the section Get Inspired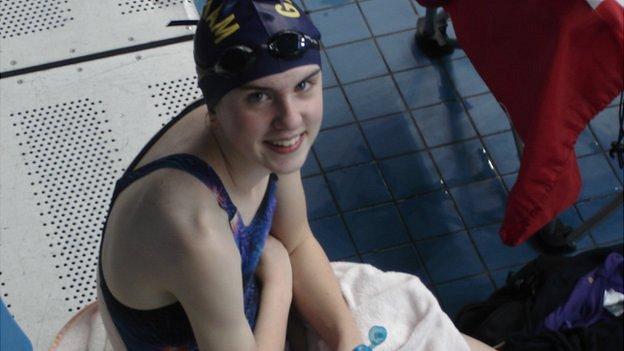 Fourteen-year-old Paralympic swimming hopeful Hayley Milne has a remarkable take on her cerebral palsy when the reality of her condition is mentioned.
"Effectively she had a stroke when she was born and her scans show there is a third of her brain missing on her left side," mum Sharon told BBC Sport.
"If you look at the scan from the top of her head, and see her brain like a cake cut into six, that middle sector on the left has a hole in it."
Hayley is certainly not fazed. "Wow, it sounds cool," she said. "That's awesome when you say it like that!"
And she is certainly not fazed in the pool either.
Hayley holds a British disability record, is third on the all-time rankings list for the SB7 100m breaststroke (short course), and is one of about 25 swimmers selected each year for specialist training and attention as part of the ASA's Disability Spotlight Programme.
Considering she only joined her local swimming club in Grantham, Lincolnshire in 2011, her progress in the pool has been incredible.
But Sharon, who did not expect Hayley to survive her first few days in the world, says it is her progress out of the pool that defies belief.
Twin sister Kathryn was born without complications but Hayley's arrival was not so straightforward. And for Sharon and husband Lawson, that time was horrendous as they dealt with the unknown.
"For the first week I didn't think we would be coming home with her. I dared not believe that we would get this," Sharon said with obvious pride.
"There were no guarantees that came with her about what sort of future she might have when she was discharged from hospital at 10 days old."
The differences between Kathryn and Hayley soon became apparent.
"We could see it in the two babies at four months," Sharon explained. "Hayley was only kicking on one side and her right hand was really fisted and quite tight. It was then that she was referred to a physiotherapist."
It was a steep learning curve for the family, from Allington in Lincolnshire.
"We knew nothing," Sharon said. "We were told she was brain-damaged - it was a nightmare scenario.
"Looking back it was a horrible time but if we had known then what we know now, we would have been a lot more relaxed about it."
Kathryn and Hayley's older sister Jenny, now 16 and also a keen swimmer, was only one at the time.
"We had three children under two and one of them had this problem, so it was a pretty grim time," Sharon said.
"None of them slept well and when they did it was hardly ever at the same time. I don't know what we ran on really. The first five years were a bit of a blur."
Since then, as dad Lawson explained, Hayley has "been through the mill".
She has had four major operations - two on her arms and two on her legs. The most recent, two years ago, to stunt the growth in the lower part of her "good" leg and allow her shorter, weaker leg to catch up. Prior to that, she had "intensive" surgery on her right hand aged seven and on her thumb two years later.
Hayley has restricted movements on her right side and cannot pick things up with her right hand. "I have to stuff things in," she explains.
Thankfully, there should be no more operations. And since the latest surgery, not long after she started mainstream secondary school at Walton Girls High School in Grantham, her swimming has really developed.
Her progress is clear. She claimed a British record in the rarely swum SB7 200m breaststroke at the East Midlands (short course) disability Championships in May, with a time of four minutes 22:30 seconds.
But perhaps her best achievement is her personal best of 2:02.30 in the SB7 100m breaststroke, putting her third in the British all-time rankings behind two Paralympians.
She has been setting personal bests regularly and reached two finals, in the S8 50m freestyle and SB7 100m breaststroke, at the National Youth Championships in Sheffield this summer. She also competed in the S8 100m freestyle.
It was the first time Hayley had swum in a long-course 50m pool. But she showed no signs of nerves, setting several personal bests.
"It was great experience for her," Sharon said. "And she likes the limelight! She doesn't lack confidence."
Breaststroke is her strongest stroke and the one the Spotlight Programme and her talent coach, Dave White, have identified as her best chance of success, but she does not concentrate solely on it.
And the Milnes know what to expect as they look to help Hayley develop in the Spotlight Programme.
Swimming is a sport that demands dedication - both from the swimmer and the parents. Until the month-long break from club swimming in August, Hayley was doing an average of 14,000m a week - around six-and-a-half hours of pool time.
But that figure is likely to increase, as are the number of early mornings and the cost of travelling to the various competitions
"Swimming takes enormous time-management and it's a sport you have to be serious about. There is a big commitment," Sharon said.
"Hayley does struggle academically at school. That is why we want to pursue this chance at swimming. We will move heaven and earth to do anything to help her."
Hayley's journey started at swim school, followed by the Grantham Lynx Swimming club for the disabled. And having steadily built her confidence, she "tried out" Grantham Swimming Club.
She has flourished. Two years ago, she swam 50m freestyle in one minute two seconds, now it's 42 seconds. And her 100m freestyle has gone from 2:20 to 1:38.
Her head coach at Grantham, Maciej Rakowski, believes she has the potential, talent and determination to make Rio 2016.
He said: "Everyone develops differently, but she has been developing massively the past couple of years. And if she keeps going as she has been, then I think she can go into the Paralympics."
Hayley also harbours that hope, saying: "It is in the back of my mind I am trying to head that way. But I think my mum is more excited than me!"
And Sharon can dare to allow herself the chance to dream too.
"It's something we cannot dismiss but it is a long way ahead of us," she said. "It all depends on so much. So much can go wrong with injuries and all sorts. But I think she has as good a chance as any to achieve.
"Her times are coming down; she has that determination about her, she is getting stronger and she is still young."
But Sharon says Hayley's beaming smile and cheery outlook is her biggest source of pride.
"She takes everything in her stride," Sharon added. "We have never hidden anything from her about her condition; she just manages and gets on with it herself. She copes with everything. She is such a gutsy little thing.
"If she plays cards, she wants to win. She just has that personality.
"For her to deal with something so awful the way she does is amazing and we just realise how lucky we are.
"She's a glass half-full type person. She's not gloomy; she never moans or complains about her lot. We are so proud of her."