Meet Tim Lambrechts - a real inspiration
Last updated on .From the section Get Inspired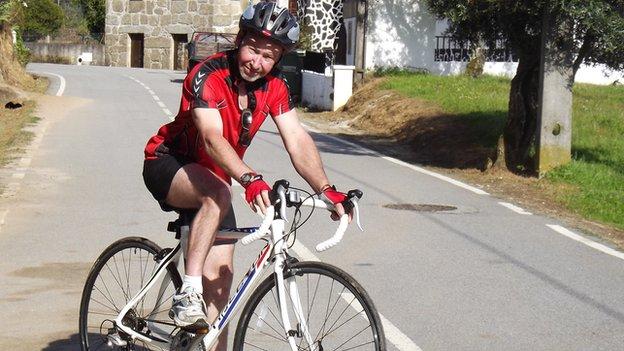 Cycling from Portugal to Brighton would always be a challenge, but having suffered several medical setbacks in my life, and having recently survived cancer, makes it even tougher for me.
My name is Tim Lambrechts. I was born in 1958 with a hole in my heart.
At the age of 15 months, I was one of the youngest children in the UK to undergo open heart surgery. The operation was successful but, later that night, the strain proved too much and I had a stroke. I was left partially paralysed down my right side.
Skip forward a few decades, and in 2009 I was rushed to hospital for an emergency, life-saving operation. I had acute diverticulitis and was fitted with a colostomy bag while my bowel healed.
While recovering, I found a bump in my neck which proved to be cancer at the base of my tongue. I underwent aggressive chemotherapy treatment that involved three separate week-long hospital stays, where I was intravenously fed a cocktail of drugs. This was followed by 35 daily sessions of radiotherapy.
Once in remission, I underwent surgery to remove the colostomy bag from the diverticulitis. The operation failed and I had two more hospital stays before my bowel finally healed.
Unsure whether the cancer treatment had been successful, my wife and I decided to go travelling in our motorhome. We found a house we could rent on a temporary basis in Portugal and decided to stay for a while.
During one of my follow-up check-ups at the Royal Sussex County Hospital in Brighton, my consultant, Mr Weighill, told me about a new oncology information centre that the Sussex Cancer Fund and Macmillan Trust were raising funds to build.
Back in Portugal, I was watching the London 2012 Games, admiring the determination of the Olympians and Paralympians, and became inspired to get on my bike and get fit.
I was out riding one day when I came up with the idea of cycling from Portugal back to Brighton for my next check-up to raise funds for the new oncology information centre at the hospital.
I started training in earnest and bought a new bike. I am up to 100km a day now, not easy in an average of 28C, and on 15 September I will set out on my marathon journey of about 1,800km.
Keep up to date with my journey via my Twitter account @tim_lambrechts