Street League: How football can help inspire change
By John Nicholson
Producer, Get Inspired
Last updated on .From the section Get Inspired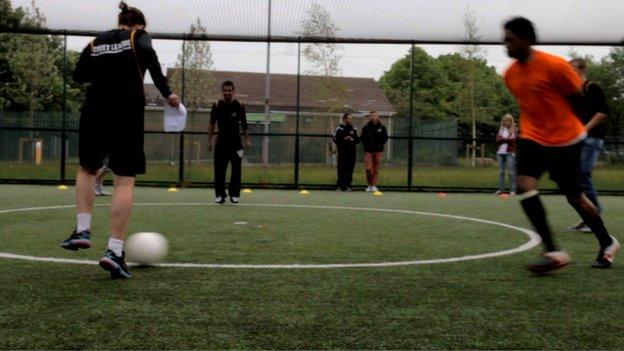 The majority of football fans across the country understand the teams they love promise much, but all too often deliver very little. You win some, you lose some, but tangible success, silverware and glory, is an extremely rare commodity.
There is an area, however, in which football delivers far more reliably, as Get Inspired discovered at a Street League graduation ceremony in Manchester.
Street League is a charity organisation founded in 2001, whose ambition is perhaps best described by Manchester United striker Robin van Persie.
"There are almost one million young people out of work in the UK," explained the Dutchman. "Street League are amazing because they use the power of football to get the most disadvantaged into work, education and training."
Simon Lansley, Street League's Head of Communications, added: "It's a bit of a cliche, but football is a universal language.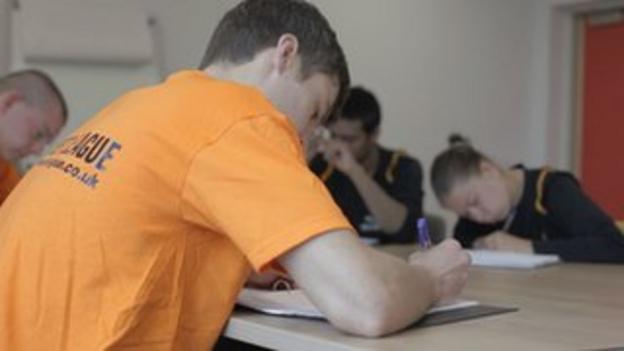 "Some of the people we engage with, perhaps it's difficult to talk to them, but you change the subject to football, suddenly they're happy to talk to you. Once you've broken the ice, you can then start to talk about what else is going on in their lives."
The sad truth is often the other things going on are not good, whether that's getting caught up with gangs or a lethargy borne out of lack of opportunity.
It's very easy to label someone as bad, incompetent or going nowhere. It's much harder to prove people wrong, change people's opinions, change your own opinion even. That is where football, and Street League step in.
Former Premier League player Clarke Carlisle, who has just retired as chairman of the Professional Footballers' Association, is an ambassador for the scheme and is passionate about the work it does.
"Inspirational is the word because the images we're often shown from the press or politicians about this generation is that it is disaffected, that it doesn't want to work. These guys confound all of those stereotypes," he said.
"We come across so many youngsters who are shy and struggle to communicate," Lansley added, "but as soon as they're talking about football, they come out of their shells.
"We focus on 16-25 young people who are out of work. They might be in a variety of difficult situations, youth offending, long term unemployed."
The Street League graduates take turns to speak to the assembled crowd of proud parents, group workers and project sponsors. It is a task that would have scared them rigid just eight weeks earlier before enrolling on the course.
At 18 years of age, James is one of the youngest graduates at the ceremony in Manchester. "I was always a bit shy and nervous," he said. "Street League taught me how to present myself, has shown me what to do. If I get an interview in the future I'm quite confident I'll be able to get the job."
Robert, 22, agrees: "I got into Street League through my job centre. I was just there for an every-day signing on.
"The experience has been massive. It's helped build leadership skills and motivation, and it's given me bigger resources to look for work."
The graduates are now brimming with positivity and confidence, but best of all it's not all talk. Unlike the medals and silverware that are so difficult to come by in professional football, Street League's success rate is reassuringly commonplace - over 80% of graduates either go on to employment or further education.
"Before Street League I was unemployed," says Abass, 21, "I was just hanging around with my friends, getting up to no good. It's given me the confidence and the motivation to look for employment, to get my job for Nike. Where I am right now is because of them."
After almost a year out of work, 25-year-old Thomas has also found employment: "I was successful with a job application for Fujitsu on the IT help desk.
"Street League helped me with my interview techniques and helped build leadership skills. It wasn't just about football, it was about communication and helping each other move forward in our lives."
So how does it work? Football is the framework around which the Street League course is built. Classroom workshops and modules concentrate on developing skills in communication, leadership and teamwork.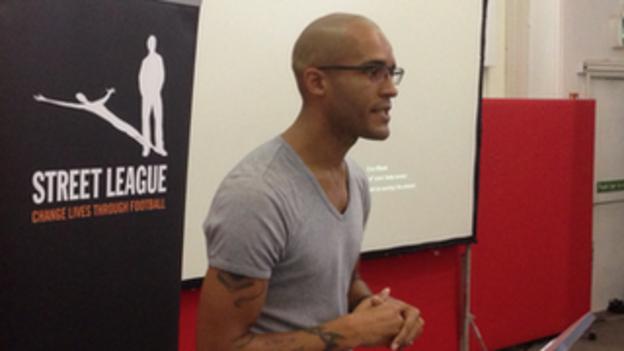 Students can also take a football coaching course, and the lessons they learn off the pitch are just as valuable on it.
"It's not just about kicking a ball," 23-year-old Patrick explained. "It's using football and different sports to get young people to gel and participate in groups.
"It's about building your confidence and taking it a step further and making sure you are progressing into your next stage of life."
Carlisle appreciates what football has given him. As a guest of the graduation, he's been asked to deliver a motivational speech to send the students on their way.
You can sense his pride in the young people stood in front of him, as well as the sport that he has witnessed doing so much good.
"Using the courses and seminars to up-skill these youngsters and then mentoring them within the framework of what football can offer, into going into employment on the other side, that's just fantastic," said Carlisle.
Football often gets a bad press - high ticket prices, diving, exorbitant wages. But there are many, many positives too, because when you strip it down, there's a game that millions of people adore and can relate to.
Of course, football, or your football team, can disappoint, but the game has the capacity to inspire, improve and empower. As Street League know all too well, it can change lives.