How English school cricket rose from the Ashes in 2005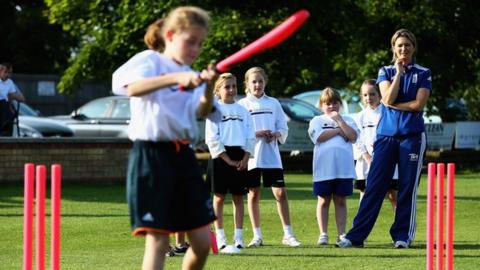 Quaint afternoons spent out in the field, the alluring sound of leather on willow, afternoon tea and the desire to win a trophy no bigger than the palm of your hand.
This is cricket - a game invented in England over 500 years ago and played by people around the world. But a game which, until eight years ago, was on the decline in its founding nation.
As the summer of 2005 approached, England prepared to face the Australians on home turf, tasked with trying to win an Ashes series for the first time since 1987. It was an ominous challenge against a side boasting legends like Shane Warne, Glenn McGrath and Ricky Ponting.
Equally ominous was the statistic showing that less than 10% of state schools in England were playing any form of meaningful cricket at that point.
But then everything changed. England, featuring Andrew Flintoff, Kevin Pietersen and Michael Vaughan, made the nation fall in love with cricket again, battling to a thrilling 2-1 series win that made heroes and celebrities of the players.
And with the great success on the field came a concerted effort beyond the boundary, something which means that in 2013 the grassroots game is in far ruder health - thanks in no small part to the Chance to Shine scheme.
Run by the Cricket Foundation Charity and supported by the England and Wales Cricket Board, Chance to Shine has built on the success of the top-level men's and women's teams, taking the game into more than 7,000 schools since 2005 - and introducing two million youngsters to the sport.
Chance to Shine's mission statement reads: "The idea is to link cricket clubs to local primary and secondary schools, pay qualified cricket coaches to deliver cricket sessions and matches in schools, train teachers and encourage children to come and play at cricket clubs."
Talking at a Chance to Shine project run by Warwickshire County Cricket Club, England women's captain Charlotte Edwards explains: "We want to get as many boys and particularly girls playing the game as possible.
"It's not just about being the next England cricketer, it's about teaching really important life skills as well. Cricket can do that."
While the England men's team strive to retain the Ashes in Australia this winter, the women's team, who regained the Ashes in the summer, are spending time in England, eager to inspire the next generation.
"It's fantastic to be able to put something back into the game," says right-handed batter Danielle Hazell, taking time out from running a series of indoor games with the children.
"Cricket has grown over the past few years, especially girls' cricket, so it's really making an improvement. The programme is working really well and hopefully we will see people coming through to higher levels."
The numbers are encouraging. A recent study by the England and Wales Cricket Board found that more than 60,000 women are now playing cricket, with women and girls over 14 accounting for 7% of the overall total of grassroots participants in the last 12 months.
Great support from stars of the England's men and women's teams, who give their time going into schools to coach and share their experiences, has been crucial to the success story.
"Two weeks ago I was captaining England in the West Indies and today I'm teaching a boy or girl to play for the first time," says Edwards. "It's quite a unique position to be in really.
"I have to adapt my skills to do it but I enjoy that. I always remember being that child myself, growing up, who would have loved an England cricketer to come and teach me how to play."
"I've been involved for the past six years and the reward I've gained from this personally is great, and it's great for cricket that we've reached over two million children, with one million being girls."
If you would like to get involved in Cricket go to our pages and find out more about the Chance to Shine scheme on their website.