Water Polo building on London 2012 Olympic experience
Last updated on .From the section Get Inspired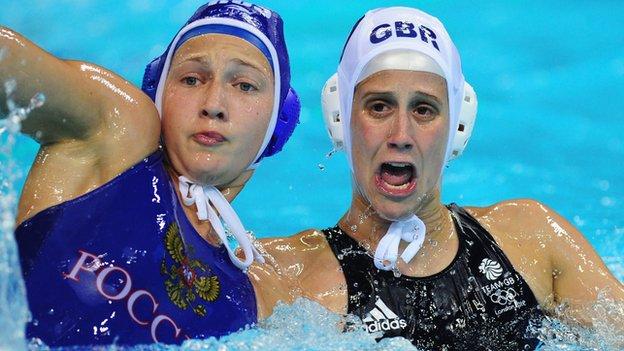 Great Britain's ladies water polo team captain Angie Winstanley-Smith says London 2012 revolutionised the sport in the UK.
In their first appearance at the Olympics the GB ladies team but on Tuesday, under new management and with an exciting crop of young players, they play their first game back in home waters since the summer of 2012 with Russia the visitors.
With new Greek coach Konstantinos Vamvakaris taking charge as GB start their FINA World League campaign in Manchester against the team that finished fourth at the recent World Championships, Winstanley-Smith is confident the future looks bright.
"How we have developed our play in terms of elite level is really apparent when we play a team like Russia," explained the centre forward, who has played for GB since 2003.
In 2009 Great Britain lost 22-1 to the Russians but last year they lost by just a single goal at the Olympics.
"Russia play counter-attacking water polo," Winstanley-Smith said.
"They are always running. When they score a lot of goals against you it is because you're making mistakes - we've cut down our mistakes massively and we control the game more which is exactly what we must do.
"We have to play at our rhythm. They will want to run. We will need to slow them down. We must make calm decisions in attack so we do not get punished."
Winstanley-Smith believes that new coach Vamvakaris will play a key role in this and one of the main things he will bring to the team is a new defensive style.
"The Greeks play a very technical and tactical style of water polo," she said. "They are very calm and collected, a bit like the football team who won the European Championships in 2004."
The Great Britain side is increasingly benefiting from having players in leagues across Europe. Winstanley-Smith was the first professional to play for the side when she joined Nancy in France 10 years ago. Now the squad has 13 members who ply their trade on the continent.
There is also the core of a new younger generation training full-time under the watchful eye of Vamvakaris in Manchester.
"It (London 2012) changed everything for us, before we got the funding we were all training before work or school," Winstanley-Smith remembers.
"My first tournament was back in 2003 - I had to pay £200 to go- we stayed in apartments miles away from anywhere.
"Playing in the Olympic Games was amazing. At the end of our quarter-final, I had my hand on the edge of the pool and I could feel the whole building was vibrating with people cheering on Team GB. I still get goose bumps thinking about it now.
"There is a still a buzz around the Olympics and I think we can use it to develop our sport.
"The men's team were well supported recently in their European Championship qualifiers in Sunderland. That was great and builds on the energy of London."
Winstanley-Smith believes that the key to increased success on the international stage is to get more and more players to pick up the sport.
She explained: "Already we've got one of the busiest leagues in Europe and in terms of participation it is really up there. We need to move the clubs along to get to the top level - hopefully that will come as part of the legacy."
Winstanley-Smith also has some words of wisdom for anyone who might like to follow in her footsteps: "Find a local club if you are a good swimmer. You don't have to be amazing but comfortable in the water.
"There are levels of clubs for everybody in the UK, you get a good all over body workout and can immediately make friends.
"The more people we can get involved in the sport means we can really build up and become a real threat in international water polo."