Rowan Cheshire inspired by Woods & Summerhayes success
By Nick Hope
BBC Olympic sports reporter
Last updated on .From the section Get Inspired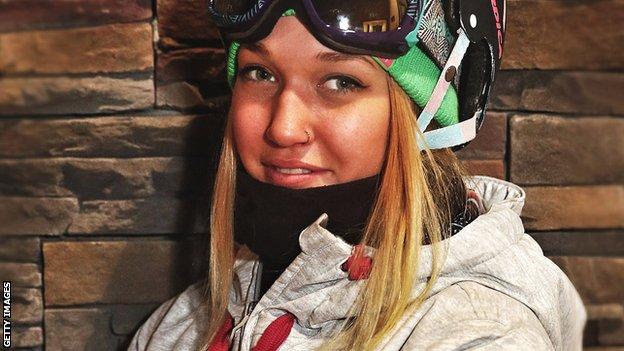 Halfpipe skier Rowan Cheshire says the success of fellow British freestylers helped inspire her to a historic World Cup win in Calgary at the weekend.
Slopestyle skier James Woods was last season's overall World Cup winner while Katie Summerhayes also won a silver.
"They're getting world-wide recognition which is something to try to achieve myself," she said. "We're happy for one another and buzz off each other."
Cheshire's podium finish means the teenager has secured the British Olympic Association [BOA] and International Skiing Federation [FIS] qualification standard for the Sochi Winter Olympics and is expected to be announced in the Team GB squad on 22 January.
"It's a relief and it means the world to me to have this chance because I've put in so much into it," stated Cheshire.
"This is my first full year [on the World Cup circuit] and before this result I wasn't doing that well, so I'm over the moon."
The Stoke-based skier took up the sport at the age of 10 and says the media attention Woods and Summerhayes have received - as well as snowboarders Jenny Jones and Billy Morgan - has reduced the pressure on her.
"It helps in the competitions because I didn't have that attention on me so I could try and chill and get the runs down without being really nervous and there being a lot riding on me," Cheshire told BBC Sport.
"I put a lot of pressure on myself anyway, so it helped not having the media because I could just go out and achieve what I wanted to."
Cheshire, who is studying for A-Levels in business studies and photography, admits juggling those commitments with her skiing has not been easy, particularly after a run of results she was unhappy with leading into the Calgary World Cup.
"It was quite frustrating because people are asking about the back-up plan in case I don't make it [to Sochi] but I said I'm going to do this and stay positive," she said.
"It's been quite hard and it's really psychological, but I've managed to really pull myself together this season.
"I'm still in college but I'm not doing as many classes as my peers and it's difficult to do the work out here [training and competing abroad] because I don't have all my folders and resources.
"Photography out here isn't too hard thought because there are lots of photo opportunities, but when the skiing calms down a little bit [after the Olympics] I'll definitely go back to college full-time."
British freestyle skiing head coach Pat Sharples admits it would be a shock if she was not now named in the Team GB squad later this month and believes the skier, who he identified at the age of 12, has a big future in the sport.
"She has so much potential," Sharples told BBC Sport.
"Rowan's always managed to overcome her fear of trying new big tricks, something that a lot of girls in halfpipe are very scared to try.
"She's always been able to dive in straight away and that's something very special and a gift of hers."
Cheshire will compete in the last World Cup before Sochi in Breckenridge, US, this weekend and is looking forward to challenging herself against several of the world-leading US halfpipe skiers who skipped the Calgary event.
"I think my chances [of success] are pretty high, I just need to get my runs down and potentially try out a few new tricks as I can relax a little more now," she said.