Lawrence Okoye: Jack of all trades defying sporting law
Last updated on .From the section Get Inspired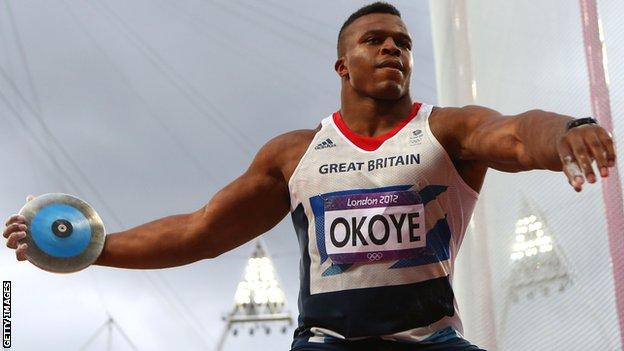 If at first you do succeed, try, try and try again. This (slightly amended) proverb sums up Lawrence Okoye.
Elite sport is supposed to be the reserve of the single-minded. Footballers are expected to have been playing the game since they were knee high. Skiers must have taken their first slippery steps on snow long before they started school.
Obsessive devotion is a pre-requisite for global success.
Academic Malcolm Gladwell proposed a theory in his book, Outliers: The Story of Success, which suggests that the world's best sportsmen have one thing in common: a minimum 10,000 hours spent honing their skills.
When Okoye decided to switch from rugby - he had been an academy player with Premiership side London Irish - to discus, he didn't even have 10,000 hours available in total before the London 2012 Olympics. No matter.
Two years later Okoye, then 20, after a brief spell as world number one, appeared in the Olympic discus final. Fast forward 18 months and the 6ft 6in man mountain is playing American Football with NFL outfit San Francisco 49ers as a defensive end.
Trying again, succeeding again, while remaining committed to the hard-work principles that have got him this far.
"The most important thing when making a change is the coaching and having someone who is really looking out for you," Okoye told BBC Sport.
"You have also got to be extremely dedicated to what you want to accomplish. Watching other people is important but basically you just need to be ready to do whatever you have got to do."
Despite never having played American Football before signing for the 49ers in April 2013, Okoye appeared in three pre-season friendlies in August before picking up a knee injury.
He has since been placed on the injured reserve list, meaning 'London' - as his imaginative teammates have nicknamed him - can't play for the 49ers until next season.
He is instead busy swatting up on sport number three, a tough task given American Football's complex rules and tactics.
"It was pretty special getting to actually play football for the first time," said Okoye - who has a deferred place at Oxford University to study law.
"It was a special feeling and, even though I got injured, when it comes around to pre-season next year I'll be much better prepared.
"Between then it's about watching and learning. I guess I am a studious person so I think that definitely helps with everything that I am having to learn.
"Going from the top of a sport to the bottom of another is tough, but I'm enjoying the process."
Tough to Okoye, mad to his 49ers mentor Jim Tomsula.
"He's the British record-holder in the discus," 49ers defensive line coach Tomsula has said. "He is 6ft 6in. He walks down the street - he's the guy.
"He's been accepted to Oxford (University to read) law. He puts that on hold, and he comes to do this, and he's at the bottom of the totem pole. He went from being the very absolute pinnacle.
"To me, that takes a whole lot of guts - or there's something wrong with him!"
Tomsula's admiration for Okoye is shared by his former discus coach John Hillier, the man who turned a raw 18-year-old into an Olympic finalist.
Hillier knows Okoye's all-encompassing approach to his sport and believes if anyone can make it in the NFL, Okoye can.
"You do not qualify for an Olympic final after just two years in the sport at 20 years of age, you just don't. It was incredible," Hillier told BBC Sport.
"Of course he can make it. Physically, he's a magnificent animal and his attitude is fantastic. He's totally committed.
"I speak to him and I have jokes with him about him coming back to discus because I'd love to work with him again."
Given that Lithuania's Virgilijus Alekna finished fourth at London 2012 aged 40, time is on Okoye's side if he decides to return to the discus.
Okoye himself is reluctant to look beyond his current two-year contract with the 49ers. He also laughs off any suggestions of another sporting reincarnation.
"I have not thought about a fourth sport, I am just happy to be playing football and I am just concentrating on that," Okoye adds.
Hillier, however, believes another sporting career - albeit one that wouldn't rely directly on his athletic prowess - is within reach.
"I could see him being sports minister one day," Hillier added. "I could see him doing that. He's very articulate, he has strong opinions and he likes to express them. I could see him in parliament, I really could."
Rugby union, discus, American Football, politics? Is there anything this guy can't do? Cycling, it seems.
"We hired bikes at a training camp in South Africa last year; what we didn't know is that Lawrence had never been on a bike before," Hillier said. "He was going down this hill and the bike only had a back-pedal brake.
"He was shouting 'help, help' and in the end he put his foot in the spokes of the front wheel and fell off. No, he's not going to have a career in track cycling in the future I don't think."