Adlington & Jamieson join charity relay record attempt
By Nick Hope
BBC Olympic sports reporter
Last updated on .From the section Get Inspired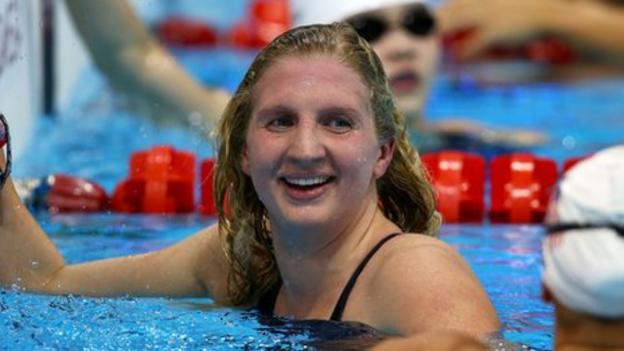 Olympic medallists Rebecca Adlington and Michael Jamieson will join a host of leading swimmers in an attempt to set a new relay world record.
On 1 February, 100 swimmers will each swim 100 meters, targeting a total time of under one hour 37 minutes and 53 seconds in Sheffield.
The event was organised by British swimmer Lewis Coleman to raise funds for Leukaemia and Lymphoma research.
"The swimming community is like a big family," Adlington told BBC Sport.
"That means we help and support one another and when Lewis approached people we instantly said yes so hopefully we can make a difference."
Coleman's mother, Margaret, was diagnosed with Acute Lymphoblastic Leukaemia in July 2012 but an initial course of chemotherapy failed to reverse the condition.
A bone marrow transplant was the next stage, but whilst the family waited for a suitable donor to be found she underwent a clinical trial with the experimental Blinatumomab drug.
By June 2013 the cancer was considered 'under control' and a bone marrow transplant took place.
"We knew we were a long way from being able to say that mum was clear from cancer but we were optimistic," said Coleman.
"Unfortunately the new bone marrow wasn't strong enough to attack the refractory cells and test showed that mum still had Leukaemia!"
Coleman, who will swim the last 100m of the charity relay, added; "Mum is still fighting over 18 months on from being diagnosed, this is a long time the treatments have cost a lot of money."
The fundraiser is to help support further research into cancer treatments and raise awareness of the condition.
"If it wasn't for other people donating to the charity which helped pay for the Blinatumomab trial it is likely that I wouldn't have made the bone marrow transplant stage," said Margaret Coleman.
"I consider myself as being lucky as I'm still here."
In addition to Adlington and Jamieson, former world champions Mark Foster, Karen Pickering and Liam Tancock will also swim in the world record attempt.
It will take place at Ponds Forge swimming pool in Sheffield on Saturday afternoon.