Sochi 2014: James Woods 'top of game' for Olympic slopestyle
By John Nicholson
Producer, Get Inspired
Last updated on .From the section Get Inspired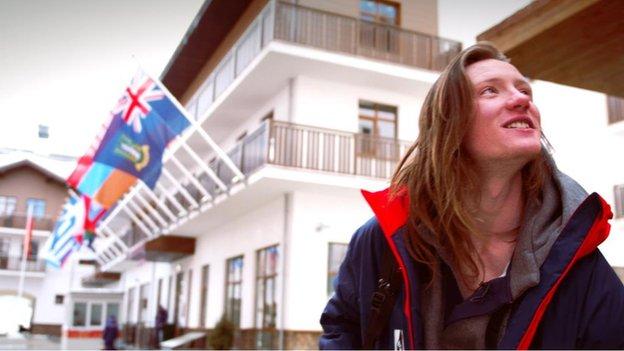 James "Woodsy" Woods is slight in stature - a perfect figure for the speed, balance and gravity-defying contortions required for slopestyle free-skiing.
And what he lacks in physical stature, he more than makes up for with his larger-than-life personality.
If you could bottle his excitement and enthusiasm for life and prescribe it as a drug, the world would be a significantly happier, smilier place.
It would also be pretty intense, everything done at a million miles an hour, such is the Yorkshireman's appetite and adoration of life in the fast lane.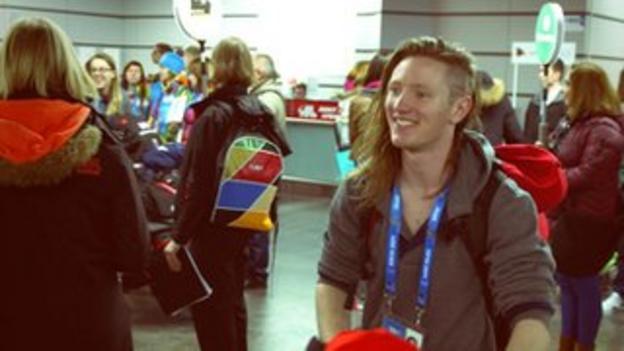 Woodsy might say he's "stoked" when he means "pleased", and "sick" instead of "very good", but there's much more to him than the stereotypes you might associate with freestyle snowsport athletes.
In a film for the Winter Olympics opening ceremony programme, BBC commentator Tim Warwood and I met 'Woodsy' at Sochi airport and accompanied him as we travelled through the coastal cluster and up to the mountains in Krasnaya Polyana.
The hour-long journey was a fascinating insight into the character and attitude of one of Britain's most unique and talented athletes.
Once we hit the road, any hint of tiredness after a long flight was quickly forgotten as the scale of these Games dawned on him.
"Wow, it's impressive, innit. And this is all brand new?" was his first reaction to seeing the indoor stadiums of the Olympic Park.
However, you could sense that Woodsy was itching to ditch the coast and get into the mountains. Altitude is where the skier is most at home, an environment for both work and play.
There's no hiding how much Woodsy loves what he does. Refreshingly, he somehow combines the in-your-face confidence you expect from freestyle athletes with genuine humility.
"I know how lucky I am to travel the world and do what I do," he explains.
The constant travelling that goes hand in hand with international sport does have its downsides. Woodsy misses his friends and family and is desperate to get back to Sheffield for a rare visit once the Games are over.
But he is determined to return from Russia having done himself and his sport proud.
"I would really like to put down a good result and give people a reason to flick on the TV," he says.
"Hopefully I can make a good impression and go home stoked to see my mates."
Representing Team GB is a first for all the slopestyle riders in Sochi. The Union Jack dyed into Woodsy's hair is a small sign of just what that means to the 23 year old.
Flying the flag brings pressure too, especially as the potential for a first British Olympic medal on snow cranks expectation levels up a notch.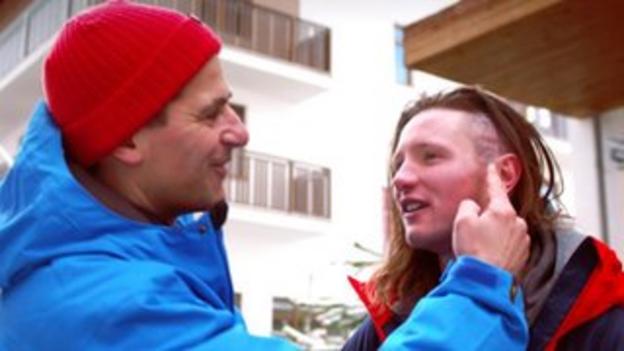 And as we discuss Woodsy's chances in the men's slopestyle skiing, the mood becomes more serious.
"My ultimate goal is to be the best that I can be in whatever situation that presents itself," says last year's World Championship silver medallist.
"Obviously the Olympics is a pretty big situation, and it's happening right now, so I want to be on it."
"I'm at the top of my game, man", Woodsy states matter-of-factly.
We had adjusted to Woodsy's excitement and enthusiasm over the course of our journey.
But if we needed a reminder of his life-affirming effervescence, we got just that as he discussed his potential influence on future generations of skiers and snowboarders.
"That's my biggest inspiration, watching people digging deep, no matter what level they are," he enthused.
"There are a lot of facilities in the UK and some seriously talented people. It's really cool."
Whether James Woods wins a medal at these Games or not, he is a superb ambassador for his sport.
And if you could bottle a bit of his unique spirit, my prescription would be to take it in small doses. However, getting a little insight into Woodsy's world is an absolute pleasure.