Triathlon world champion Non Stanford backs heroic Davina
Last updated on .From the section Get Inspired
As Davina McCall amazes the nation with what she describes as her 'Ironman on steroids' Sport Relief challenge, even Britain's super-fit world triathlon champion Non Stanford is impressed.
Edinburgh to London, 500 miles-plus, in just seven days.
"She certainly hasn't just dipped her toe in, she's totally gone for it and what she's doing is a really tough event," Stanford told BBC Sport.
"Bless her, it was absolutely freezing in that lake so I'm not surprised she suffered a bit. But it's amazing that triathlon is being used in such a positive way - to raise money for charity."
While Davina motivates people to sign up for the Sport Relief Games, inspiring others to be active is also close to Stanford's heart. Here are her top tips for running, cycling and swimming - or combining all three.
NON ON TRIATHLON FOR EVERYBODY
There's an array of disciplines, events and distances - that's the beauty of triathlon. It offers everyone an opportunity to get involved because lots of people are competent at running, swimming or cycling. Everyone is going to have a stronger discipline and a weaker one. That makes it more of a challenge, and definitely more appealing.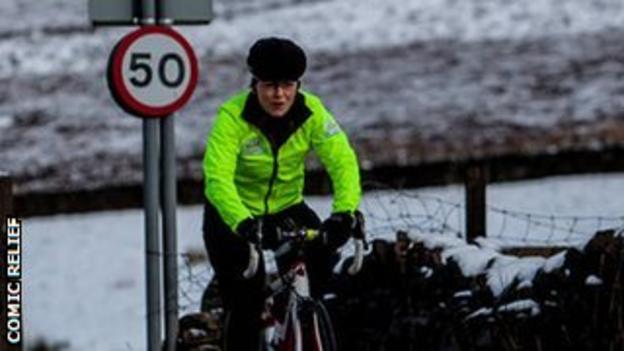 But even if you are new to triathlon and haven't done much training, just focus initially on building each event individually. Then you can bring it all together gradually.
That's another attraction - there 's so much variety in the training. If it's a horrible day outside, there is no excuse not to do anything - you can go and swim. Or if you can't get on the bike, you can run. Even if you've got an injury, there's still work you can do.
That's what makes it such an accessible sport. There's always something you can do and the variety makes it really enjoyable and keeps it fresh.
NON ON CATCHING THE TRIATHLON BUG
There's definitely an addictive element to triathlon - you see that a lot.
People do one and they've completely got the bug. They keep on coming back for more. I remember when I did my first triathlon - I vowed never to do it again when I finished. But five years down the line and I've gone from being a complete novice to a world champion.
I started off at the local swimming club and did quite a few years there, then got into running. It wasn't until I was 19 that I found triathlon. I didn't specialise in the individual areas initially, but the Brownlee brothers, Alistair and Jonny, started when they were eight. There are different approaches.
Obviously Davina's challenge is immensely tough, but I'm sure she'll thoroughly enjoy the experience overall. I wouldn't be surprised if you saw her coming back for a bit more in the future.
NON ON THE CHALLENGES OF TRIATHLON
For the distance that Davina is cycling, I'm sure she's going to be a little uncomfortable in the saddle at times. But you do learn how to deal with it and not let it affect you too much.
As with any endurance event you go through bad patches and have a few hours where you feel like you don't want to keep going. But that swim in the Lake District showed that she's very determined.
Like Davina, there are a lot of people that are afraid of getting into the open water. It is quite dark, especially in the UK where the waters are murky - it's not as if you're in the Mediterranean. I've swam in Sydney, where there are sharks in the water - but every event, amateur or professional, is very health and safety conscious.
You can have irrational fears in the back of your mind, but I just laugh at myself if they surface. I just try to keep focused on the task at hand. During a race, you're more caught up in what the others girls are doing.
Last year in Hamburg when I crashed out in the mixed team relay - that was my darkest moment. I made a mistake and crashed on the bike, and ruined the chance for everybody else. That was a real low point.
NON ON THE REWARDS OF TRIATHLON
Experiencing beautiful countryside is something I really love and cherish about triathlon, especially up here in Leeds where I train with the Brownlees. I love going out and enjoying that with friends; it makes it rewarding and helps makes the training a bit easier.
I can't speak enough for [the rewards you get from] perseverance and sticking at it.
didn't happen overnight. It was 24 years in the making. When I was a runner I was injured for two years before I started triathlon. When I did, it was really tough - I went from being one of the best junior athletes in the country to middle of the pack in regional races.
Ultimately I love doing it. I love running, swimming, cycling - and training. But all the positives come through perseverance and staying with it in the tough times.
I'm not the most talented person out there, I'm just someone who's worked really hard over the years. The qualities you develop in triathlon are applicable in other walks of life. Everything I've learnt from sport helps me in other areas of life - it's transferable into the working world, and beyond.
NON ON THE SECRET OF SUCCESS
No matter what level you're at, make sure you enjoy what you do. Always!
Joining a club and meeting other people who want to do the same thing as you can be brilliant. Just finding people you can train with makes a massive difference for me. It makes it much more enjoyable.
You're also learning from other people and could seek the advice of coaches or, maybe, more experienced athletes than you.
One of our main beliefs is that a happy athlete is a successful athlete, so a lot of time and effort goes into making sure that a happy environment and atmosphere is created around the team.
You've also got to maintain your sense of humour, and have a good sense of perspective on the grand scheme of things.
Anything can happen in triathlon. The swim is unpredictable, things can happen with your bike - no one race is the same. In a running race, it's less likely that something is going to go wrong - but in triathlon it's quite unpredictable. It's the unexpected nature of triathlon that I enjoy best.
Non Stanford was talking to BBC Sport's Chris Whyatt
If you're inspired to try triathlon, find out how to get involved