Could adaptive skiing be for you?
Last updated on .From the section Get Inspired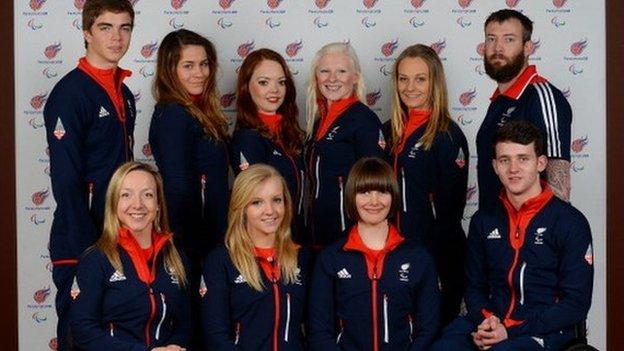 The athletes of Paralympics GB will start their bid for glory as the Winter Paralympic games get underway in Sochi this Friday and there are more opportunities than ever to take up a winter sport if you have a disability.
There has been a big increase in demand in recent years from disabled people who are keen to get involved in winter sports, and it is expected that British glory in Sochi will boost this interest still further.
It is very easy to see if adaptive skiing is for you. Disability Snowsport UK have six centres around the country where people can take to the slopes for the first time.
Steve Smaje, ski school manager for Disability Snowsport at their Chill Factore centre in Manchester, is well qualified to offer advice about how somebody might get involved in winter sports.
"It's very easy if you are inspired to follow the example of our athletes in Sochi - just phone Disability Snowsport to book a lesson." There are more details on their website.
One element that may traditionally deter people is the belief that you need expensive equipment to get started. Smaje rejects this: "People may think that the cost of equipment is high, but each of the centres have equipment that will help people out whatever their disability is.
"The ski schools have available equipment which is included in the lesson price - and the charity subsidises the lesson to make them comparable to able-bodied group lessons."
The typical cost of a lesson is £50-an-hour, which includes tuition and slope fee.
There are also significant health benefits from taking part in skiing - the sport involves using most muscle groups and can build up strength in weakened areas.
Student Alex Clarke started lessons with Steve at Disability Snowsport a year ago. His university skiing club put him in contact with the charity and has had 15 lessons since.
Alex has diplegia cerebral palsy, which means he has weak legs and core. But skiing has made his legs far stronger in little over a year. He says it makes him stand up taller and straighter.
"A key element of skiing is transferring my weight," he said. "The great thing about skiing is to actually turn you need to transfer your weight just doing those drills helps. My physio visits me once a month and has noticed a big improvement in my walking."
Since Alex started his lessons he has gone on three skiing trips. "Now I've done all the groundwork, I have reached a point where I can do red runs," he enthuses.
"It's something I never thought I would be able to to do, but I wanted to try as it seemed like a very interesting challenge.
"The main benefit, apart from it being a great sport, is that I've got so much from it in so many parts of my life."
Steve adds: "Their is a sense of freedom for people with visual impairments, or wheelchair users who can leave their chair behind to go with somebody else on the slopes. It's lots of fun, very exciting, and can be experienced in the UK or abroad. It's very exhilarating."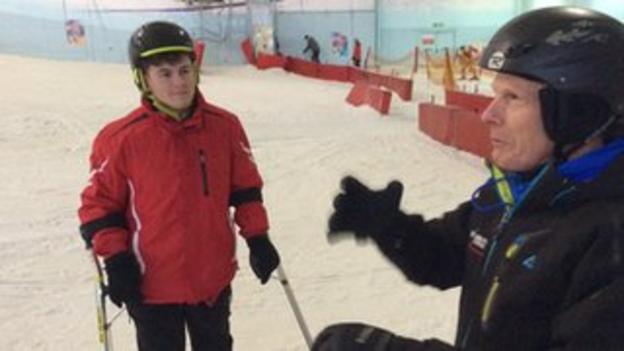 There are plans to boost the amount of disabled people taking up winter sports in the UK.
Just 12 athletes make up the Paralympics GB team going to Sochi, but in Vancouver four years ago Great Britain had just five representatives.
Smaje outlines a plan for more participation in the future. "It can only bolster the team if we could have 20-plus athletes," he said. "(Greater numbers) have happened in the summer games so there's no reason why it can't happen for the Winter Paralympics."
Great Britain have yet to win a Winter Paralympic gold medal, but this could change in Sochi if the likes of Jade Etherington and Kelly Gallagher are on form. "These people are inspirational characters - it can only go on from here," says Smaje.
"We have been working hard to develop youth athletes through to international level. We will continue to develop athletes and talent-spot through the ski schools and our Access for All race leagues.
"After a first phone call most people can have a series of lessons and, if the talent and dedication are there, a definite pathway to the elite exists.
"If talent emerges and people are able to ski at a high level, who knows what doors it will open. If we see talent we are going to grab it."