Morton penalty hero Dougie Imrie puts pupils in spotlight
Last updated on .From the section Get Inspired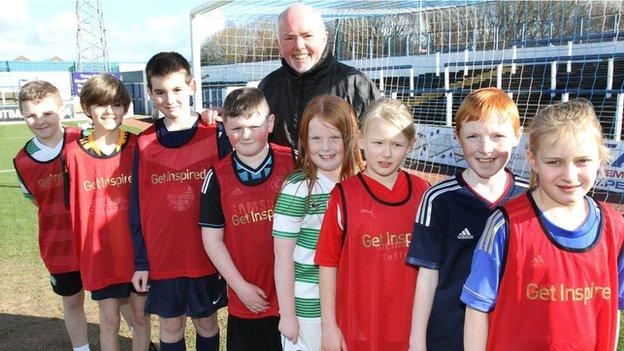 How hard do you think it would be to save a penalty from a professional football player?
Pupils from All Saints Primary School, Inverclyde, were recently given the opportunity to find out when Greenock Morton penalty hero Dougie Imrie made a surprise visit to their training session.
The striker famously knocked Scottish champions Celtic out of the Scottish League Cup after scoring at Celtic Park in extra time in September.
Imrie was back at his home ground, Cappielow Park, to take part in BBC Radio Scotland's latest Sportsound Roadshow alongside Morton manager Kenny Sheils, former Celtic goalkeeper and Ireland international Pat Bonner and BBC Scotland football reporter Chick Young.
As well as getting a coaching session with the professionals, the pupils were also given the chance to question Imrie on Morton's win over Celtic.
The striker was asked: "Were you nervous when you took the penalty against them?"
Imrie said: "No I wouldn't say I was nervous. Obviously it was a big penalty. At 0-0, all the pressure was on me, so no I wouldn't really say I was nervous, but it was good to score."
Another question followed: "What did you do when the game finished?"
He replied: "I thought it was a replay. I was actually talking to the manager saying that it's good to get a replay and he said 'no, it's extra time'.
"So, after the game, I was just over to celebrate with all the fans that were there - it was a good turnout. I think there were 2,000 at it."
After being questioned, Imrie faced a penalty shoot-out against the young goalkeepers.
Before taking to the centre of the goal, one budding goalkeeper revealed, "This is my first time ever doing a penalty, so I'll try my best."
Just as Morton defied the odds to knock Celtic out of the League Cup, the All Saints Primary pupil pulled off the "save of the century".
BBC Sportsound will be touring the country between now and May, along with some well-known names.
For more information check out Sportsound on BBC Radio Scotland and on Twitter via @bbcsportsound and @bbckennymac.
To find out about taking part in football training in your area, go to the BBC's Get Inspired pages.