Football stars inspire PE-shy pupils at Glasgow masterclass
Last updated on .From the section Get Inspired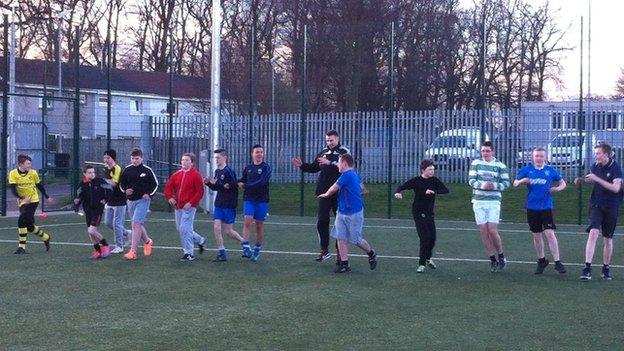 It's the bane of PE teachers up and down the country - pupils who come to school without their PE kits.
However, teacher Norrie Patterson found a novel solution to the issue when BBC Scotland's Sportsound road show paid a visit to his school in Baillieston, Glasgow.
The Bannerman High School pupils were cajoled into action with a coaching session from former Hearts and Rangers midfielder Derek Ferguson, former Ireland and Celtic goalkeeper Pat Bonner and Motherwell central defender Stephen McManus.
"We've got boys up there who don't normally bring in their PE kits, but there they are with Pat Bonner running about, fully kitted out with their goalie gloves," Patterson said.
"It's fantastic to see that and hopefully this maybe will inspire them now to continue that in their lessons in the coming weeks."
Ferguson - who won two caps for Scotland and managed Clydebank and Stranraer - gave the pupils some valuable tips on how to dominate the middle of the park.
"When you pass the ball, always move again, always come off at a little angle," he told the young players.
"Play with pictures in your head, because the ball might be in one area of the park, but always have a look what's happening about you.
"Because that quickness of mind, that little switch of play, it can get you through on goal."
BBC Sportsound will be touring the country between now and May along with some more well-known names. For more information on where the team will be next check out Sportsound on BBC Radio Scotland and on Twitter via @bbcsportsound and @bbckennymac.
To find out about taking part in football training in your area, explore our