Mum's the word for Motherwell's future football stars
Last updated on .From the section Get Inspired
Motherwell Football Club's latest community outreach programme is literally putting the mother into the game.
The club's More Active More Often aims to get children into sports by encouraging their mums and grans off the sofa first.
"It's a mother and toddlers programme and it looks at different outcomes in terms of health and well-being," said Graeme McArthur, programme development manager for the Motherwell Football Club Community Trust.
"We're hoping that by going through mothers it will rub off on the children as well.
"They'll be able to take these into their adult life as well, take the points we're giving them. And hopefully when they become parents they'll be able to do these sort of things as well, and have that message towards their children too."
Elizabeth Miller, grandmother to Caleb, aged two, said: "I felt that I'll go home now and I'll do a bit more exercise. And I've really enjoyed coming, and meeting other people as well."
Rhonda Gosling, mother to four-year-old Nico, added: "I think probably both my son and myself have got most out the sessions because he's learning along beside me.
"We're doing the exercises together, he's knowing about the healthy eating side of it. So obviously it's benefiting the both of us in the long run."
And Sheena Boyle, who attends the programme with her three-year grandson, Daniel, said "It's made me realise now that it's good for the kids, and I've really enjoyed it."
But is a Premiership football club really the right vehicle for delivering healthy lifestyle messages?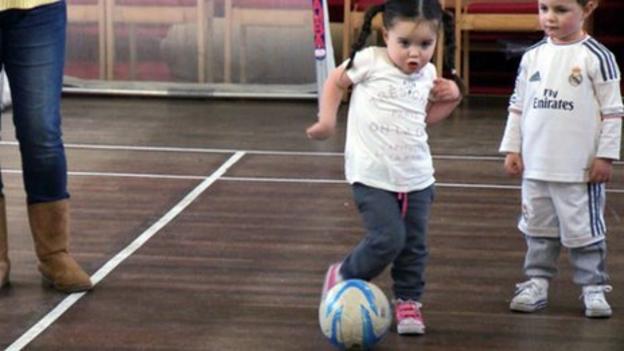 "Well it's great because we can reach out to the community, you know, we have lots of programmes, Mothers and Toddlers, and kids, when the school holidays are on, the place, the park's full of kids and it's just really good," said Motherwell FC manager, Stuart McCall.
"And obviously with the players being good role models as well it helps. But I think it's terrific what the club do here, I've got to say that.
"I've been to a lot of football clubs and you always want them to interact with the community but I think here, they do it ever so well. And it is great to see the little kids who come along and they play their football and they enjoy it. If we can get them then to be Motherwell fans, all the better. "
The initiative was backed with funding of £9,920 from the Scottish government's Communities and Families fund.
Healthier communities
Aileen Campbell, Minister for Children and Young People, said: "Motherwell is a great example of a community club; it's got a real 'in' to the community. Maybe something that professionals and other practitioners might not have.
"So the football club is offering something there, using the facilities at the football club, allowing youngsters to see what's going on in the club as well, see their idols on the wall. And be able to take forward those positive messages to the mothers and the children."
So has Motherwell Football Club found the holy grail for creating healthier communities?
At the very least, the club will be hoping it has found a potential method for unearthing sporting stars of the future.
If you're interested in getting more involved in the game, explore our