Ten people's top 10k training tips for beginners
From the section Get Inspired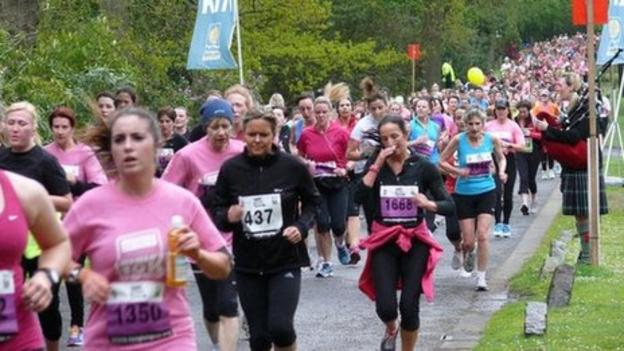 Millions of people all over the UK run every week, and many of them are tempted to run with others in an organised event - often for charity, often 10k.
If you are one of them, these pointers might help you on your way.
1) Eve Muirhead, Stirling: The running curler
"I've never done an official 10k before so this will be my first.
"As far as training goes I have been going out a bit to get used to running outside, though it's tough to squeeze training for a 10k into a busy schedule.
"I would suggest it's definitely worth putting some training in for, and make sure you get a comfy pair of trainers.
"Just give it a go and get out there!"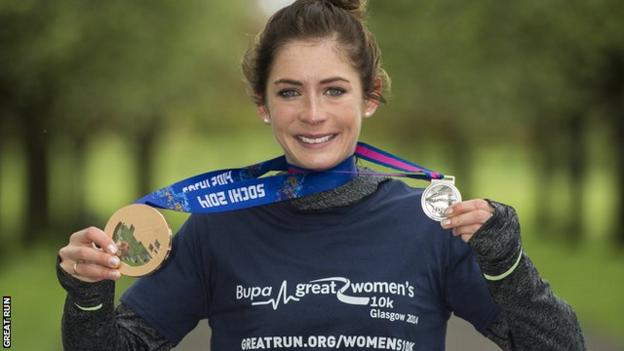 2) Susan Partridge, Oban (based in Leeds): The elite runner
"Make sure you have run the distance you will be racing in training - so make sure you have run 10k in training before taking part in a 10k race.
"Don't always run at the same pace. Get in some interval training.
"Make sure you've practised in your race kit, particularly your shoes. Also, practise the breakfast you will be eating on the morning of the race.
"During the race, split the course up into sections. Aim for a kilometre at a time instead of aiming for the finish. Count up the first five kilometres, and then down the final five. It's a good mental trick.
"I like to use visualisation. Picture yourself crossing the finish line with your family waiting for you. Visualise something positive. It doesn't even have to be realistic.
"Imagine someone famous has come specifically to watch you finish. It sounds ridiculous but it distracts you from how you are feeling.
"Enjoy it! That's a good tip."
3) Hannah Lithgow, Edinburgh: The fancy dress charity runner
"Train enough! Sometimes you think just because you are running for charity you don't have to train and you'll just happen to manage to run 10K on the day!
"Also, it might be idea to have a practice in the charity costume to check you can actually run in it! It gets super warm and you can't regulate your body temperature as efficiently.
"And don't run past a group of youths at a bus stop! I got tripped up as they were all laughing and they injured my knee so much I required a course of physio."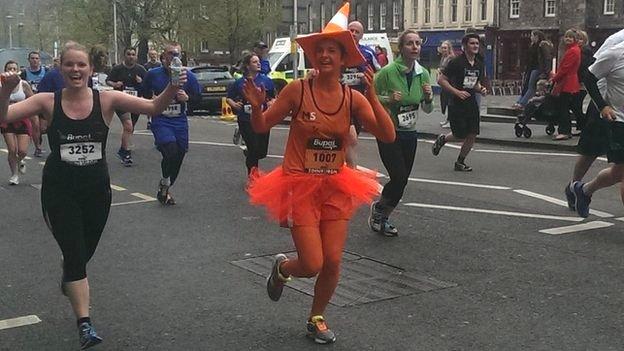 4) Lorn Pearson, Glasgow: The personal trainer
"Follow a training plan and decide how you'll implement it at the start of each week.
"Build it up gradually over weeks, with a mixture of walking and running to get your body used to it.
"Run until you feel tired, walk until you feel guilty.
"Don't think 'fast' or 'slow' - it's all comparative and everyone is different, think 'easy' or 'hard', and go for 'easy'!
"When things get tough or you want to give up, repeat a positive mantra to yourself: 'I can do this, this is easy, I'm going to make my dad proud, run strong, keep going, I feel great'.
"Another good way to look at it is my 'cape' theory. I give it to people as a present.
"It's a special, invisible cape that allows the wearer to do anything they set their mind to. Get your cape on, and fly!"
5) Ian McPhait, Falkirk: The first time 10k runner
"Around May last year, I started getting up at 06:00 BST and walking at least three miles per day and by this March I had covered more than 1,000 miles and had lost more than 3.5 stone.
"My wife's friend did the Alloa Half Marathon and that got me thinking. I looked at events that I could enter, and I chose the Bannockburn 700 10k on 22 June. At that point, there were 84 days to prepare. I had not run for about 30 years after being injured playing rugby.
"I have had about 20 training runs ranging from 2k to 3.8k and have completed three parkruns.
"Two friends have started running with me and this is a big bonus. I have about six weeks left to go before the race.
"Finishing my first parkrun - I could have walked on water at the finishing line."
6) Tony Stott, Aberdeen: The handcyclist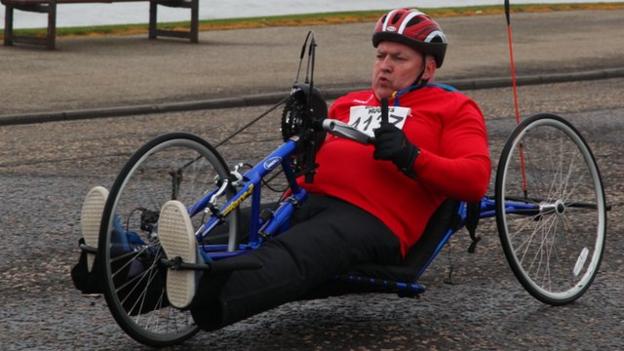 "Part of my motivation to do the 10k in Aberdeen each year is to keep my personal fitness at a reasonable level to try and make my day-to-day living easier.
"I work along with a personal trainer usually once a week, sometimes twice, and I also try to get out on the bike every second day. I also go swimming most days.
"The other thing that keeps me motivated is always trying to raise some much needed funds for different local charities.
"As a result of a serious car accident several year ago I was left with injuries that mean I'm dependant on my wheelchair to get around but it's not stopped me leading a busy and active life.
"Back in 2003, one of my physios suggested I do the 10k wheelchair race. I did it in my standard wheelchair and also completed it again the following year.
"Last year, I decided to purchase a racing handcycle to try something different and now it is a great way of keeping fit as well as doing the races."
7) Billy Mitchell, jogscotland: Head of Scotland's running network
"Your body will take time to adapt to any new activity, so avoid going too far, too fast, too soon.
"Join a jog group and take advice, so that you have social support and appropriate training. Use our group finder. You will be amazed at your progress, if you keep at it."
8) Louise Love, Glasgow: The group leader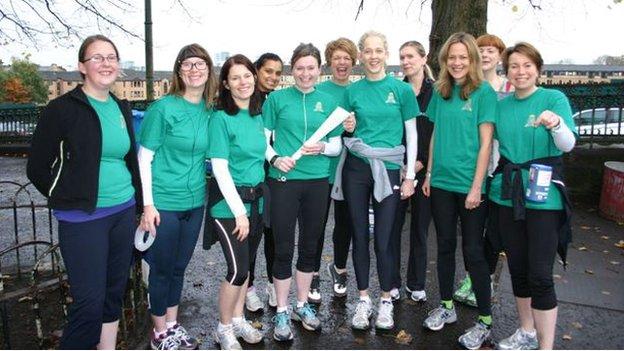 "Someone once described running to me as the reverse of drinking: you often feel rubbish when you're doing it but brilliant afterwards.
"So, my tip for the first-time 10k-ers in my group is that the best motivation - especially on those days when you just can't be bothered running or when you're actually out and don't feel like carrying on - is to remember that you will feel brilliant after you've done it.
"I started a running group of mums at my children's school last September. We organised a 5k run to raise funds for outdoor equipment for the school, managing to raise £1,200.
"The mums wanted to keep training afterwards as it was a sociable and fun way to maintain and develop their fitness - our wee group has become a good, supportive network of friends."
9) Linda Hardy, sportscotland: The physiotherapist
"Rapid increases in training are a major injury risk, so build-up your training gradually and make sure progressions are appropriate for your level of fitness.
"As this is your first 10k follow a plan for beginners and stick to it, as both over and under-training can lead to problems."
10) Suzanne Gray, Crossford: The club runner
"Running in a club is good for meeting like-minded people, for finding new routes to run, and above all, the essential encouragement you need to get your running shoes on when the weather is telling you to lock the door and stay in!
"You don't have to be Paula Radcliffe or Mo Farah to join a club, all abilities are catered for.
"Try to run between 3-5k, perhaps twice a week to begin with. Even if you have to run then walk, don't get disheartened, keep moving.
"The next time you go out, try walking less. When you feel ready, up the distance by a couple of kilometres. You will be amazed at how quickly your body can run further.
"On race day, the feeling you'll get when you cross the finish line, knowing you've trained hard, is amazing! You'll want to do it all again... honest."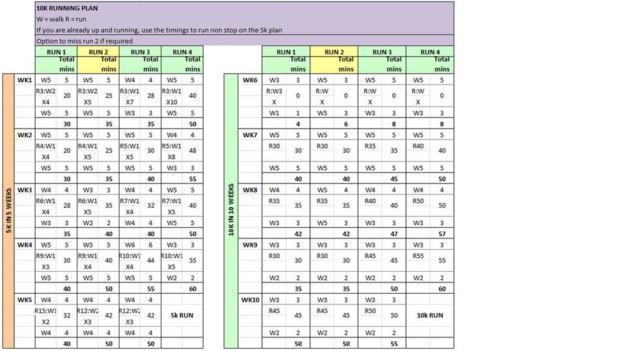 For more information on how you can get into running, for fun or competition, explore our Get Inspired running page.