Greenock swimmer Isaac Dunning in the right lane to progress

By Keir Murray
BBC Sport Scotland
Last updated on .From the section Get Inspired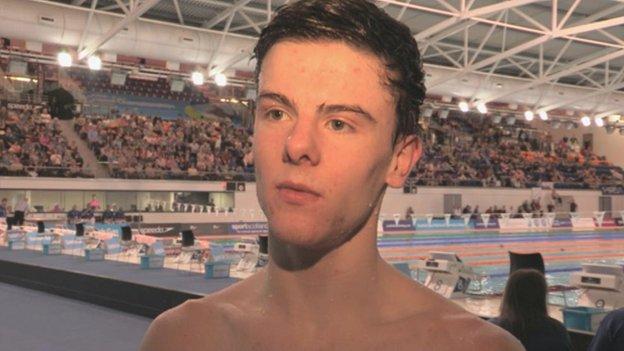 Just like when he started swimming, Isaac Dunning is in safe hands.
His club, Port Glasgow Otters, has produced four Paralympians.
His main coach at the Otters, Eddie McCluskey, retired from instructing Britain's best swimmers after the Beijing Games in 2008, his fifth Paralympics.
McCluskey, awarded an MBE for his services to disabled sport, knows swimming talent when he sees it.
"Isaac is an excellent lad," he told BBC Scotland.
"He works so hard. He has the three 'Ds' in abundance - dedication, discipline and determination.
"He is training hard at the same time as doing his exams at school. He's doing it admirably."
Dunning's parents, Kenny and Yvonne, first took him to the pool when he was approaching school age.
ISAAC DUNNING'S RESULTS AT BRITISH NATIONAL SWIMMING CHAMPIONSHIPS, NOVEMBER 2013

DISTANCE

STROKE

TIME

PLACING

100m

Individual medley

1 min 34:10 secs

2nd

100m

Back

1 min 24.22 secs

5th

100m

Breast

1 min 50.67 secs

5th

400m

Freestyle

5 min 58.88 secs

6th

100m

Freestyle

1 min 12.82 secs

10th

50m

Freestyle

32.95 secs

7th

4x100m relay

Freestyle

4 min 32.24 secs

1st
"I took him to the swimming lessons at the Waterfront pool in Greenock," his mother recalled.
"At that point I didn't know he had cerebral palsy but he did have problems with his walking so we took him to the swimming to build up his muscles and to give him some confidence in the water.
"He struggled at the lessons with the group so we put him in a one-to-one session with Jim Irvine, the instructor. He got him swimming and he's never looked back since."
Dunning is in the S9 classification for swimmers with a disability, which recognises the restriction in the joint of one of his legs. S9 also covers double below-the-knee amputations or an amputation of one leg.
At the Scottish Gas National Open Championships in Glasgow in April, Dunning recorded the second-fastest times ever for a Scottish swimmer in three S9 events - the 50m freestyle in 32.21 seconds, the 100m freestyle in one minute 10.92 seconds and the 100m backstroke in 1:23.69.
In all three events, the only Scot to have swum faster is Carnegie's Stefan Hoggan.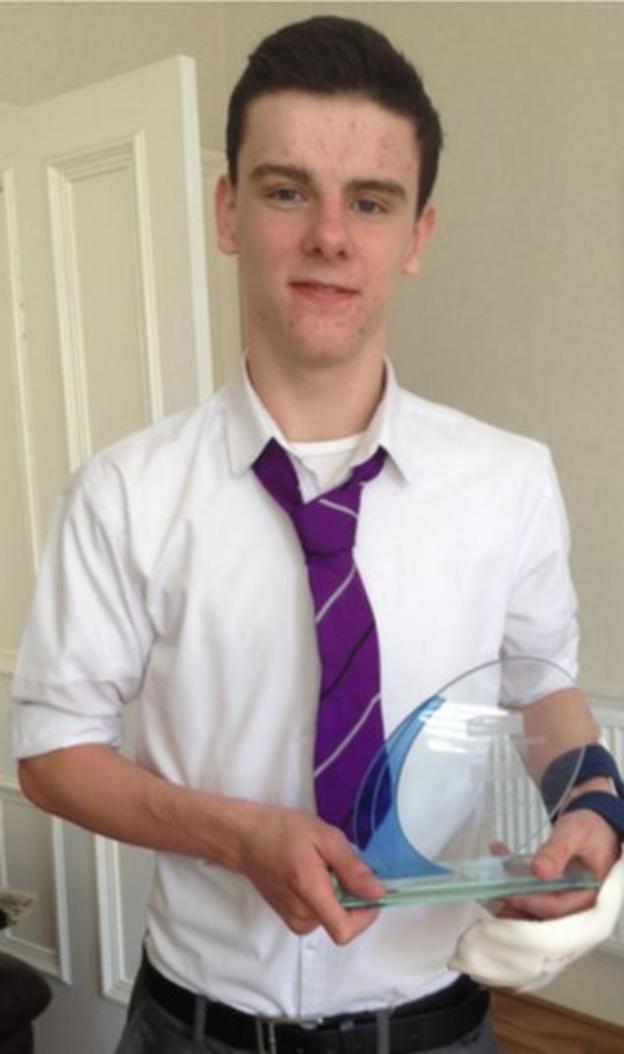 Despite his place in the record books, the 17-year-old wasn't fast enough to make the Commonwealth Games standard this time but there are plenty of reasons to keep him motivated in his gruelling training regime.
His personal best times continue to tumble, he was named Inverclyde's Disabled Sports Personality of the Year and he has had the honour of carrying the Queen's baton as it passed through his home town.
Good results in his Higher exams would round off a pleasing 12 months for the Clydeview Academy pupil.
McCluskey isn't at all surprised that Dunning's times are falling.
"He's at that age where he's developing," said the 66-year-old, whose first appointment as disabled swimming coach for Scotland came at the Commonwealth Games in Manchester.
"He is getting bigger and stronger. He is PB'ing all the time. And don't forget, he's a multi-stroke swimmer; it's not just one stroke.
"A lot of the swimmers in his class will be doing 60,000m a week to get to the top. That's what's required.
"You can't do that without the right background and Isaac has a great family. He is a joy to coach."
Dunning seems undaunted by the level of commitment, particularly when he sees it producing results.
He said: "I train five nights a week plus I do two mornings where I'm in the pool at six o'clock. It's quite hard to balance my training and studying but I don't plan on giving it up soon.
"I got four bronze and two silvers at the British Juniors this year. They were all PBs as well so I was quite happy at that."
His mum is clearly delighted at how well he has progressed.
She said: "I'm proud of him. For a wee boy who didn't walk until he was over two, who struggled to do a lot of things, his achievements are pretty good.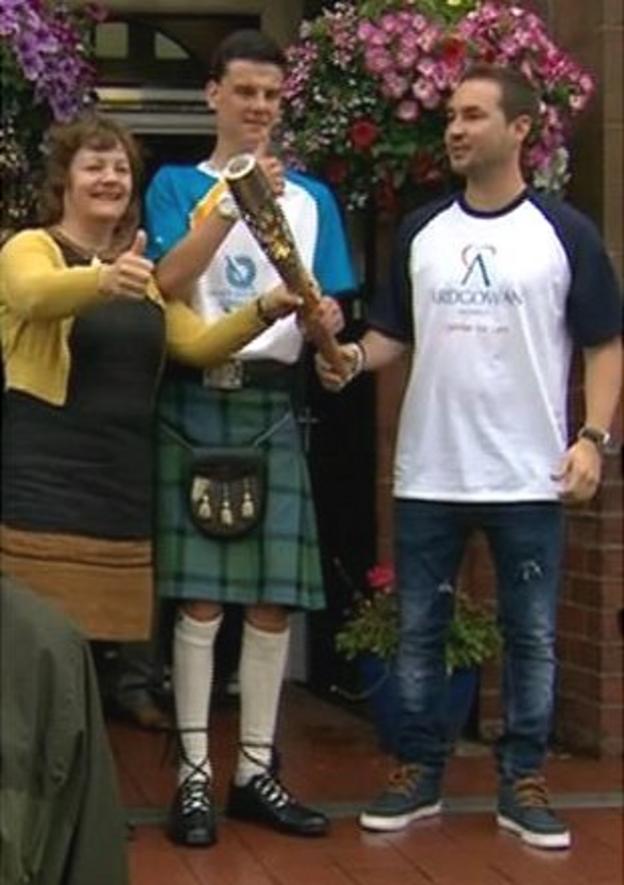 "There were times when he was smaller when he got scunnered having to train. We just persevered with him and all the coaches at the Port Otters have helped him so much."
As well as McCluskey, Dunning is trained by Maggie McEleny, Kenny Cairns and Iain Gowans, all with Paralympic Games experience.
"It's good to have people around Isaac who have made the same sacrifices. They want to see him have the same success as them," said McCluskey.
Dunning tried not to let the pressure of qualifying for Glasgow 2014 get to him in his competitions this year.
"The main thing is to beat your personal best and do good swims," he said.
"If you can PB every time it shows you are on good form."
Two para-swimmers are representing Scotland at the Tollcross pool.
Dunfermline's Craig Rodgie, 24, reached the final of the S14 200m freestyle on Saturday. The following day, Shetland's Erraid Davies will race in the SB9 100m breaststroke. At 13, she is Scotland's youngest ever team member.
They can further inspire Dunning to make the Games team when Commonwealth Games are staged in the Gold Coast in 2018.