Scottish cricket session proves a hit with Aberdeen schoolchildren
By Louise Andrew
BBC Scotland
Last updated on .From the section Get Inspired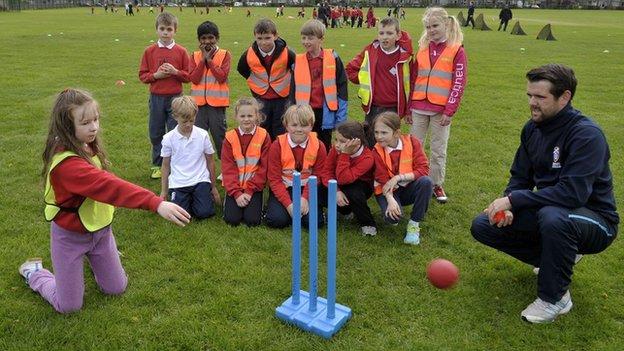 Cricket Scotland development manager Neil Cameron had plenty to be pleased about after organising a 'come and try' day session in Aberdeen.
Not only had he persuaded five members of Scotland's cricket team to take part - just two days before their one day international against England on Friday - but the weather also brightened up just in time.
When the heavy rain stopped and the sun came out, around 100 kids rushed on to Harlaw Playing Fields in Aberdeen.
Aged between eight and nine from Ashley Road and St Joseph's Primary Schools, they threw themselves into the session, which involved throwing and catching challenges, batting routines and even a few celebratory cartwheels.
"We invited schools to come here and try some cricket-related skills, have a bit of fun, and introduce them to a game that they're not familiar with," said Cameron.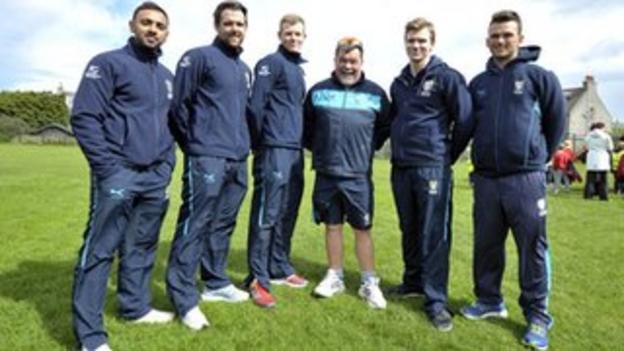 "The whole point of today is a preamble to the big event on Friday - Scotland v England.
"We just want to generate as much enthusiasm, as much knowledge, and raise the profile of the game (in Aberdeen).
"The fact that we have got guys playing on Friday who are involved today is fantastic."
The event certainly had the desired impact on the kids.
"I've enjoyed today because I never knew about cricket, but now I really enjoy it," said eight-year-old Kirsty Hogg.
Nine-year-old Joe Millar added: "I do feel like I just want to play cricket again, and I want to play for Scotland or England or any of the major teams."
Michael Leask, who played in Scotland's successful 2015 Cricket World Cup qualifying tournament, and team-mate Richie Berrington were two of the players who helped out.
"It's something I've done from a very young age and to see these guys have such enthusiasm for it gives you a little bit more encouragement to carry on," Leask said. "To know you're inspiring kids to do it as well is a bonus for me."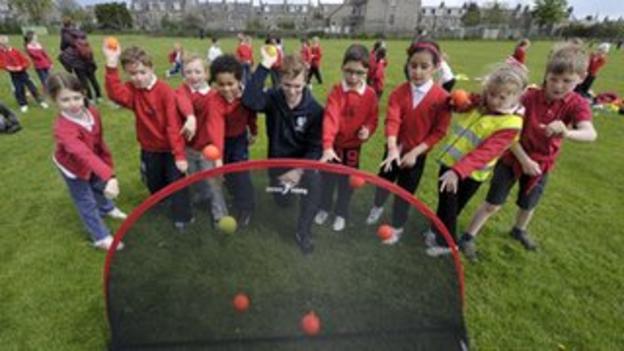 And Berrington reckons Scotland's involvement in next year's World Cup, as well as the fact Grant Bradburn has just been named national coach, means the time is right to attract more youngsters to the sport.
"We've got a big 12 months leading up to that [World Cup]. We've also just got a new coach, and I think the game is definitely starting to grow in Scotland," he said.
"There's a lot more kids getting involved. Obviously the more exposure we can have at the highest level is going to help bring more people into the game."
Aberdeenshire has produced its fair share of international cricketers over the years, and participation numbers in the sport have always been high.
Events like this will undoubtedly help those trends continue.
Certainly, for two hours at Harlaw Playing fields, the future looked bright for Scottish cricket.
And the squad also found themselves 100 new fans.