GB weightlifter Rebekah Tiler, 15, dreams of Olympic gold
Last updated on .From the section Get Inspired
There are those who think weightlifting is not for kids. Especially not for girls. They will tell you that it stunts their growth, bows their backs, shatters their knees, makes their shoulders and thighs look too big for dresses and skirts.
They won't tell you about a 15-year-old Yorkshire lass called Rebekah Tiler - hoovering up titles, smashing records, making mum and dad and her mates beam. Thinking big, dreaming of the Olympics, doing exactly what she wants.
Stand a few feet away from Tiler as she hoists 70kg above her head before letting it drop and you will feel a jolt of danger. A jolt preferable to the stale, crawling danger coming off a teenager doing nothing in particular - sprawled on the couch, eating junk, having decided exertion is not for them.
"It doesn't matter what people think about you," says Tiler, fresh from winning a gold and two silver medals at the European Youth Championships in Poland.
"If you enjoy something in life, just do it. You never know, you could be good at it. My dream is to be a world and Olympic champion and a legend in sport. It's good to have ambitions, everyone needs a dream in life."
Teenagers tend to dream big - that is one of the glories of youth. But Tiler's dreams are rooted in the reality of genetics, hard work and achievement; rooted in a tiny, cupboard-like gym in the West Yorkshire village of Mytholmroyd - birth place of former poet laureate Ted Hughes, author of The Iron Woman.
Mum Emma says Tiler was a strong baby, able to lift herself off the floor and walk well ahead of schedule. As a small child, Tiler would lift mini dumbbells at the knee of dad Chris, a keen bodybuilder.
In primary school, Tiler won national sprint titles before an off-hand remark by a coach led her into a world of chalk dust, leotards and bar-bending weights.
"I got tested at a performance centre," says Tiler, who competes in the British Senior Championships in Coventry this weekend. "The coach told me I should take up weightlifting, just as a joke. So I did - I was in the gym a week later.
"It was a hard decision but a good decision because I was stronger than I was fast. And when I did my first competition I realised just how strong I was."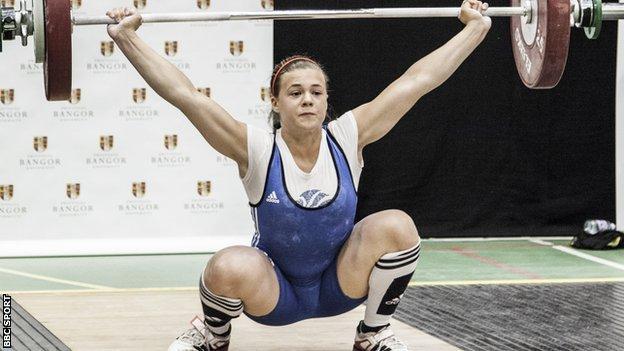 Ask Tiler's coach, Eddie Halstead, how far his prodigy might go and he finds it difficult to mask his excitement - you can see it in his eyes and his stifled grin.
"The first time I saw her was at a kiddies' competition in the North-East," says Halstead, who has been working with Tiler since 2011. "She walked up to the bar and hoofed it above her head at 90mph. I thought: 'Wow, what an opportunity it would be if I could work with that girl.'
"Not long after that I wrote in a programme: 'I can't keep up with her - what's she going to do next?' Once I was able to mould her technique, the weights just rocketed. Blokes were ringing me up and saying: 'This girl you're coaching, is it right she's snatched 65kg and clean and jerked 90kg?'"
The weights have risen considerably since then, to the extent that Tiler finds it difficult to keep track of the number of records she has broken.
Her current personal bests are 93kg for the snatch - when the bar is lifted above the head in one continuous movement - and 120kg for the clean-and-jerk - when the bar is lifted to a position under the chin before being hoisted above the head.
To put that into perspective for those of you who still deal in imperial, 93kg is 14st 9lb, or just shy of David Haye's ideal fighting weight; and 120kg is almost 19st, quite a few pounds more than heavyweight king Wladimir Klitschko. To put this into even greater perspective, Tiler weighs about nine and a half stone.
"She's the best talent I've seen in a very long time," says Halstead. "Zoe Smith (who competed for Great Britain at London 2012) is a quality lifter but Rebekah will go marching on past. If she carries on progressing at the rate she is now, she'll end up lifting 235-240kg combined, which is world-class.
"Winning a medal at Rio 2016 is not realistic, but she'll definitely finish in the top 10. But by the time she's 20, she'll have had eight years of good work under her belt, so we might be looking at a medal at the 2020 Olympics."
As it stands, Tiler has already snatched more than the 20-year-old Smith and is only three kilograms off the British clean and jerk record held by the 34-year-old Michaela Breeze. "I write it," says Halstead, "she does it."
Tiler's first senior international event will be the Commonwealth Games in Glasgow this summer, where Halstead believes a medal is a possibility.
Medal or not, Halstead hopes Tiler's performances in front of millions will inspire like-minded girls to follow in her footsteps. There are already three budding Tilers at home - sisters Sophie (11), Lisa (nine) and Emily (five). "The five-year-old copies me, grabs a stick and tries to clean and jerk," says Tiler.
"There is still a very ignorant attitude towards the sport," says Halstead. "Talk to people about weightlifting and they gasp and tell you how dangerous it is. But the problem is people teaching it incorrectly - you do need someone who knows what they're doing and knows how to teach it.
"More and more girls are lifting weights in the gym and we want to encourage more and more girls to come into the sport. They won't end up with veins popping out of their shoulders and they won't lose their figures. Weightlifting doesn't turn people into hulks - it's a totally different sport to body-building."
The engaging, ever-smiling Tiler admits it's a buzz being the strongest kid at school, male or female. Especially as she's only in Year 10. The downside is she has to engage in an awful lot of recreational arm wrestling.
"My mates don't really see what I do as unusual," says Tiler. "Their attitude is 'whatever you really like to do, just keep doing it'.
"Some of the lads are like 'why are you so strong?! You're a girl, you shouldn't be like this!' Honestly, I'm constantly being challenged to arm wrestles - I'm doing them just about every day - but I never get beaten."
If you want to find out more about weightlifting, explore our for hints, tips, and links to your local clubs and venues.
You can also get in touch with us via Twitter @BBCGetInspired