Children's swim campaign launched in Scotland
Last updated on .From the section Get Inspired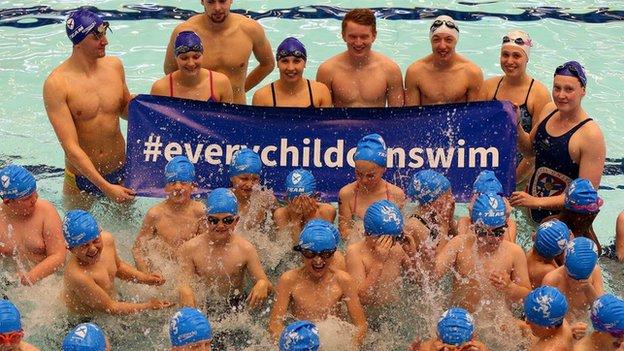 Scotland's Commonwealth Games swimmers joined children for a pool session in Edinburgh to launch a campaign called #everychildcanswim.
Scottish Swimming said about 30-40% of children in Scotland left primary school unable to swim.
The governing body wants every child in the country to be able to learn.
The Scottish government said it had invested £1.8m since 2010 to improve the delivery of swimming lessons for primary school children.
During the launch at the Royal Commonwealth Pool, Team Scotland members Kathryn Johnstone, Corrie Scott, Andrea Strachan, Kieran McGuckin, Jack Thorpe and James Heatly met pupils from Pirniehall Primary School.
Leading Scottish swimmers Michael Jamieson and Hannah Miley, who hope to win a medal at the Commonwealth Games, backed the campaign.
Miley said: "I initially got into swimming, not because my family wanted me to become an Olympic swimmer, but because they genuinely wanted to make sure me and my brothers were safe or knew how to be safe around water."
Olympic silver medallist Jamieson added: "It would be great to ensure more children in Scotland learn to swim and are safe in, on, and around water.
"I learnt to swim when I was five, when my parents signed me up to swimming lessons at my local pool. I believe every child in Scotland should be given the opportunity to learn to swim before they leave primary school."
Forbes Dunlop, Scottish Swimming chief executive, said: "Learning to swim at an early age sets a positive foundation towards a lifetime of participation and enjoyment in a variety of water sports and aquatic activities.
"We hope to secure the appropriate backing, which will support our continued efforts to provide not only swimming in schools, but also offer quality training to local authorities to help deliver the programme."
The Scottish government has pledged to continue its 'Swimming Top Up' programme until 2015.
Sport Secretary Shona Robison said: "The Commonwealth Games is only months away and this year is an excellent opportunity to inspire a generation of swimmers.
"I share the ambitions of Scottish Swimming to leave a lasting legacy from the Games and for every child to have the opportunity, facilities and the support to learn to swim."
Find more information at: www.scottishswimming.com/everychildcanswim.
Alternatively, explore at our Get Inspired swimming page.