Lizzy Yarnold Twitter takeover
Last updated on .From the section Get Inspired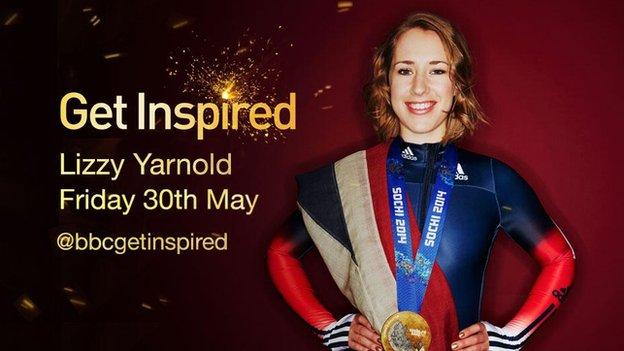 On Friday 30 May, Winter Olympic gold medallist Lizzy Yarnold took over our Twitter account. Here's some of conversation on #GetInspired:
Hiya everyone it's Lizzy, thanks for the brilliant questions for my #getinspired Q&A.
@graemeferrier1 asked at what age did you decide to become an athlete?
I was training from the age of 13 but full time from about 22 when I thought I could really make it my career.
@darrenewen2011 asked what advice would you give to someone who have been told that they can't achieve their aims?
That's tough. There is always more to achieve. You don't know what your future is and what skills you might discover.
@Davis4Allison asked there's a space at the commonwealth games- what's your sport?
Gymnastics every time - team gymnastics would be always a first choice.
@JohnWaine56 asked what options are there for stimulating exercise for healthy but overweight, unfit 58yo?
Team sports can be good as friends can motivate you. Walking and get out and about is something I enjoy.
@hacpufcsam asked how could someone get involved in skeleton/bobsled?
Every few years @uk_sport run talent searches to get into Olympic sport on their website via this link.
@s2_art asked did you consider using Sochi Trolly as a sled?
Stuart, the Sochi trolley was silver, I found one in New Zealand which was gold that I'd use. Only the best for us @BritishSkeleton athletes
@nathanhillyer asked what did your parents say when you first said you wanted to try the Skeleton?
I think if my Dad was my age he'd definitely have done it. My Mum was worried but I was gone too fast for her to tell me off.
@InvictusLondon asked what helps you #GetInspired for a big event? Any tips for our #InvictusGames hopefuls?
Knowing the date of the competition is never going to change helps me get ready. Embrace the challenge & do your best!
@JudithYarnold1 asked Is that your Blue Peter badge in the photo Lizzy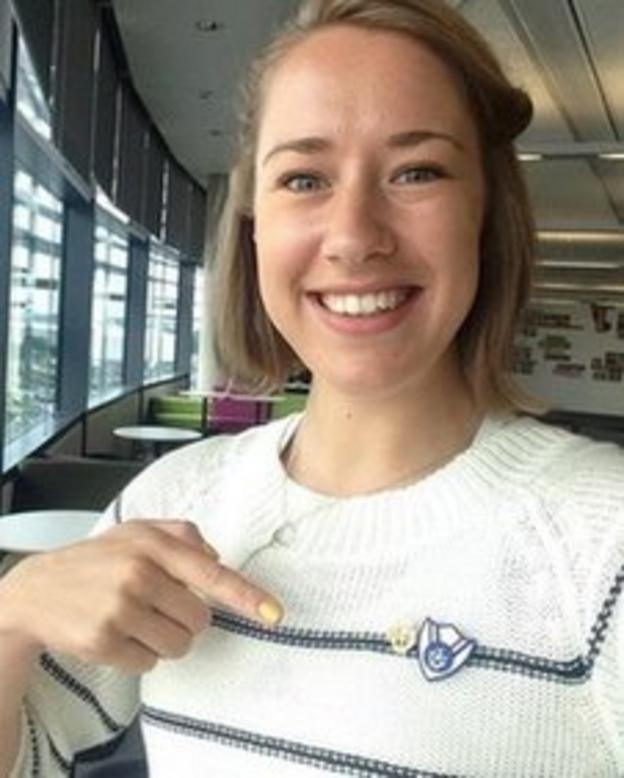 Yes, and I've got the new one 'Sport 2014' for inspiring others into trying sport!
@JamesVladimirV asked What is the number one song you listen to to get pumped up before a run?
Rather Be by Clean Bandit "If you gave me a chance I would take it. It's a shot in the dark but I'll make it!" #GetInspired
@AKRule asked Are you taking part in the baton relay for the commonwealth games? #GetInspired
I am on Thursday. Not sure what time yet but have been practicing by holding a bottle of water and jogging at the same time
@Adventurely_ asked do you think you will ever tire of showing people your gold medal?
No but I love pretending I need to leave & letting them hold it whilst I am not there. I always come back to lots of selfies!
@SteffanPhoto asked who was your favourite skeleton/bobsled driver when growing up?
I didn't hear of it until I was 19. Nash & Dixon though were amazing in '64 & you can read more here
@JamesVladimirV asked What is the most challenging track you have raced on and why?
Altenberg, Germany is made up of the toughest corners from every other track. There's a few 50% success rate corners -Scary!
@pidgeonhock asked what do you think is more important the will to win or good technical ability?
The will to win. You have to be able to make mistakes to get the best lines. Failure is part of the process & never giving up
@Adventurely_ asked what is your favourite memory from the Games?
The calm before the storm - relaxing with my team with a cup of tea knowing what was ahead and what we could achieve.
@BBCiWonder asked we really do want to know what you have for breakfast...
I eat a lot all day so breakfast is always a big meal. Often eggs and fruits and yoghurt and tea and... etc etc.
@AmyHannahburrow asked brilliant that you do a school tour to inspire the kids, are your writing a book ? It would be bestseller!
I'm not writing a book at the moment - what do you think I should call it and what should it be about?
@AmyHannahburrow replied ooh maybe Fire in the Ice -the Lizzie Yarnold story about how a girl from England took on the world to get Olympic Gold
@KatMertens asked many kids choke under high pressure situations...How did you cope, going for gold?
Practicing a lot gives faith in your ability at big competitions & you have a right to be there. I tried to do my best in Sochi
Recently retired bobsleigh athlete @craig100m (Craig Pickering) asked if you had to pick a favourite recently retired bobsleigh athlete, who would it be?
I would have to say one of the guys from the film Cool Runnings. Maybe Sanka, the lucky egg and then you! :)