Jonny Bellis: Cycling's miracle man battles back from the brink
Last updated on .From the section Get Inspired
Mark Cavendish sits beside a hospital bed and surveys a wreckage: his old mate connected to this world by nothing more than humming machines and tubes and an athlete's innate pluck and courage. A withered husk of a man where Jonny Bellis should be.
But it is only when Bellis sees the pain in Cavendish's eyes that he realises something serious might be up. Bellis thinks he's in for minor surgery and will be cycling in Belgium next week. In fact he's been in a coma for a month and the doctors have already informed his parents his body is broken up and good for pretty much nothing.
"'Cav' shook my hand and said 'how are you doing mate?'" says Bellis. "I told him all was good, that I'd be off on holiday when the season was over. But I could tell by the look on his face that something wasn't right."
Bellis was returning home from Cavendish's house in Quarrata, Italy on 19 September 2009 when he was knocked from his scooter. The driver who did the damage fled the scene. Pity the poor soul who found him.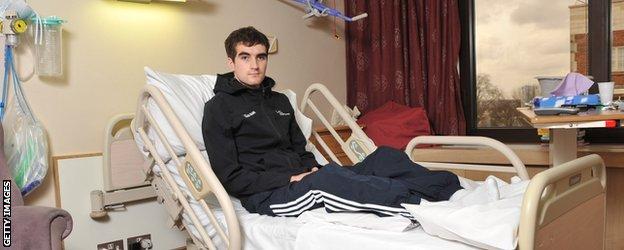 Bellis's skull was shattered and his brain embedded with bones. He had also fractured his nose, cheekbones and sternum and a blood clot had formed on his spine.
A two-time European Under-23 champion on the track who represented Great Britain on the road at the 2008 Olympics, Bellis had been destined for great things. Now he couldn't breathe, talk properly, brush his teeth or walk, was being fed via a tube connected directly to his stomach and emptying his bowels where he lay.
"For the first three months I was having all these crazy dreams," says the 25-year-old from Douglas. "But I couldn't do anything when I was awake, I was just lying on the bed. All I was thinking was 'when can I get back on my bike?'
"But the doctors had already said to my parents, 'he's going to live but he's going to be paralysed from the neck down'. These are specialist guys, they know what they're talking about. I needed a miracle."
Things got worse before they got better. Bellis's feeding apparatus malfunctioned and he contracted a bowel infection. He suffered a stroke. Twice an emergency tracheotomy was required to keep him alive. His weight dropped from 11 stone to just over seven. Life, if you could call it that, was grim.
Eventually Bellis was transferred from Florence to an intensive care unit in London, where he contracted another life-threatening infection. Forty days passed before Bellis was returned home to the Isle of Man. The doctors said he would never walk again. Ten months after the crash he was back on the road.
"I said to my dad, 'I'm ready to go out again'," says Bellis. "He said, 'you're having a laugh aren't you? I tell you what, I'll follow you in the car and we'll do a little circuit of the Isle of Man.' So off we went.
"I could barely get out of the saddle. I felt wrecked after half an hour. That's when it hit home how weak I still was and that I still had a long way to go before I could even think about racing again."
Just over a year after his accident, Bellis was competing in the Tour of Britain. He was forced to withdraw from the first stage after 50 miles and kept having to remind himself: "I'm not supposed to be living."
Bellis's professional team, the Russo-Danish outfit CSC Saxo Bank, did much to aid his rehabilitation but cancelled his contract at the end of 2010, after which he spent a frustrating couple of seasons with Irish team AN Post in Belgium.
"I was just hanging on all the time, going at my maximum but just trying to survive," says Bellis. "I wasn't really racing, I was there to make up the numbers. Psychologically it was so hard, getting a kicking day after day after day. Sometimes in races I'd just sort of give up, the confidence was so low."
Nobody would have blamed Bellis if he had chucked his bike in the garage and chucked it all in, gone and got a proper job and done the things we all do - take a train to work, sit behind a desk, stare at a screen, forget about those dreams. Or maybe not.
"It's taken me a few years but now I feel strong enough to train properly," says Bellis. "The more races I do the more confident I become and now I'm able to be involved in the race rather than just hanging at the back, thinking of finishing."
In February Bellis signed a contract with professional Danish team Christina Watches and last month he was named in the Isle of Man's team for this summer's Commonwealth Games. Miracle complete? Not quite.
Tour de France legend Cavendish, who spent days and nights by his hospital bed in Italy, is also in the Manx team. But Bellis will be back on the boards in Glasgow instead of out there on the road, supporting his dear friend.
"It's not that I wouldn't want to work for 'Cav' and (Olympic team pursuit champion) Peter Kennaugh on the road," says Bellis, "but it's been that long now since my accident that I have to start thinking about me.
"I'm not saying I'm going to get a big result in Glasgow. But I'll go there in the best possible physical shape and do everything I can to get my name back out there. Who knows what might come afterwards.
"If it wasn't for that accident I'm positive I would have had a lot more success in cycling. But I have to take a step back - I'm lucky to be alive and I have age on my side.
"I've still got time. Someone or something has decided that there is more for me to do in this world."
If you want to find out more about cycling, explore our Get Inspired cycling page for hints, tips, and links to your local clubs and venues.
You can also get in touch with us via Twitter @BBCGetInspired