What could be your 'lifetime' sport?
By Andrew Southwick
BBC Scotland
Last updated on .From the section Get Inspired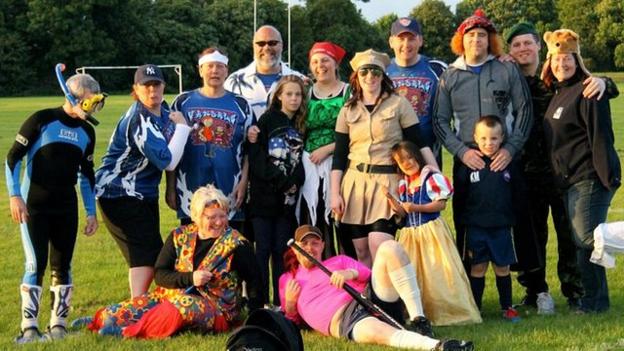 With the Commonwealth Games arriving in Scotland, has there ever been better motivation to take up a new sport?
Surely the hardest task is getting through the door.
Perhaps you feel you're too old, not fit enough, or don't have the required experience.
I asked a number of people to share sporting experiences that show it's never too late to get started.
Touch Rugby: Neil Fraser, 48, Aberdeen
"I started playing touch rugby regularly about 10 years ago. It offered me an alternative to full contact rugby that kept me really fit without the risk of impact injuries, and allowed me to keep playing in a team environment.
"The basic rules are easy to learn. In Aberdeen, where I'm based, there is a regular competitive weekly league that caters for everyone from complete beginners to serious club players.
"It's also one of the few competitive team sports where men and women play together in the same teams - mixed touch makes up the majority of the games played.
"As a result, the social scene is vibrant with a number of nights out after competitions and matches.
"The sport encourages participation at all age levels from juniors through to 50 plus.
"If you're interested in getting involved I'd say just go for it - whatever your age or experience. Make contact with one of the local leagues or a club and take it from there."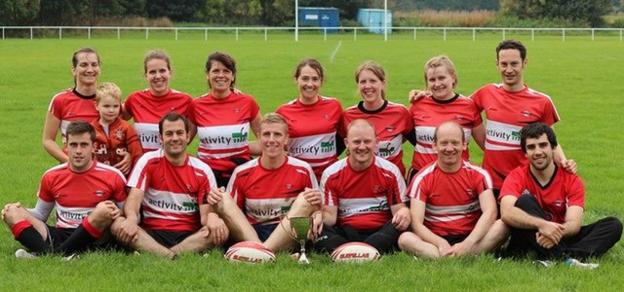 Aquarobics: Linda Gray, 62, Duns Swimming Pool, Berwickshire
"I was looking for something new, which would help me to keep fit in my retirement.
"A friend told me about an over 50s aquarobics class. There is also a powerhoop class in the centre just beforehand and I now do both classes.
"It's really great. There are loads of people like me who want to stay active in their retirement. I've made lots of new friends, and the pool staff are friendly and helpful.
"I feel swimming and aqua has improved my breathing and helps maintain my weight now I'm retired.
"The best part is the social interaction, which I missed once I had stopped working."
Table Tennis: Peter Cameron, 70, Drumchapel
"For the past 66 years I have been severely disabled due to, among other things, Tuberculosis at the age of four. I find it impossible to do everyday tasks such as sitting in a chair properly, putting on socks or shoes and tying laces.
"For the past 35 years I have been a Type 1 diabetic and last year, I'm told, became the oldest person in Scotland to have an insulin pump.
"At the age of 15 my late brother was a very keen table tennis player and I caught the bug. Most people my age were footballers, but table tennis was something that I could manage.
"At 22 I got a full Scotland cap and at 23 played in the European Championships in Wembley.
"Three years ago I entered into the disabled table tennis scene for the first time. I still compete in mainstream tennis table tournaments and recently played for Scotland again, this time as a disabled player.
"I'm considered to be young looking for my age. There is no doubt that having an active interest in a sport or pastime is essential for your well-being. I would recommend it to everyone."
Cycling: Charlie Lawrence, 38, Ross-shire roads cycling club
"Initially I used the Cycle to Work scheme to buy a basic road bike and began cycling on my own. After some advice I purchased a carbon road bike and joined Ross-Shire Roads Cycling Club in 2013.
"They are a fantastic club with a good mix of personalities and range of abilities. After a few months my fitness had developed to a level where I was able to enter and complete a number of sportive events.
"To the amusement of my fellow club members, I had three punctures on one event and was very close to ending up in the broom wagon.
"Fortunately one of my club mates produced a strong £10 note which he inserted under the tube in my tyre - covering the tear - and allowing me to continue with the cycle. All of this happened during a torrential downpour.
"If you can, join a good cycling club - the benefits and improvements are significant."
Kayaking: Mandy Littlewood, 42, Fife
"When my son Ewan was two years old my partner Steven and I hired a canoe on Loch Tay, where we were camping at Killin. We were given a five-minute instruction and then handed our paddles and buoyancy aids. Eek!
"Now more than eight years on Ewan and I kayak together with a club. Or rather he paddles with the beginner group so I don't cramp his style. Our six year old, Ellen, also joins in on club family days and tells everyone she'll join when she's 10.
"Paddling has challenged me to face my fears. I was not incredibly water confident as a child and so capsizing does push me out of my comfort zone. But there is nothing quite as relaxing as paddling into the setting sun on the loch after a day of work."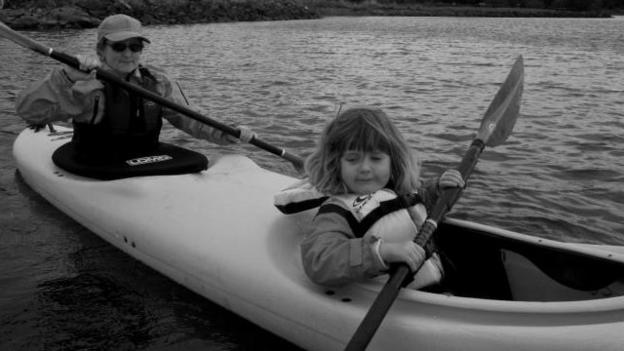 Softball: Joyce Anderson, 53, Edinburgh Vandals
It is a family affair for Joyce who plays on the same team as husband Alex (57), daughter Caroline (29) and son Gareth (26): "In 1991 while posted with the Army to Naples both Alex and I started playing softball. It was a way of mixing socially with the British Forces and the American personnel on the base.
"When we moved back to the UK we had become hooked on the game. We found a team who trained every Sunday afternoon and took the children along. We said either they play or sit in the car - they started to play.
"It has been great to spend so much time with the children and to encourage them to be active.
"There are about 16 softball teams in Edinburgh playing over two leagues at entirely different levels. We enjoy playing in the 1st division which is a bit less competitive. There are many 1st division teams that are willing to take new players and train them up.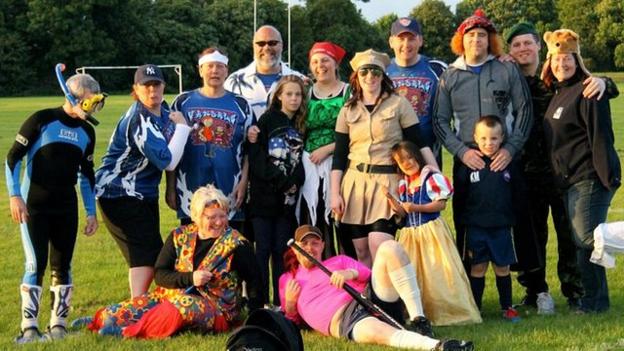 "It is better to start at training sessions before actually playing games as the rules can be quite difficult to pick up. The social side is great fun when away at tournaments."
Walking Football
David Jeffrey runs a walking football project in East Lothian that is open to all men over the age of 50, proving that you're never too old to play the beautiful game.
"Walking Football is a great way for those who are over 50 to continue to play football.
"The only rule that differs from football is that there is no running allowed. For the games that are played indoors the ball must remain below head height.
"The current age of those who are taking part range from 50 up to 83. This shows the appeal of walking football, it proves a great leveller as players adjust to the pace and learn how to play the game.
"I run two sessions a week at Musselburgh Sports Centre, and anyone wishing to get involved can just turn up.
"For other areas, contact local councils or sports centres to find out whether they run walking football programmes."
For further information have a look at Get Inspired dedicated pages on: table tennis,cycling and softball.