Glasgow 2014: Footballer Lauren Price swaps boots for boxing
Last updated on .From the section Get Inspired
She was a kickboxing world champion at the age of 12 and international footballer too.
But Lauren Price is turning her talents to boxing for Wales in the Commonwealth Games, where women are competing for the first time.
Not many athletes find themselves with the dilemma of deciding whether to aim for a football World Cup or an Olympic Games.
Since the age of 16, Lauren Price has juggled playing football for Wales with a gruelling regime in the boxing ring, but now the Cardiff City defender has decided to hang up her football boots - at least for the time being.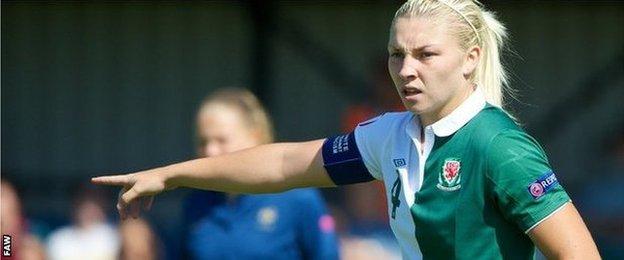 "I had a decision to make between boxing and football," the 20-year-old told BBC Sport. "With the Olympic journey starting with the Commonwealth Games, I decided that it's a once-in-a-lifetime opportunity. I just had to take it.
"I can always go back to football. It's not the end of the journey."
Price's sporting prowess was first apparent at the age of 10 when she began kicking a football around and kickboxing. Within two years she was fighting grown-ups - and winning. Four-time world champion, six-time European champion and eight British titles before the age of 16.
For a while, she moved on to another martial art after triumphing over 2,000 others to win a taekwondo talent identification scheme. This meant leaving Wales and living and training with the British squad in Manchester, where she shared a house with future Olympic champion Jade Jones.
Price on Irish Olympic champion Katie Taylor
"Katie Taylor is a big inspiration for me. She's as high as you can get for women's boxing - she's a different class. I'd love to be as good as her."
But Price, who was raised by her grandparents, missed her family and hometown of Caerphilly. After discovering she was "better with my arms than my legs", she moved back home and took up boxing because it seemed a natural solution.
Her "football legs" have come in particularly handy in the boxing ring. Price and her coach Colin Jones credit her time as a defender for the fast footwork with which she outmanoeuvres her opponents in the ring.
And as with her kickboxing, Price wasted no time in getting herself noticed on the international circuit. Aged 17, with just one amateur fight under her belt, she won bronze at both the Women's European and Youth World Championships in 2011.
And she loves the thrill that boxing brings.
"With football you've got the crowd," she said. "But it's a team thing. But when you're in that ring, you're on your own and to have everyone shouting for you, it's just amazing."
By making the decision to focus entirely on boxing, Price will no longer be a part of Wales' bid for a place at the 2015 Women's World Cup in Canada.
Welsh boxing team coach Colin Jones on Price
"She has got great feet, hence being a good footballer. She's got good footwork in the ring and that stands her in good stead when you can move and punch."
But she will be cheering on her former team-mates as they host England in their final World Cup qualifier on 21 August.
She is not the first footballer to change her main focus to boxing. Natasha Jonas, whose sister Nikita Parris plays for Everton in the Women's Super League, started out playing football before donning the gloves and winning selection for Team GB at London 2012.
And Katie Taylor managed to find the time to play football for Ireland in addition to becoming European, World and Olympic boxing champion.
Price will be hoping to emulate the success of her Irish idol in time and is definitely aiming for a medal in the middleweight category at the Commonwealth Games.
She starts her Glasgow campaign against Guyana's Theresa Guy on Tuesday.
"To win a Commonwealth gold medal will top everything I've achieved so far," she said.