Time to dust off your trainers and get active?
Last updated on .From the section Get Inspired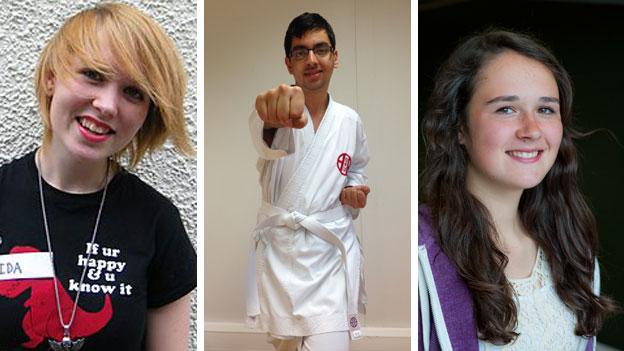 Did you watch any of the sports featured at Glasgow's Commonwealth Games and feel mildly inspired to get off the sofa and give one a go?
Three members of BBC's Generation 2014 made that first leap over the hurdle and tried something new.
Here are their stories.
Ida McVarish
From the Highlands
I don't usually enjoy sports, but recently I decided to try out step dancing while I was on the Isle of Skye.
The session was held next to the sea, under blue skies, and in the midday sunlight.
We started off by watching a short demonstration in the small outside performance space near Sabhal Mor Ostaig.
Then it was our turn.
I rolled my eyes at the prospect of jumping around like a fool. I felt embarrassed that others would probably witness me half-humiliate myself.
The teacher put on some slow Ceilidh music and showed us a fairly easy step in which we just jumped onto our right foot and tapped with the left.
As the day progressed, the steps got harder and the music got faster.
It also became more and more entertaining, as we tried to get the steps right while keeping in time to the music.
It got to a point where the teacher would just say something like "shuffle tap tap step hop tap" and we would all know exactly what to do.
Even more impressively, we would also be in complete synchronisation with each other.
I'm unsure of what any of the steps were actually called but I still remember the rhythms and what made up the steps.
Something I thought was quite amazing with this form of dance is the ease in which one could learn it but also how complex it could be.
After what felt like too little time, the class finished and everyone was sweating slightly and laughing - enjoying both the sun and the exercise.
Step dancing is definitely a fun activity - I realised that I should not make judgements so easily.
I would instantly join regular classes if there was one available locally.
Momin Mehmood
From Glasgow
Most of us are introduced to martial arts after watching movies, usually including Jackie Chan or Bruce Lee.
These movies make one think how difficult it must be to actually do martial arts - such complex and tricky moves that maybe put off others from pursuing the arts.
Is it really possible to do flying kicks and take on three guys at once?
However, the awe I felt ever since childhood at what these actors were able to do was no longer enough for me.
I wanted to actually feel how these people feel when they are doing these moves.
I decided to take that big step. I decided to get a lesson in Karate.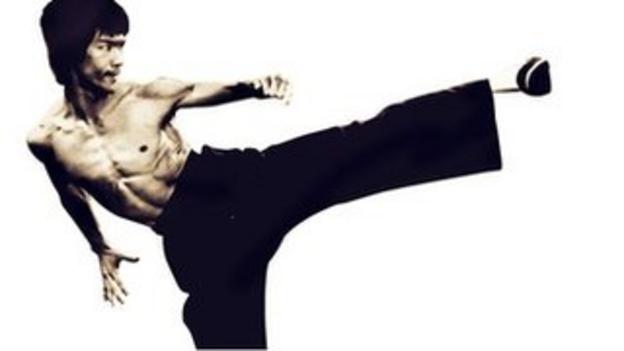 When I arrived for my lesson, I didn't feel that nervous. I've been doing sports from an early age so I didn't feel that it would be difficult for me to get the basics down with much difficulty.
At the start, I just watched others do their usual routine. Some were doing kata - pre-learnt and pre-planned moves that every martial artist learns.
Others were doing physical training such as punching each other, though they retrieved their punch at the last second - another amazing skill.
A thing that might be surprising is that all the classes are taught together, from kids to adults and all different levels.
My coach started me with the basics - the position for all the attacks that are used in Karate. This wasn't too difficult as it was just another way of standing.
Then I was taught the walk of Karate. Weird as it may sound, different martial arts have different techniques and some even have a way of walking.
Afterwards I was taught how to block if someone attacks and how to punch back.
At this point I realised that all the techniques had a certain flow to them. Each move move could be used with any other and all of them could be merged without difficultly.
This seemed amazing to me as there can't be many sports where you can change what you're doing and execute the next technique perfectly.
For example, when swimming you can't just change from one stroke to another without losing speed.
Yet this doesn't happen in Karate because all the techniques have the same starting position.
For the rest of my lesson, I practised what I had been taught, and near the end I was given the chance to practise with the other students in the class.
Everyone was there for different reasons. Some were following Karate as a proper sport, others were doing it for discipline, while others just wanted to keep fit.
By the end of my lesson I had learned how martial arts aren't about flashy techniques or climbing to the second story without using the stairs or elevator.
They are about a range of different things. It's about what you want it to be: a hobby, a self-discipline method, a career or a way for self defence.
All of it can be found through just this one thing. And that's what makes it truly amazing.
Isabelle Bain
From Lewis
I really enjoy sport and, without a doubt, football is my favourite.
However, as a result of the Glasgow Commonwealth Games, I decided it would be fun to try a new sport that featured in the Games.
I chose to play squash.
It was easily accessible to me, it's a good form of exercise and the slight similarity to tennis appealed to me.
My friend who has been playing for years showed me the ropes.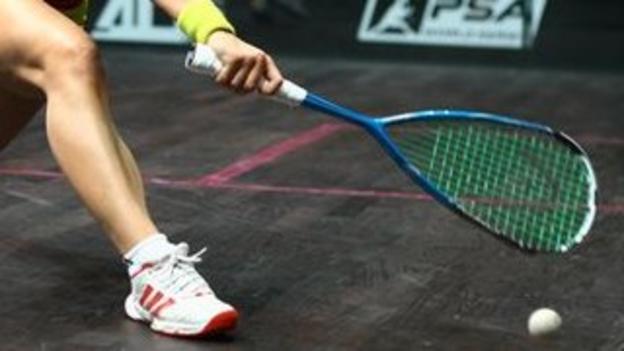 To begin with, the lines all over the walls and the court were very confusing.
And being a footballer, I couldn't get my head round the fact that the ball hardly bounced.
I would stand waiting for the ball to bounce over to me and then each time be disappointed at my failure to hit it.
Luckily for me, my friend was very patient.
She explained that once you serve, the best thing to do is to move to the centre of the court which gives you a better chance of reaching the unpredictable bounce of the ball.
I also learnt that you can volley it and hit it off any wall to make it just as hard for your opponent to reach the ball.
I didn't take too long to become accustomed to it and I was soon really enjoying myself.
It was time to have a competitive game.
I sprinted, stretched, jumped and stepped in all directions chasing after the ball.
However, my opponent's experience and years of practise paid off and I was well-defeated.
I was not ready to give up yet though and demanded a re-match. This time I did better. I managed to keep the score very close and only lost the game by a point. By this time my arm was tiring and it was time to go home.
My friend gave me some tips on how to improve my game. My serve and the way I held the racket needed to be improved. I was determined to make these changes for our next game.
I thought it was just going to be a one-off session, but my friend and I have decided to make it a weekly event.
I am extremely pleased that I decided to try out this game. I have been inspired by the Commonwealth Games.
Why not make your first move? Have a look at the Get Inspired website for ideas, or our dedicated pages on dance, martial arts and squash.
Generation 2014 provides stories about 50 young people who will be 16 or 17 on 18 September 2014 and eligible to vote in Scotland's Independence Referendum.